Aberdeen approves Custom House hotel plan
---

---
Plans to transform a disused city centre office block in Aberdeen into a 105-bedroom hotel have been given the green light.
Councillors unanimously approved the plans by Mandale Construction North for the six-storey Custom House, on the corner of Guild Street and Stirling Street.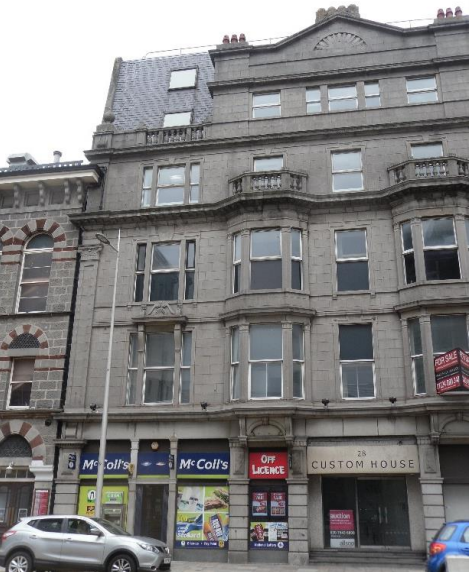 The Teesside-based developer snapped up Custom House for £1 million in a property auction held in London earlier this year.
Under the proposals, the ground floor will feature a reception area, a bar and a dining room, and three bedrooms and back-of-house space.
The newsagents shop on the bottom floor will be retained.
Upper floors will contain the remainder of the bedrooms.
Planners recommended the plans for approval after stating they would welcome the reuse of a vacant building.
In their report, they said the proposals would align with the City Centre Masterplan which indicates that Aberdeen's appeal as a leisure visitor destination requires a wider choice of accommodation in the city centre.
It added: "Custom House has been vacant for several years and with a large amount of new and grade A office floor space now available within the city centre, it is unlikely the poorer quality space the building offers is going to be attractive to potential occupiers.
"The site is in a highly accessible location, close to points where hotel guests are likely to originate, such as the bus and train stations and ferry port.
"It is also within close proximity to several bus routes."
Planning committee convener Marie Boulton moved the plans, which were unanimously accepted by the committee.
The developer is separately seeking permission to turn the building into 46 flats.
Mandale previously said it is running both schemes through the planning system to "leave their options open" as to its end use.