Building Briefs – February 19th
---

---
OPITO appoints director to support global operations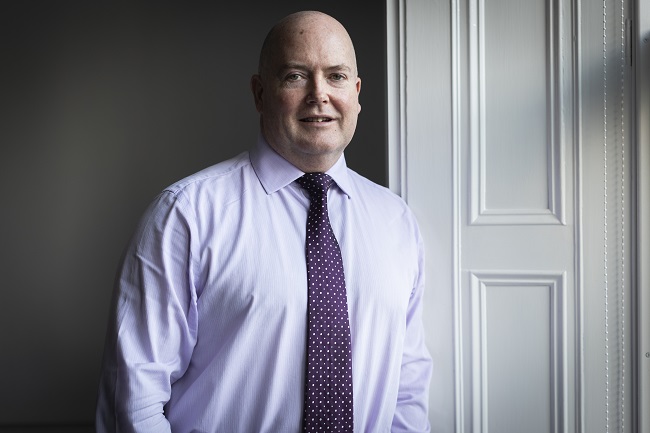 OPITO, the global, not-for-profit skills body for the energy industry, has appointed Stuart Clow as director with a remit focused on supporting industry safety through high-quality training and competency standards.
Mr Clow has over 30 years' experience in the oil and gas industry in a variety of roles both in the UK and internationally including Africa, South America and the Middle East.
He spent 28 years with Transocean, latterly as Workforce Planning Manager where he was responsible for resource planning for both offshore and onshore operations in the Eastern Hemisphere and also worked on major capital projects globally. He started his career as a roustabout with Transocean, working his way up to senior driller roles, before transferring onshore to HR and Competency, where he held a series of operations leadership roles.
He spent the last 16 months with Norwegian firm COSL Drilling Europe AS where he established crew resource requirements for its North Sea operations.
More than 250,000 people are trained to OPITO standards every year, across 45 countries through 200 accredited training centres.
Mr Clow will be based in Aberdeen, leading the approvals team which oversees the international training provider network and managing workforce development programmes including the successful Oil and Gas Technical Apprentice Programme (OGTAP).
Industry-owned, OPITO works with governments, national oil companies, operators and contractors offering a range of services and products to meet international skills needs.
Improvement work on Ness Islands to resume
The final phase of improvement works on the Ness Islands in Inverness will resume next week.
The Ness Islands are not only a through route for crossing the River Ness but they are a much-loved and very popular destination in their own right.
Members of The Highland Council's City of Inverness Area Committee approved £73,183 of Inverness Common Good funding for improvement works on bridges, tree maintenance, pathways and bank erosion works. This work has been taking place in stages over the last 12 months.
This final phase, due to start on Monday 25 February, is to restructure and repair the paths leading up to some of the bridges where the path has broken away or the incline is too steep. Once completed people will be able to enjoy improved smoother access for wheelchairs and prams.
In order to complete the work it will be necessary to close the Wells Bridge for around a week.
The works have been planned to take place before spring and every attempt will be made to complete the project in the shortest possible time and to keep any disruption to a minimum. Specific closure dates for the bridge will be made public as soon as possible. Other routes around the islands will still be accessible.
Signs are being erected advising walkers and cyclists of the planned works and anyone enjoying the Islands is asked to follow the restrictions.
To ensure safety during the final phase of works, The Highland Council is advising people to:
Please follow any diverted routes as indicated.
Dog walkers, keep dogs on a lead while works are in progress.
Cyclists should travel at slow pace.
Children should be kept under visual contact at all times.
Expansion plans for Helensburgh cinema and arts centre
The Tower cinema and entertainment complex in Helensburgh has revealed expansion plans involving the adding of a fourth screen, as well as a function suite and bar.
Based in the former St Columba's Parish Church on Sinclair Street, the Tower has been open since 2016, operated by charity The Tower Digital Arts Centre.
As the only cinema in the town, the centre's operators now want to build an extension which would accommodate a fourth auditorium.
The plans have been submitted to Argyll and Bute Council's planning department by Glasgow architects Honeyman Jack and Robertson.
A decision on whether the extension, which would also host new toilet facilities, can go ahead is expected from the authority by mid-April.
In a statement published on the council's website, the architects say: "To achieve a sustainable cinema operation it is considered essential to have a total of four screens.
"Funding support has been indicated for the development of STEM [science, technology, engineering and mathematics] education.
"The current toilets, kitchen and ancillary facilities are inadequate for the current and future use of the building.
"It is proposed to demolish a single-storey section of the building to the rear of the hall. This part of the building is of no great character.
"The proposed extension will accommodate an entrance foyer, a bar, auditorium four, a function suite, teaching workshops and toilets.
"The extension will complement the existing facilities to link the existing and proposed uses and provide adequate toilet and ancillary facilities with the aim of achieving a financially sustainable operation for the enjoyment of the local community and visitors to the town.
"The proposed extension will have level access at the entrance and level access links to the existing facilities."
Full details of the plans are on the council's website – the reference number is 19/00242/LIB
Aldi to submit £4.25m proposal for Dundee business site
Proposals to build a new £4.25 million store on a business site in Dundee are to be submitted by supermarket chain Aldi.
Aldi said its proposal could see nearly 60 jobs created in the city, and it will lodge a planning application for a new Dundee East store on Tom Johnston Road later this month.
Supermarket bosses will create 35 full-time roles immediately if the city council grants planning permission.
They have also revealed further plans to create more jobs by bringing other employers to the site.
Aldi wants to build up to 10,000 square feet of new employment space at the rear of the proposed new store, creating up to 24 further jobs and bringing the total employment potential of the site to 59.
The company has argued the site could potentially unlock additional economic benefits for the area, as the current landowner plans to build a further 10,000 square feet of business space on adjacent land but can only fund this through the sale of the currently site.
Philip Johnston, property director for Aldi in Scotland, said he believes the announcement will be welcomed in the wake of hundreds of job losses at the Michelin tyre plant and building contractor McGill.
He said: "We anticipate our application for a new Dundee East store and the number of employment opportunities will be welcome news to residents and local businesses, particularly at a time where there have been a number of closures in the area.
"Aldi will create up to 35 local full-time jobs with the new store but significantly we will also be initiating further economic growth with additional employment opportunities through this development."
The supermarket chain has invited local residents and interested parties to attend public consultation drop-in events.
Meetings will be held at St Aidan's Centre on Brook Street from 2pm until 7pm tomorrow, and Douglas and Mid Craigie Hall at the Parish Church on Balbeggie Place from 2pm until 7pm on Monday.
Plans lodged for eight new homes on Isle of Rum
The Isle of Rum Community Trust (IRCT) has lodged a planning application for eight new houses on the island, to be managed by Lochaber Housing Association.
The proposed development would be made up of two blocks of four two-bedroom houses, the Press & Journal newspaper reports.
Steve Roberston, development officer at the IRCT, said: "If all goes well and planning is granted, we hope to start building in June, with the houses complete early next year."
He added: "Around the end of May our builder will start, so sometime in July or August this year we'll be confident to say we will have houses for next year and then start the allocation process. It will give people time to start planning their lives around living in Rum."
The isle of Rum currently has a population of just 22.
Funding for the new homes is being provided by the IRCT, the Scottish Government and Marine Harvest, who have a farm on the island.
Broughty Castle Museum Temporary Closure
To enable maintenance works, Broughty Castle Museum and grounds will be closed to visitors from Mon 11 March to Monday 18 March, 2019 inclusive. The closure is to enable Broughty Castle Museum toilets to be upgraded. This will improve facilities for our visitors.
Leisure & Culture Dundee and Historic Environment Scotland regret any inconvenience caused and thank visitors for their patience.