Building Briefs – January 27th
---

---
Hardies' project managed Botanic Garden Garage restoration named as award finalist
The restoration of the iconic Botanic Garden Garage in Glasgow's West End, on which Hardies Property & Construction Consultants acted as project manager and quantity surveyor for Arnold Clark Automobiles, has been named as a finalist in the Regeneration Project of the Year at the Scottish Property Awards 2020.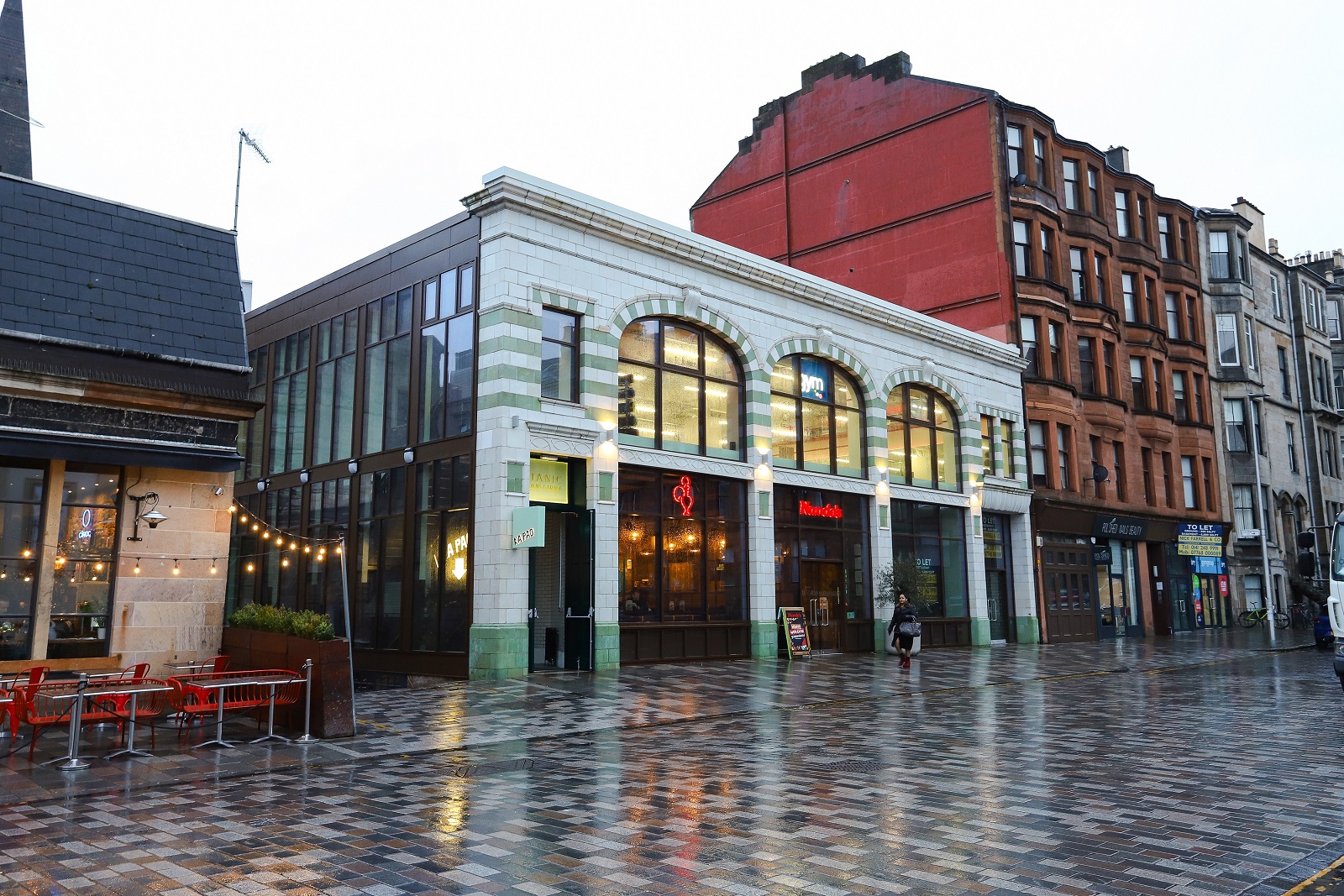 The Botanic Garden Garage, with its Venetian style arched windows, clad in green and white faience tiles, dating back to 1911, has been brought back to existence, to play its part in Glasgow's thriving West End.
The original garage lay dormant for many years, neglected and exposed to the elements. Exacerbated by the ad hoc, bygone construction methods, the steel structure and concrete finishes were left in a severely dilapidated condition.
Now restored to three restaurants and a gym, retaining the key historic features of the Grade A Listed building has added value to the local urban fabric and benefited the surrounding commercial community.
The other key partner involved in the project for Arnold Clark Automobiles was lead consultant Keppie Design.
The Scottish Property Awards aims to recognise the best new commercial and public buildings in Scotland. The independent competition is judged by a panel of experts drawn from across the sector, bringing together industry experience and market knowledge to recognise the greatest achievements in the built environment across Scotland.
IOSH construction safety course receives CSCS approval
A training course designed by the global chartered body for safety and health professionals to provide construction workers with the essential knowledge to keep themselves and others safe at work has been approved by the Construction Skills Certification Scheme (CSCS).
CSCS approval means that the Institution of Occupational Safety and Health's (IOSH) Safety, Health and Environment for Construction Workers course will equip delegates with the knowledge and skills required to be eligible to apply for the Green Labourer card - allowing them to work on construction sites in entry-level positions.
60,000 people die on construction sites every year and there are 475 work-related accidents a minute. Accidents, illness and deaths cost business over £2 trillion annually.
IOSH worked with industry specialists from its Construction Group during the development of the course, along with representatives of major firms relating to the sector and existing training providers.
The course can be delivered in one day and is suitable for any geographical location and any size of organisation to improve safety and health awareness among workers.
Wedding plans for historic Aberdeenshire building
A coach house which was once used by the members of the Home Guard during the Second World War could soon be transformed into accommodation for an upmarket wedding venue.
The converted 17th Century Aswanley House and its associated land, situated near Haugh of Glass, to the west of Huntly, has hosted a great number of weddings in recent years after an extensive conversion project to focus more on matrimony than agriculture.
The owners are now looking to convert an ageing coach house on the property into a nine to 10-bedroom lodge for wedding guests, as well as for use as holiday accommodation.
The planning application for the conversion will be considered by Aberdeenshire Council and a decision is expected at a later date.
Number of first-time buyers in Scotland rises 90% in a decade
The number of first-time buyers in Scotland rose to 33,558 in 2019, an increase of more than 90% from 17,580 a decade ago, according to the latest research from Bank of Scotland.
The new figure is also a rise of around 3% (1,028) over the last year. First-time buyers still account for 50% of all property purchases with a mortgage in Scotland, up from 38% in 2009.
The Bank of Scotland First-Time Buyer Review also revealed that the average price paid for a typical first home has gone up by 38% (£41,687) in Scotland over the last 10 years, from £111,402 in 2009 to £152,728 in 2019. Meanwhile, the average deposit put down by a first-time buyer increased by 13% over the same period, from £26,427 to £29,950.
Over the last year alone, the average price paid by a first-time buyer in Scotland rose by 8% (£10,771), while the average deposit was up by 11% (£2,879).
However, Scotland remains one of the most affordable places in the UK to buy a first property, with only Northern Ireland (£136,850) and the North (£136,104) recording a lower average price for first-time buyers in 2019.
This compares to a UK average first-time buyer price of £231,455, while the average UK deposit last year for first-time buyers was £46,187.
The most affordable local authority district in Scotland is North Ayrshire, where the average price paid for a first home is £107,198, or 3.3 times the local gross average annual earnings of £32,866. That's closely followed by East Ayrshire and Inverclyde (both also 3.3).
The least affordable local authority district in Scotland is Midlothian, with an average property price of £174,033, at 5.2 times the average gross annual earnings of £33,319.
The highest average price for those taking their first step on the property ladder is in the capital, where at £211,307, Edinburgh prices are 5.1 times the average gross annual earnings.
East Lothian has recorded the biggest deterioration in affordability over the last decade, where the average price for a first-time buyer has risen from £135,369 to £182,922. Meanwhile, earnings have remained relatively flat, rising from £34,000 to £35,510 over the same period. This means the affordability measure has worsened by 29%, from 4.0 to 5.2 in 10 years.
Oban masterplan approval paves way for new affordable homes
Argyll Community Housing Association (ACHA) is planning to deliver new affordable homes in the Glencruitten area of Oban after a development masterplan was approved by the local authority.
Argyll and Bute Council's planning committee last week gave the green light to a masterplan for a development area on land north west of Glencruitten Rise.
ACHA now plans to develop affordable homes on part of the site.
In his report for councillors, planning officer David Moore wrote: "Critical to the delivery of 100 houses on the site is ensuring that appropriate upgrades are undertaken to Glencruitten Road.
"These have been the subject of extensive historic discussions with the council's roads advisors and agreement has been reached in respect of necessary off-site highway improvements which must be provided to secure this scale of development."
He added: "This is undoubtedly a challenging site to access, however, the existing situation in Glencruitten Road is substandard and the current application is considered by the area roads engineer to present an opportunity to secure planning gain through the carrying out of off-site roads improvements which will benefit both existing and future users."
More information on the design and cost of the development will be revealed next month.
Approval granted for new homes in Dundee
Dundee City Council has approved plans to build eight new homes on brownfield land in Dundee.
Amar Okhai will build the set of eight three-bedroom homes on land at the corner of Buttars Loan and Broomlee Road between Charleston and Pitalpin.
The development will see four new homes built facing away from Buttars Loan to the east and four facing away from South Road looking north.
Each of the new houses will have a driveway and a small inlet will be built off of Broomlea road to allow access to some of the new houses.
North east coastal projects to receive Scottish Crown Estate marine funding
A host of exciting North-east coastal projects are to benefit from the first tranche of marine-sourced funding from the Scottish Crown Estate.
As part of the devolution settlement following the Scottish Independence Referendum, revenue generated from the Crown Estate's marine assets within inshore waters now accrues to the Scottish Government, which in turn, devolved a proportion of it to the 32 local authorities.
Revenue is generated from activity such as licensing for offshore wind farms, oil and gas pipelines and aquaculture leases.
Aberdeenshire Council's £328,314 allocation for the current financial year was discussed by the infrastructure services committee when it met last week.
Councillors heard that the bulk of the funding has been allocated to local authorities with coastlines as part of their areas, with £1,000 allocated to each of the inland authorities.
Aberdeenshire Council's allocation from the 2017-18 revenue is £328,314, with the ISC agreeing that each of the authority's four area committees be allocated £12,500 to spend on their own coastal initiatives.
Among the eight proposed funded projects is East Grampian Coastal Partnership's 'Turning the Plastic Tide' which will receive £40,000 to extend its hugely-successful plastic waste project to include the entire Aberdeenshire coastline.
Ythan Community Trust has been awarded £100,000 to help improve access and parking at Newburgh Links to support the ever-increasing numbers of visitors to the seal colony.
Scottish Natural Heritage receives £20,000 to make improvements to parking at St Cyrus beach, while Aberdeenshire Council itself receives £50,000 towards research into opportunities to link the Moray Coast Way with the Formartine and Buchan Way as part of the North-east Highland Way.
A £50,000 award was made to improvements to on-road car parking and access to the RSPB's Fowlsheugh reserve at Crawton.
Other projects receiving funding include improvements to toilet facilities and disabled
access at Balmedie Country Park, refurbishment of pedestrian signage from Fraserburgh town centre to the beach, harbour and Kinnaird Head, development of the Discover Fraserburgh initiative, and new maps and signage to link the Peterhead Prison Museum to the beach, port and town centre via the Peterhead Town Trail.