Building Briefs - July 19th
---

---
Work under way to assess fire damage at Troon station
Network Rail is assessing the full extent of structural damage following the serious fire at Troon station on Saturday, 17 July.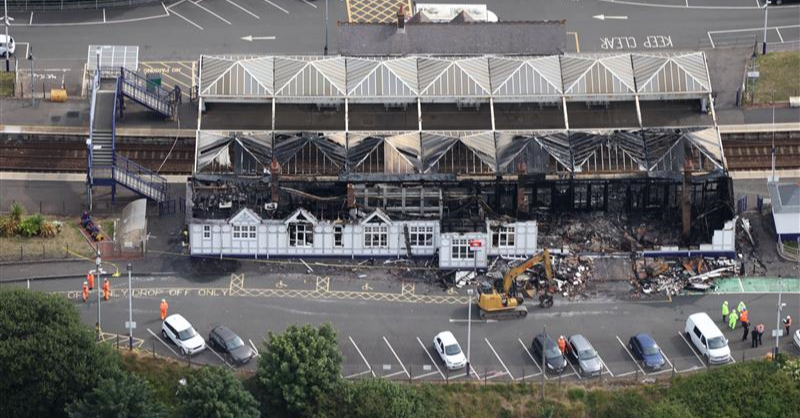 The blaze caused extensive damage to the station building on platform one as well as an overhead power cable. Because of this, the train operator and Network Rail have closed the line until the structural integrity of the building has been assessed.
A Network Rail spokesperson said: "Teams are working hard on site to understand the full extent of damage this fire has caused to both Troon station and the railway network. Once our structural surveys are complete we have colleagues at the ready to begin work on the recovery operation."
Nobody was injured in the fire and while the exact cause of the blaze is unknown, police have confirmed it was not started deliberately.
Vital £800k bridge works set to begin near Newton Station
Network Rail's £800,000 project to repair and repaint three railway bridges near Cambuslang, South Lanarkshire, is set to begin.
The improvement works are designed to extend the lifespan of the bridges at Newton Station by up to two decades.
The bridges on Station Road will be closed to vehicles from August 2 to December 17 to allow the required steelwork, grit blasting, masonry repairs and painting to be completed in the safest and quickest way to minimise disruption.
Vehicles will be diverted via Westburn Road/ Hamilton Road/ Hallside Boulevard / Village Road and vice versa. Pedestrian access will be maintained on Station Road.
Funding secured to create new Menstrie visitor hub
Clackmannanshire Council has been successful in a bid to VisitScotland's Rural Tourism Infrastructure Fund (RTIF) to create a "Dumyat Visitor Hub".
The funding will allow the council to make infrastructure improvements at the Dumyat Centre in Menstrie to improve recreational access to Dumyat hill and Menstrie Glen. The council's application was one of a number of successful bids received from local authorities or national park authorities across Scotland for an award.
The grant award and match funding from the council, the Energy Savings Trust and Transport Scotland will result in approximately £200,000 being spent on delivering Dumyat Centre car park improvements, tourist signage and interpretation to guide visitors to routes and local facilities, enhanced electric vehicle charging and the provision of ebikes and docking station designed to connect into the Forth Bike network and footpath improvements within Menstrie and on routes to Dumyat Hill and Menstrie Glen.
Scottish Government announces grants for crofters' homes
Grants to improve housing or build new homes in some of Scotland's most remote and marginal communities have been awarded to 13 crofters.
The Croft House Grants scheme aims to retain and attract people to rural and remote communities with the latest round of funding awarding grants worth £433,072.
Since the scheme was launched in 2007, more than £22.5 million has been awarded to 1,047 families and individuals in rural and island communities.
Speaking after meeting the Matthew family, a previous recipient of the grant, rural affairs secretary Mairi Gougeon said: "It's clear to me just how important this grant is to crofters. Seeing what this money has helped the Matthew family do is inspiring. Since March 2020 we have awarded over £1.7m in grant funding to help build and improve homes for 53 crofters and their families. I am determined to continue helping people in crofting areas.
"Crofters play an integral role contributing to the long-term sustainability of our rural and island communities. The future sustainability of these areas depends on our ability to attract and retain people, particularly young families, and the Croft House Grant has proved successful in doing just that."
Funding for building improvements in historic Penicuik town centre
The Penicuik Heritage Regeneration Project has approved building grant applications for a number of properties in the historic town centre.
They include 22 High Street, which is the Penicuik Storehouse. The Penicuik Alliance, which owns the building, have got together with the owners of neighbouring properties at 28-30 High Street and 2 John Street to apply for funding support, along with the shop premises at 4-6 John Street.
They have all appointed the same architect and quantity surveyor to develop an improvement scheme that will be carried out by the same contractor. The total cost of the scheme is £226,205 and the grant award shared between the owners is £200,102.
The work will include repair and restoration work to roofs, chimneys, stonework and windows as well as improvements to the shop fronts.
Traditional materials such as slate, lead work and natural stone will be used to match the originals, and traditional sash and case windows will be repaired or replaced. The shop front improvements involve taking off modern plastic fascias and signage and replacing them with traditional timber details, based on old photographs of the original premises.
The Penicuik Heritage Regeneration Project is a partnership funded by the National Heritage Lottery Fund, Historic Environment Scotland, Midlothian Council, and Penicuik First, and supported by Penicuik Community Development Trust and Penicuik and District Community Council. The project is aimed at regenerating the historic core of the town centre. The 5-year programme started in 2018 and is now entering its fourth year.
Work starts on St Maurice's new multi-use games area
The £400,000 project will see the red blaes pitches at the rear of the school transformed into a stunning new sports facility
The MUGA features a polymetric non-slip rubber surfaced three court arena surrounded by a 200m five lane running track and a 70m sprint straight.
As the name suggests, the area will be capable of hosting a wide range of sports. Two of the courts will be for basketball, built to NBA specification size with adjustable height hoops. The other area will be for handball, hockey, and football.
A new nine-a-side grass football pitch is also included as part of the overall project.
The work is being carried out over two phases: phase one will be complete by September 2021. The overall project will be completed by May 2022.
Rutherglen resurfacing to take place
A section of Mill Street (the A730) in Rutherglen will be closed for five days from today to allow resurfacing work.
The roadworks are part of the programme of improvements on the busy road and will close the northbound carriageway (traffic heading in the direction of Glasgow city centre) between Bankhead Road and Burnhill Street.