Building Briefs – November 7th
---

---
Companies chosen for Fife Council plant hire frameworks
Fife Council has unveiled the winning companies for a £4.6 million tender of plant hire contracts.
The 13 framework packages include ad-hoc equipment hire, self-drive plant and operated plant such as surfacing equipment, road sweepers and excavators.
The successful bidders are: Speedy Asset Services, Gap Group, Jarvie Plant Group, Nixon Hire, Strathore Plant Hire, E&J Douglas & Sons, Willsweep, Ronald Docherty Civil Engineering, James Penman Plant Hire, John McGeady, Sandy Allan Blacksmiths, Robert Purvis Plant Hire, Double A Trading Company, Vale Engineering, Tayforth Machinery Ring, Iain McLean Plant Hire, Andrew Cook, Murdoch MacKenzie Construction and Robert Houston & Sons.
Some categories have multiple winners while others have been awarded to a sole bidder.
Report outlines £27m vision for Cairngorm
A major new study has set out a five to ten year vision to create a world class year-round recreational resort at Cairngorm Mountain, subject to investment of up to £27m.
Highlands and Islands Enterprise (HIE) commissioned US consultancy SE Group to carry out the independent review of uplift infrastructure at the resort between February and September this year.
The study involved a detailed analysis of current operations at Cairngorm, the market context and consultation with local business groups and public bodies.
A report of the key findings of the project was published today. It highlights 'immense unlocked potential at Cairngorm that can be unleashed with targeted, strategic investments'.
A series of measures are proposed to increase winter visits to 150,000 consistently, higher during peak years, increasing Cairngorm's market share over time.
Uplift improvements are recommended to increase carrying capacity from the current 1,600 to the resort's full potential of 2,700. This would be achieved by constructing two new chairlifts out of the Coire Cas base area; one with a 3,200 people per hour (pph) lift capacity and a second with 3,000 pph.
The proposed uplift improvements along with snowmaking technology could create an additional 30 hectares of skiing area over the investment period.
The funicular is described in the report as unique to Cairngorm. It recommends that it should continue to be enhanced and, once new uplift is in place, operators should consider tailoring its use, for example, for non-skiing visitors and ski school customers.
The review also explored the potential to reopen the second Cairngorm base at Coire na Ciste. It looked at both chairlift and surface lift options and the costs and benefits associated with each.
Homes for Scotland announces Social Bite charity partnership
Industry body Homes for Scotland (HFS) has announced its support of the work undertaken to end homelessness throughout the country through a new charity partnership with social enterprise Social Bite.
The partnership kicks off with the organisation's involvement in the Sleep in the Park event – a nationwide sleep out which will see several members of the HFS executive team stay out in Edinburgh's Princes Street Gardens in December.
With fundraising for the sleep out now underway, HFS chief executive Nicola Barclay said: "I am delighted to announce our new partnership with Social Bite and our support of its mission to build a collaborative movement to end homelessness in Scotland.
"The money raised through December's sleep out and donations received from our 2019 Annual Lunch will be used to fund a range of initiatives, most notably Housing First – an innovative housing model providing much needed accommodation as well as wrap around support to enable people experiencing homelessness to break that cycle and reach their potential.
"Access to a warm, secure home is a fundamental right which means we can all contribute fully to society and I look forward to personally contributing my time to support this cause alongside the HFS team."
Social Bite co-founder Josh Littlejohn said: "We are delighted to have the support of Homes for Scotland and are looking forward to working together on this partnership, both through encouraging people to take part in this year's Sleep in the Park as well as the other exciting planned initiatives. We are incredibly grateful to everyone at Homes for Scotland for joining us in our mission to end homelessness in Scotland."
Dream Big engineering film to be shown in Scotland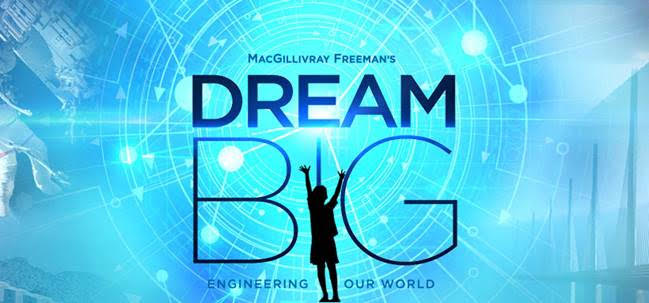 A ground-breaking film about the amazing impact that engineering has on our world is coming to Scotland.
Dream Big: Engineering our World is screening for one night only on 15 November at the University of Abertay in Dundee and explores how engineering creates better lives for people all around the world.
Showing as part of the Institution of Civil Engineers ICE 200 bicentary celebrations, this spectacular big screen IMAX documentary by award winning filmmakers MacGillivray Freeman Films, explores the human ingenuity behind engineering marvels.
Narrated by Academy Award winner Jeff Bridges, the film takes us on a journey to illustrate how engineers are responsible for important technological innovations that propel us into the future.
From the Great Wall of China and the world's tallest buildings, circling through the wildly inventive Falkirk Wheel, to underwater robots, solar cars and smart, sustainable cities, Dream Big celebrates the human ingenuity behind engineering marvels big and small. This special screening will reveal the heart that drives engineers to create better lives for people around the world.
Following the film, there will be a not to be missed opportunity to meet members of the Institution of Civil Engineers, and organisations who employ civil engineers - such as Morrison Construction, Mott MacDonald, Fife Council, Balfour Beatty, Dundee City Council, Robertson Construction and Angus Council. Ask the real professionals about careers in engineering, quiz contractors about their projects and catch up with local experts on future building plans in your area.
Doors open at 5:45pm and the film starts at 6.15pm. Entry is free and is suitable for all ages and complimentary refreshments will be served.
To book your place, please go to the Institution of Civil Engineers website event listings.
Newtonhill homes decision deferred by councillors
Councillors have deferred a decision on plans to build 121 homes in an Aberdeenshire village amid concerns over local infrastructure.
Barratt North Scotland had proposed the development of 109 houses and 12 flats on a site near Park Place in Newtonhill.
A quarter of the properties are for affordable housing.
Aberdeenshire Council's Kincardine and Mearns area committee met to discuss the development after planning officers recommended the homes are approved via a delegated grant.
The local authority received 651 objections against the plan with opponents suggesting the development would have a negative impact on school rolls and would lead to a loss of green space.
Councillors on the committee deferred a decision on the plans so they can gather more information on how the proposals would impact on local schools, transportation, and associated infrastructure in the coastal community.
It is hoped the proposals will once again come before the committee by the end of the year.
LAR continues Aberdeen expansion with seventh completion
LAR Housing Trust is set to complete another development in Aberdeen, its seventh in the area.
The housing charity, which aims to provide mid-market rental homes across Scotland, identified the north east as one of the areas most in need of its services when it launched three years ago.
This latest development at Balgownie, Bridge of Don brings the total number of LAR homes in the area to 142.
LAR has taken nine properties at the development consisting of six two bed and three one bed flats. This latest development follows on from recent deals at Ocean Apartments in Park Road and Shaw Road in the city's west end.
Innerleithen High Street latest to undergo resurfacing works
A £2.6 million resurfacing programme to improve 32 roads in the Borders this financial year moves onto Innerleithen High Street next week.
The improvement scheme will begin on Monday 12 November and run until Friday 23 November, excluding weekends, and will be carried out using a convoy system to keep the busy section of the A72 open.
The resurfacing programme was boosted by an additional £1.8m committed by Scottish Borders Council in this year's budget, which means 32 key town and village routes could be included.
Major gas heating replacement programme launched in East Renfrewshire
East Renfrewshire Council has launched an ambitious gas heating replacement programme, which will see over £1 million invested across the area.
The programme will install modern heating systems in hundreds of council homes, replacing out-dated electric storage heating and gas-fired boilers with more economical gas systems.
Modern heating systems can save individual households a considerable amount of money, with some gas bills being halved, and more importantly ensures council properties meet the requirements laid out by the Scottish Government under its Energy Efficiency Standard for Social Housing regulations.
To date 252 properties have had new systems installed by City Technical Services since April, and it is planned that a further 100 will be completed by March 2019.
Bid for town centre regeneration funding for Hawick
A bid for almost £2 million of funding for a Conservation Area Regeneration Scheme (CARS) for Hawick has been supported by Scottish Borders Council.
Following approval from the Executive Committee, a submission will be made to Historic Environment Scotland for its eighth round of CARS funding.
Work has been taking place between the council, local Elected Members and community groups, including the community council, Future Hawick, archaeology society and Hawick Economic Development Group, to develop the proposal. It targets a total five-year programme budget of £1.935m, which includes support of over £1.5m from the public sector.
If successful in achieving funding, the Hawick CARS programme would seek to conserve and enhance historic town centre buildings, addressing issues with key priority buildings and encouraging general repairs to others. An element of public realm works, which would be linked to the Hawick Flood Protection Scheme works would also take place.
An important element of the scheme would also be raising awareness of the town's rich history and heritage and a programme of skills and employment training based around traditional construction skills.
The Hawick CARS application follows an innovative move by SBC in July to relax planning rules to make it easier for different types of business to invest in town centre properties, with some restrictions scrapped altogether in Hawick and Galashiels.
The one year pilot will allow Hawick town centre to adapt to the radical changes underway in the retail sector and create more opportunities for a more diverse range of businesses, which will aim to attract residents and visitors.