Building Briefs – September 30th
---

---
Two Scottish Water works in Ayrshire and the Highlands go green
Green energy is helping to power two of Scottish Water's water treatment works in Ayrshire and the Highlands, helping to support the utility's pledge to reach net-zero emissions five years ahead of Scotland's 2045 target.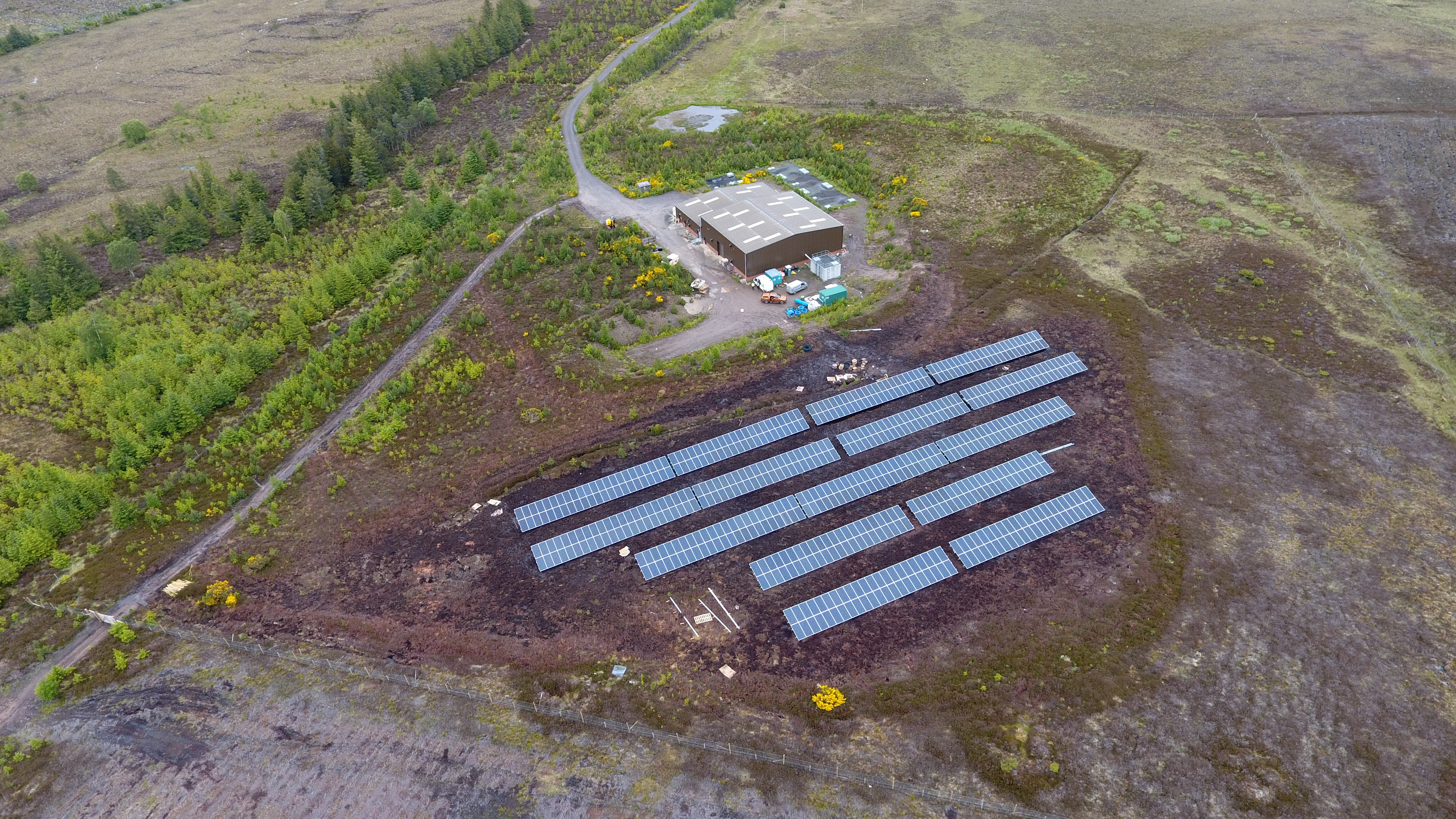 A £210,000 investment made by the utility's commercial subsidiary Scottish Water Horizons has seen 670 solar Photovoltaic (PV) panels installed at Camphill Water Treatment Works at Kilbirnie in North Ayrshire.
A £250,000 renewable energy project to install solar panels at an Inverness-shire water treatment works has also been completed.
The Kilbirnie facility serves about 40,000people living in the Dalry, Kilbirnie, Beith, Ardrossan, West Kilbride, and Saltcoats areas.
The carbon-reducing technology will offset 14 per cent of the electricity required to operate the facility, with the new solar PV system generating 0.145GWHr of energy on an annual basis – that's the same amount of energy needed to power 40 homes for a year.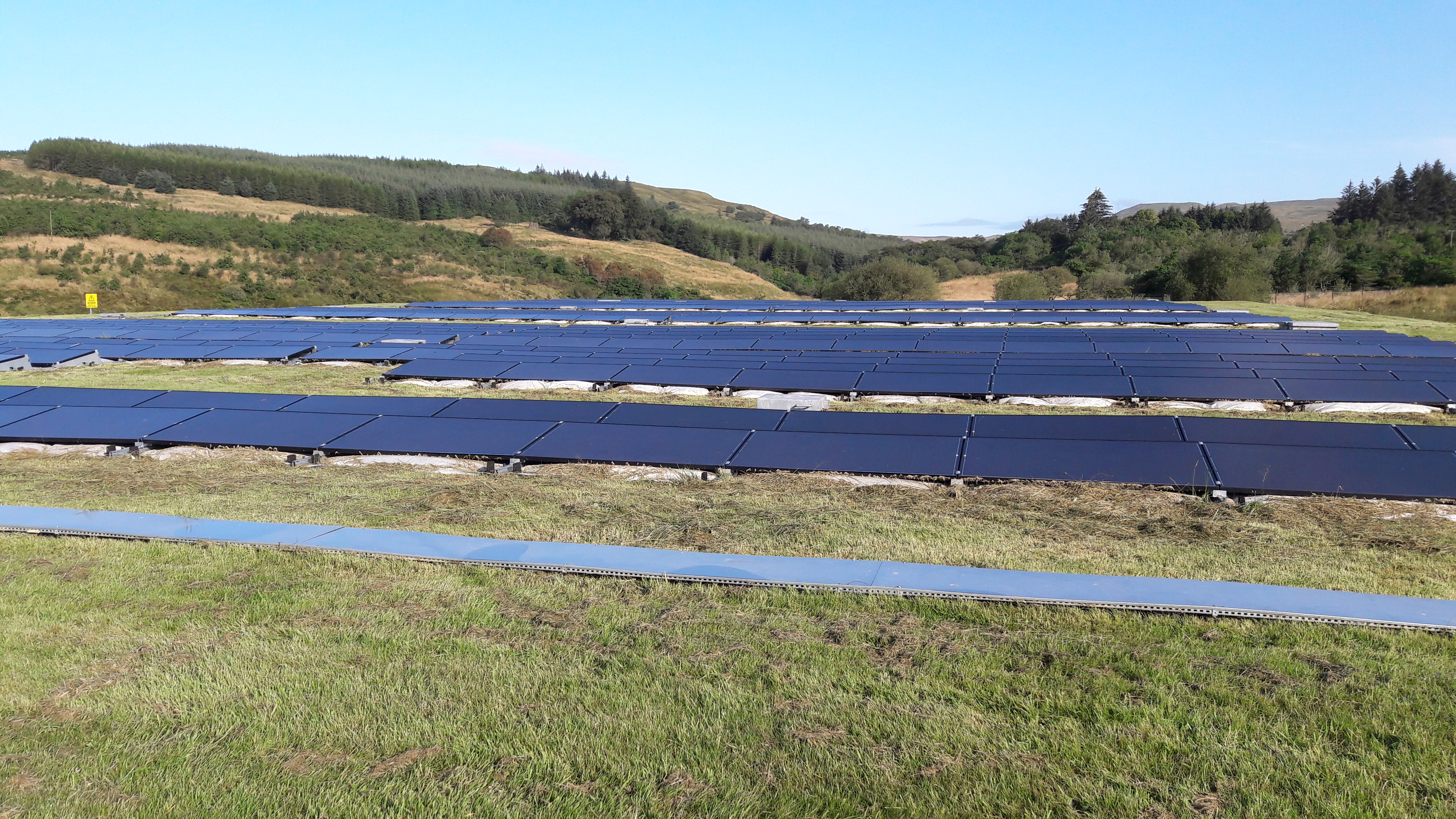 A total of 674 solar panels are now in place at Scottish Water's Glenconvinth WTW, which provides drinking water from Loch Bruicheach to 5500 customers in Drumnadrochit, Beauly and west Inverness.
Around a third of the site's electrical needs are now met via renewable energy, with the new solar PV system generating 0.175GWHr of electricity on an annual basis – the same amount of energy needed to power more than 50 homes for a year.
It is the latest solar power scheme to be delivered by Scottish Water Horizons, the utility's stand-alone commercial business that works to encourage growth and invest in renewable technologies.
Renewable energy experts FES Support Services and Absolute delivered the Camphill and Glenconvinth projects respectively on behalf of Scottish Water Horizons.
Kingdom Housing Association wins gold award for development
Kingdom Housing Association's latest development with Campion Homes in Cupar Muir, Fife, has been awarded top honours from Police Scotland, receiving Secured By Design (SBD) Gold Accreditation.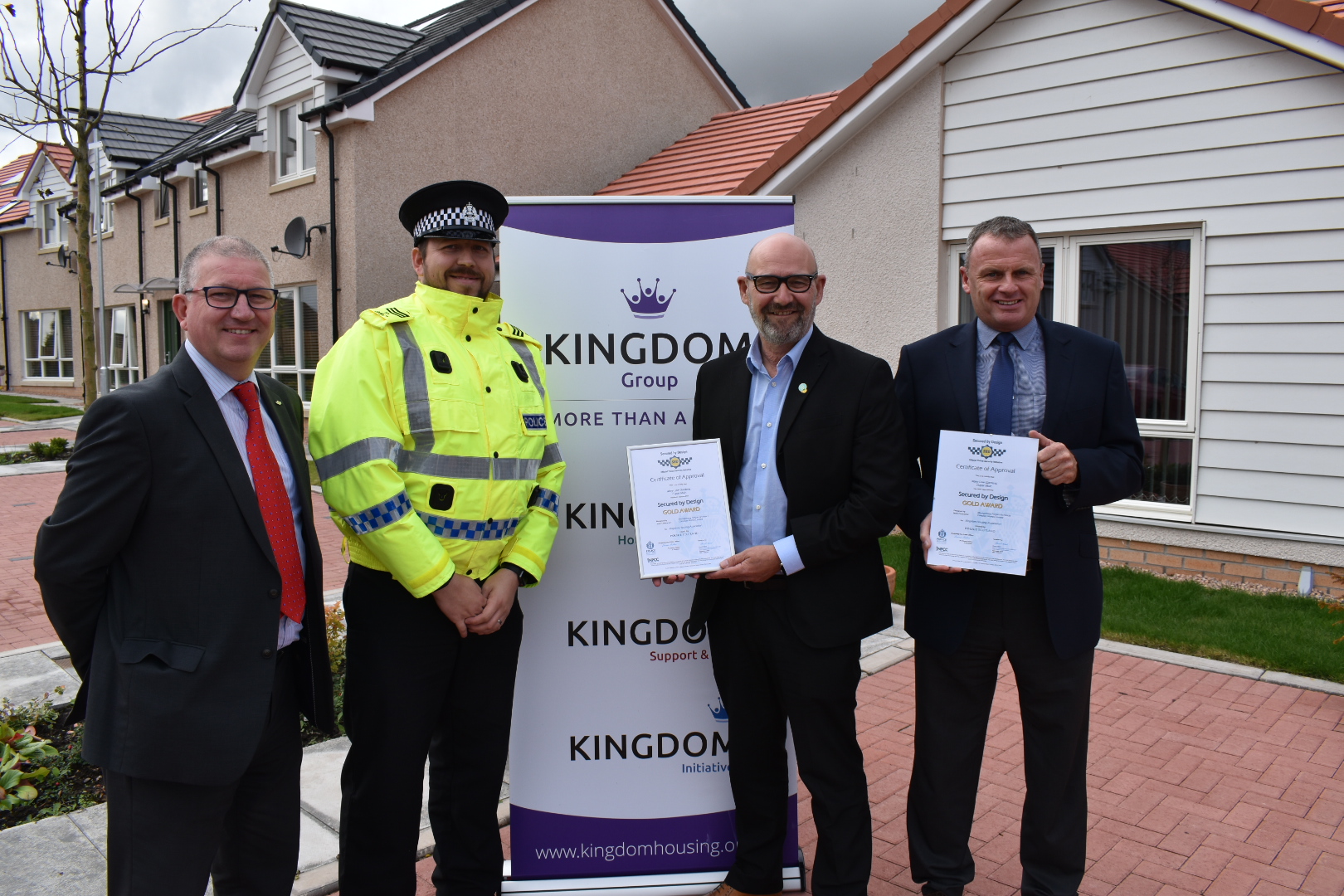 Secured By Design is a national police initiative that improves the security of buildings and their immediate surroundings to provide safe places to live, work and visit.
Campion Homes developed the 25 new homes at Cupar Muir, a range of 2, 3 and 4-bed houses as well as amenity home, suitable for older people or tenants with particular housing needs.
A study taken from more than 150 Kingdom Housing Association developments across Fife, showed a marked drop in crimes on the SBD developments compared to non-SBD developments over the 18 year period between 1997 and 2015.
The study showed that 3,000 homes built to the SBD standard have had 87% fewer crimes recorded.
The total cost of Kingdom's development was around £3.8 million with £1.9m provided by the Scottish Government and in addition to being safe and secure, the new homes are also highly energy efficient with 'A' rated dual-zone combi boilers with flue gas heat recovery systems included as well as photovoltaic panels.
Two new council housing developments open in Aberdeenshire
New council houses were officially opened in two Aberdeenshire communities on Friday.
The completion of work on 31 homes at Dales View Drive and Ruby Crescent in Peterhead was celebrated with a ribbon-cutting ceremony, while a further 26 properties were revealed in Oldmeldrum.
Children from Dales Park School in Peterhead joined construction chiefs, councillors and the tenants who have recently moved into the properties for the event.
The housing development scheme was initiated to help mitigate the problem of a lack of council housing in the area.
The Ruby Cresent development, which was completed by CHAP in May this year, features a mix of one, two, three and four-bedroom flats, houses, and a bungalow, some of which are adapted for tenants with particular needs.
The new homes were named Ruby Crescent by the pupils as part of Dales Park School's 40th anniversary.
All the homes at Peterhead and Oldmeldrum were built as part of phase six of Aberdeenshire Council's new build housing programme, which has received around £22.5 million of investment.
Marischal Square to host BCO 2020 Awards Launch and Tour
The British Council for Offices (BCO) has announced that the 2020 Awards Launch and Tour event will be held at Marischal Square, Aberdeen on October 9.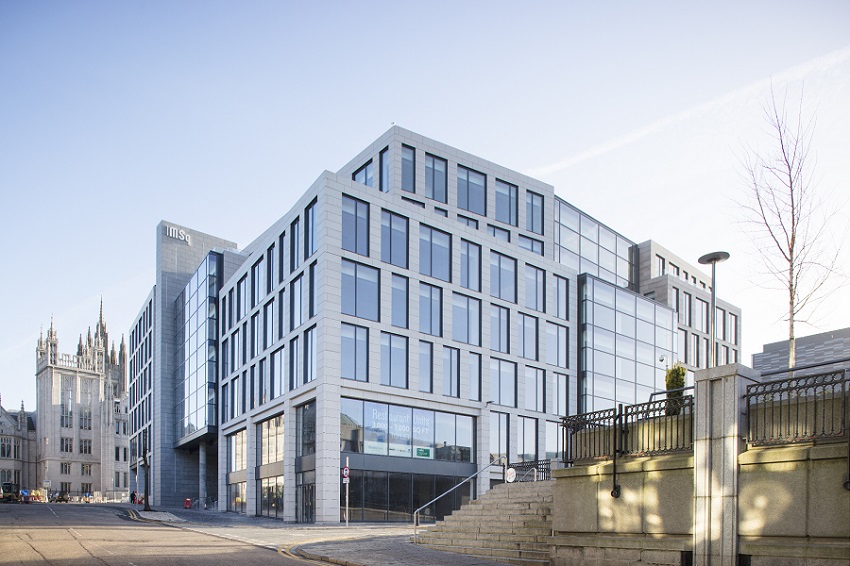 Marischal Square was highly commended by judges in the regional BCO Awards 2018 in the category of 'Commercial Workplace'.
The Awards Launch and Tour of Marischal Square will offer the chance to network and explore what makes a successful BCO Awards entry.
The event will close with refreshments and the opportunity to network with fellow members and industry peers.
Tim Hopkinson elected to BuildUK board
Former BESA President Tim Hopkinson was recently elected to the board of BuildUK – the representative body for construction clients, main contractors and SMEs.
BuildUK represents clients, main contractors and trade associations including more than 11,500 specialist contractors. It works closely with government and aims to improve the efficiency and delivery of construction projects by promoting collaboration across the industry's supply chains.
Current BESA President John Norfolk welcomed the appointment of Mr Hopkinson and said he would be "a powerful advocate for specialist contractors on the Build UK board".
Mr Hopkinson is managing director of E Poppleton & Son Ltd and, since completing an apprenticeship and MBA, has built up almost 40 years' experience in the engineering, construction and building services sectors. He was BESA President from 2017-2019.
Volunteers prime gesture for Hansel
A group of enthusiastic volunteers gave Hansel so much more than a lick of paint when they recently helped transform the charity's Supported Living Offices at Broadmeadows Estate in Symington.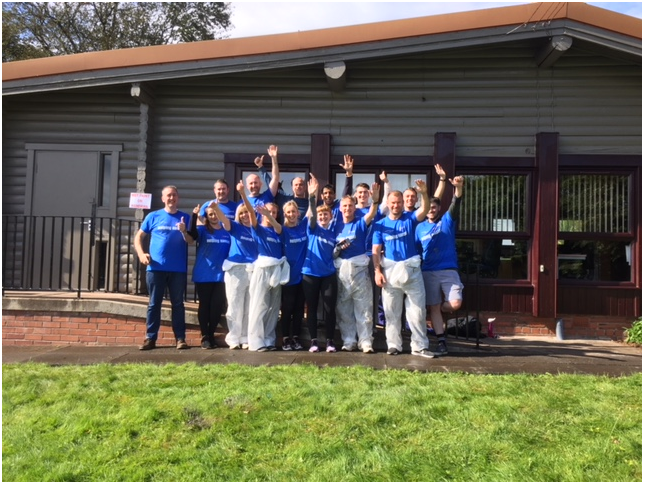 Fifteen staff members from Glasgow-based Faithful+Gould spent two days transforming the exterior of the offices which is the administrative base for 120 team members who support 60 customers with additional support needs across Ayrshire.
Customers and team members voted on the colour of paint that the team used to brighten up the offices which were badly in need of a face-lift.
Spotlight on future of Fort William at successful FW2040 event
The focus was on the future of Fort William last week when more than 20 organisations and groups representing development and investments in the town gathered at the Nevis Centre for the FW2040 Vision – One Year On event.
Billed as a gathering place for people to talk to the groups and organisations promoting the various developments in the area, members of the public dropped in throughout the day to review progress made in taking forward key projects and to give their views on the next stages of the masterplan.
The good turnout from the community ensured that each of the workshops which focused on key themes were well attended with lots of interaction and questions asked and answered.
Representatives attending included Transport Scotland, NHS, Highland Council, UHI, Lochaber Chamber of Commerce, HIE, Forestry & Land Scotland, Scottish Canals, Crown Estate Scotland and major employers including Liberty as well as local community groups and organisations.
The event marked one year since an initial consultation held in September 2018, where feedback from participants helped to develop a vision, masterplan and delivery programme for the future of Fort William and Lochaber.
Aberdeen schools project shortlisted for planning award
A project that saw conservation planners working with school children to produce shopfront designs for Aberdeen's Union Street has been shortlisted for a second national award. 
The Aberdeen City Council – Union Street CARS – Schools Shopfront Design Project has been named as a finalist in the "People" category at the Scottish Government's Scottish Awards for Quality in Planning.
The schools project was developed by the council, the Aberdeen Urban Studies Trust, and the Aberdeen City Heritage Trust, and supported by The Scott Sutherland School of Architecture and Built Environment and the Aberdeen Society of Architects. 
It was taken forward as part of the Union Street Conservation Area Regeneration Scheme and culminated in a public exhibition at Aberdeen Arts Centre.
Nearly 400 youngsters from six primary schools – Albyn, Heathryburn, Kittybrewster, Middleton Park, Robert Gordon's College and Skene Square – drew up designs ranging from a pet shop with a dog assault course to a music shop with on-site tuition to a retailer specialising in space toys. 
The project was a finalist in the "Excellence in Planning for Heritage and Culture category" at the Royal Town Planning Institute Awards of Planning Excellence earlier this year. 
The £2.4 million CARS programme is jointly funded by Aberdeen City Council and Historic Environment Scotland with further backing from Aberdeen Inspired. Grants are available to help pay for repairs and renovations. 
More information on the Scottish Awards for Quality in Planning can be found here.