DJ Laing Homes celebrates handover of 700th home
---

---
Carnoustie-based DJ Laing Homes has celebrated a construction milestone after handing over their 700th home to delighted new owners at their Malt Loan site in the Angus town.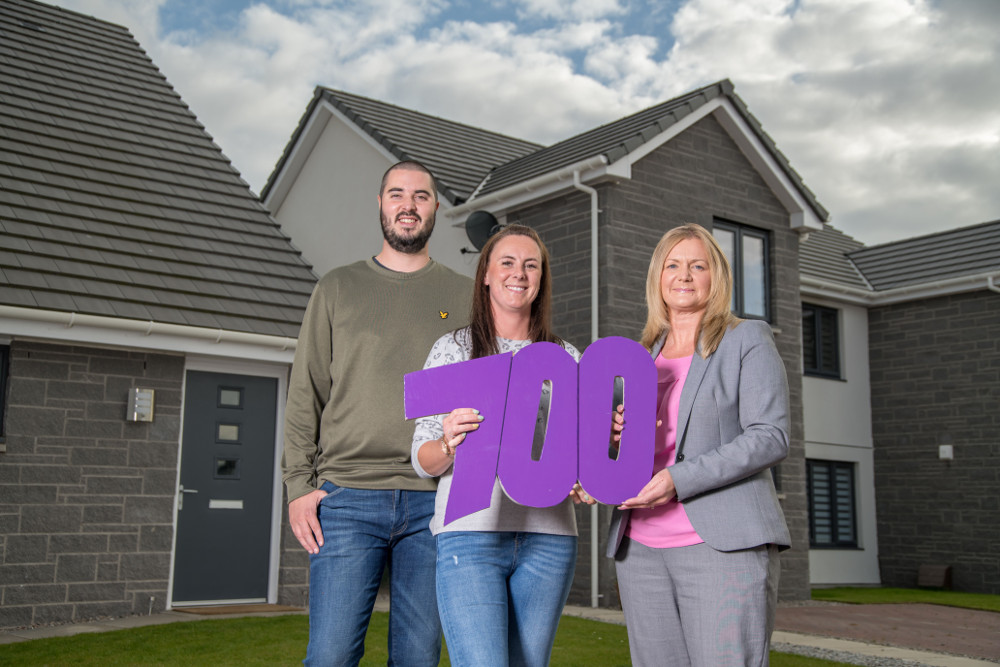 DJ Laing staff members recognised this achievement after the keys were handed over to Stephanie Murphy and Michael Currie and their family by managing director Karen Nicoll.
The company, part of the DJ Laing Group, diversified into the housebuilding sector in November 1986. The company currently employs 80 team members and 40 local sub contractors throughout Tayside.
Ms Nicoll said said: "Our 700th home marks an important achievement in our history of producing high quality new homes."
DJ Laing Homes' first project was the refurbishment of two cottages at Long Row, Easthaven.
Since then, the company has built over 700 new homes to date on 25 new housing developments in Carnoustie, Dundee, Letham, Brechin and Arbroath.
The company's largest development to date was at Ballumbie in Dundee where 223 brand new homes were built from 1999 to 2012. The development proved so popular that some house buyers queued up for up to a week following a release.
In 1999 the company carried out extensive work on a former jute mill which was in an extremely dilapidated condition and transformed the building into its headquarters, now known as Laing House. This building enjoys a panoramic view of Carnoustie's championship golf course and won an Angus Design award for the building's design by local architects, the Voigt Partnership.
DJ Laing has also worked in partnership with Angus Housing Association in providing 74 much needed affordable homes, namely one- and two-bedroom flats and two- and three-bedroom homes in Carnoustie.
DJ Laing's latest development at Castle View in Dundee is currently proving popular with 97 new homes being built in five various house designs.
DJ Laing's future vision includes a 24 acre business park and 274 homes at Upper Victoria/Pitskelly plus the regeneration of Panmure Industrial Estate, Carnoustie with luxury apartments overlooking the golf course, which will allow the business to continue and safeguard local employment.