John Kennedy named winner of Hamilton Mausoleum competition
---

---
The Glasgow Institute of Architects (GIA) and Hamilton Mausoleum Trust have named John Kennedy as the winner of the Hamilton Mausoleum & Keeper's Lodge Design Ideas Competition.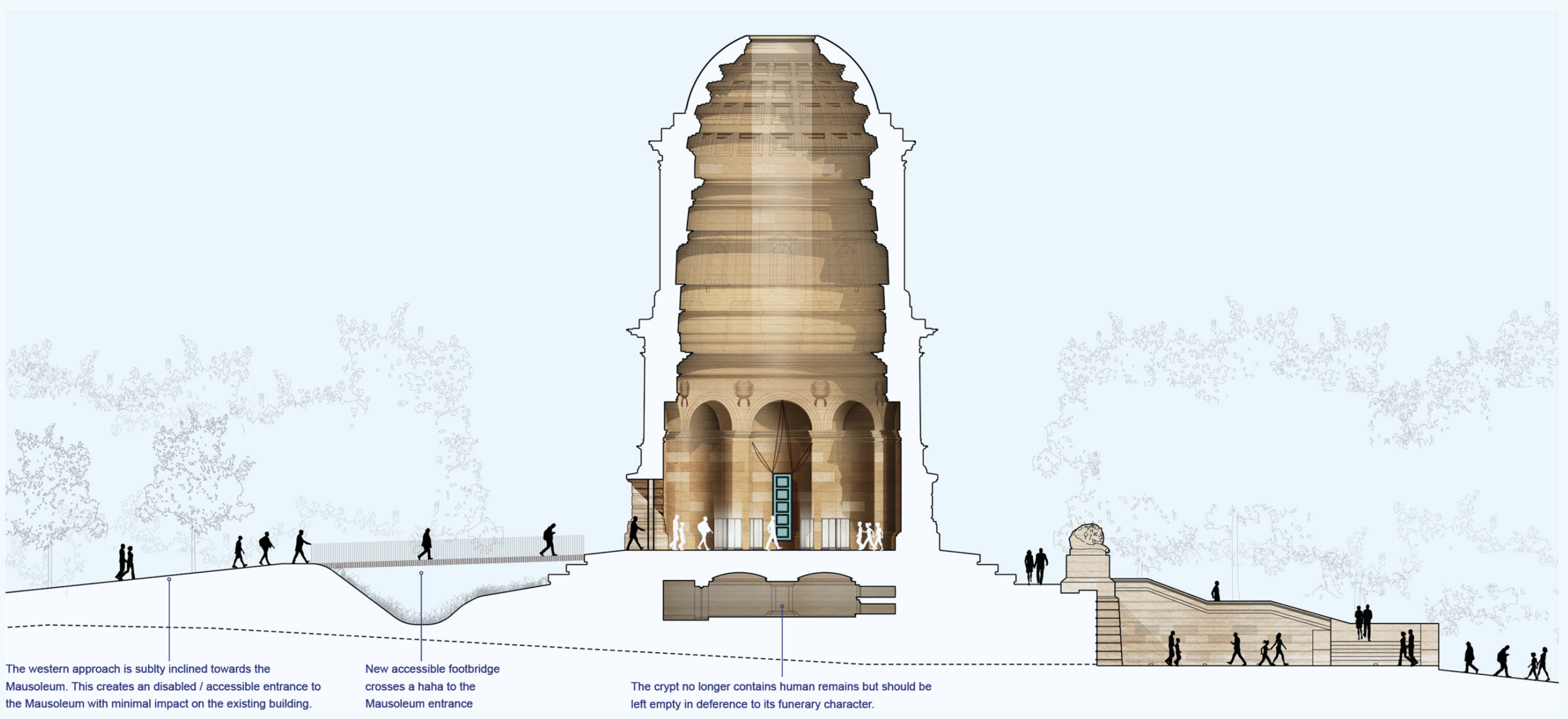 The GIA launched an international competition for design ideas to save the Hamilton Mausoleum and Keeper's Lodge for the cultural benefit of future generations.
Over 100 people entered the competition, which sought ideas for the re-imagining of the Mausoleum & Keeper's Lodge and connections to the Low Parks masterplan and attracted over 100 registrations.
GIA President Phil Zoechbauer said: "Having lived in Hamilton and passing the iconic mausoleum structure many times, this competition has been an opportunity to look at it - and the possibilities that surround it - with fresh eyes.
"As a panel, we were collectively impressed by the originality of ideas and quality of submissions. The selected schemes were diverse in their approaches to re-imagining what Hamilton Mausoleum and it's Keeper's Lodge could be, ranging from the fantastical to the 'light-touch', and their potential for bringing these monuments back to life are inspiring."
After much deliberation, the entry by John Kennedy which sought to reimagine the landscape around the mausoleum in a more formalised manner was chosen by the judges as the first-placed winner.
Guest judge Professor John Hume OBE commented: "The proposal greatly enhances the setting and improves the landscape value of the area around the mausoleum whilst facilitating the competition brief and drawing attention to the mausoleum and keeper's lodge, whilst also being an asset to the town of Hamilton."
Ross Lambie, representing the Hamilton Mausoleum Trust, said: "The winning proposal by John Kennedy set out a robust and adaptable masterplan for the wider site, breaking the hinterland up into defined zones, each taking advantage of an existing under-utilised attribute. The Trust congratulates John for his winning entry it certainly has given us delicious food for thought on the future of the Mausoleum and Keepers Lodge."
President of the New Zealand Institute of Architects Judi Keith-Brown said: "John Kennedy's scheme taught me a lot about the history of the site, especially around the great north avenue, the reinstatement of this, combining the manmade with the bio-diversity of the site including the wetlands, makes for a very beautiful and achievable scheme."
An 'honourable mention' was given to the entry 'Living Waters' by Harriet Ridout, with GIA past president Isabel Garriga saying: "Living Waters resonated with all the judges for a reason. Even though it was totally unrealistic and, in many ways, an architectural fantasy, the idea of making this monument approachable though the use of water and in such a unique way, it was simply irresistible, moving and powerful. Pure unadulterated architectural joy!"
All entries will be part of an online exhibition with a future exhibition within the Hamilton Low Parks Museum to be held in the near future. The entries will also form part of a 'public vote' to be held during this time.