ONS: Construction output returns to pre-pandemic level
---

---
Output in the UK construction sector rose past pre-pandemic levels for the first time, according to new figures from the Office for National Statistics (ONS).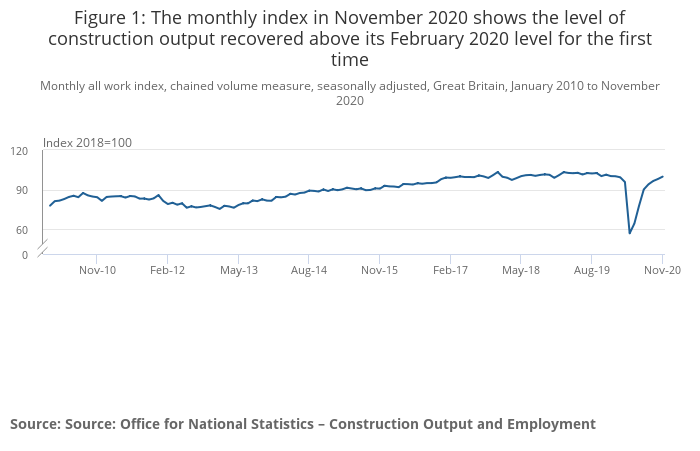 Output grew by 1.9% in the month-on-month all work series in November 2020, because of a 3.5% increase in new work that more than offset the 0.6% fall in repair and maintenance; this was the seventh consecutive month of growth since the record decline (40.7%) in April 2020.
The level of construction output in November 2020 was 0.6% above the February 2020; with repair and maintenance work 7.4% above and new work 3.1% below its pre-pandemic level.
The monthly increase in new work (3.5%) in November 2020 was because of growth in all new work sectors apart from public new housing and public other new work, which fell by 2.4% and 2.8% respectively.
The monthly decrease in repair and maintenance (0.6%) in November 2020 was because of a 6.0% fall in private housing repair and maintenance, despite growth of 5.7% in public housing and 1.9% in non-housing repair and maintenance.
Construction output grew by 12.4% in the three months to November 2020 compared with the previous three-month period, because of growth in both new work (11.9%) and repair and maintenance (13.2%).
The Federation of Master Builders (FMB) said the fall in repair, maintenance and improvement (RMI) work points to a bumpy recovery for construction, which must be strengthened if we are to 'build back better'.
Brian Berry, chief executive of the FMB, said: "The March Budget provides the Government with a valuable opportunity to back the UK construction sector's recovery from the pandemic, with short term stimuli and a long-term vision. The Government should use the Budget to scrap reverse charge VAT which will take cash away from small businesses when they need it most.
"It should back a short-term cut in VAT to keep the RMI market moving, and make it more likely homeowners will opt for green improvements to their homes. And in the year of COP, the Government should endorse a national retrofit strategy to tackle the UK's contribution to climate change and make our homes warmer and greener for generations to come."
Mr Berry added: "With construction output growing by 1.9% in November 2020, the construction sector continues to remain a resilient source of economic recovery for the UK. While increases in new work fuelled the sector's recovery, the decreased output of RMI work in November 2020 should be cause for concern in these latest figures.
"RMI work has served as a relatively consistent source of fuel for recovery within the sector and is of great importance to our efforts to make our buildings greener and achieve net-zero by 2050. Small and medium-sized builders stand ready to undertake this work, but greater assurance during times of significant uncertainty is required."
Mark Robinson, group chief executive at SCAPE, said: "These figures demonstrate the construction industry's strong end to the year, despite the uncertainty created by the conclusion to 2020's Brexit negotiations and the ongoing impact of Covid-19.
"Looking to the year ahead, both issues will continue to cause disruption – particularly materials and labour; both in terms of costs and availability – as construction firms and their employees keep projects moving and completed to the highest standard to drive the UK's economic recovery.
"The resilience of the construction industry's output over the past six months has seen it step up to the plate, with public sector projects, including housing, set to provide further stability through the remainder of the pandemic and beyond. With the new Construction Minister in place, and a potential end to the pandemic on the horizon, it's critical that public sector spending maximises value for communities. By maintaining investment and using it to support local masterplans, local authorities and public sector organisations can help reduce the effects of the economic crisis whilst building for a stronger, more sustainable future."
Gareth Belsham, director of the national property consultancy and surveyors Naismiths, added: "Construction barely skipped a beat in November as the other major sectors of the UK economy slid into reverse.
"But construction's continued expansion represents much more than just the bragging rights of the only industry still growing.
"Growth has extended to a seven-month streak and total construction output has powered back past its pre-pandemic level for the first time.
"That impressive turnaround is being driven largely by the white-hot growth in infrastructure work, which is now up over 9% on its February level as the industry gets stuck into a series of major public infrastructure programmes.
"Private sector housebuilders are also on a roll, with their subsector surging by £124m compared to its February level.
"But for all the headline-grabbing successes, there are weak spots in the industry too. Output in the commercial property sector is flatlining and public sector housebuilding continues to contract.
"Overall there is much to cheer here. Construction is once again a £14bn industry, and sites remain open even during the latest national lockdown.
"Strict social distancing rules are pegging back productivity as fewer people are allowed on site at any one time, and interruptions to the supply chain are causing delays and cost pressures.
"Yet for all that, construction is back with a bang and providing the one bright spot in the UK's darkening economic outlook."