£100m for housing redevelopment of historic Angus hospital
Around £100 million has been provided for the construction of over 450 homes on the site of the former Sunnyside Royal Hospital and surrounding estate in Montrose.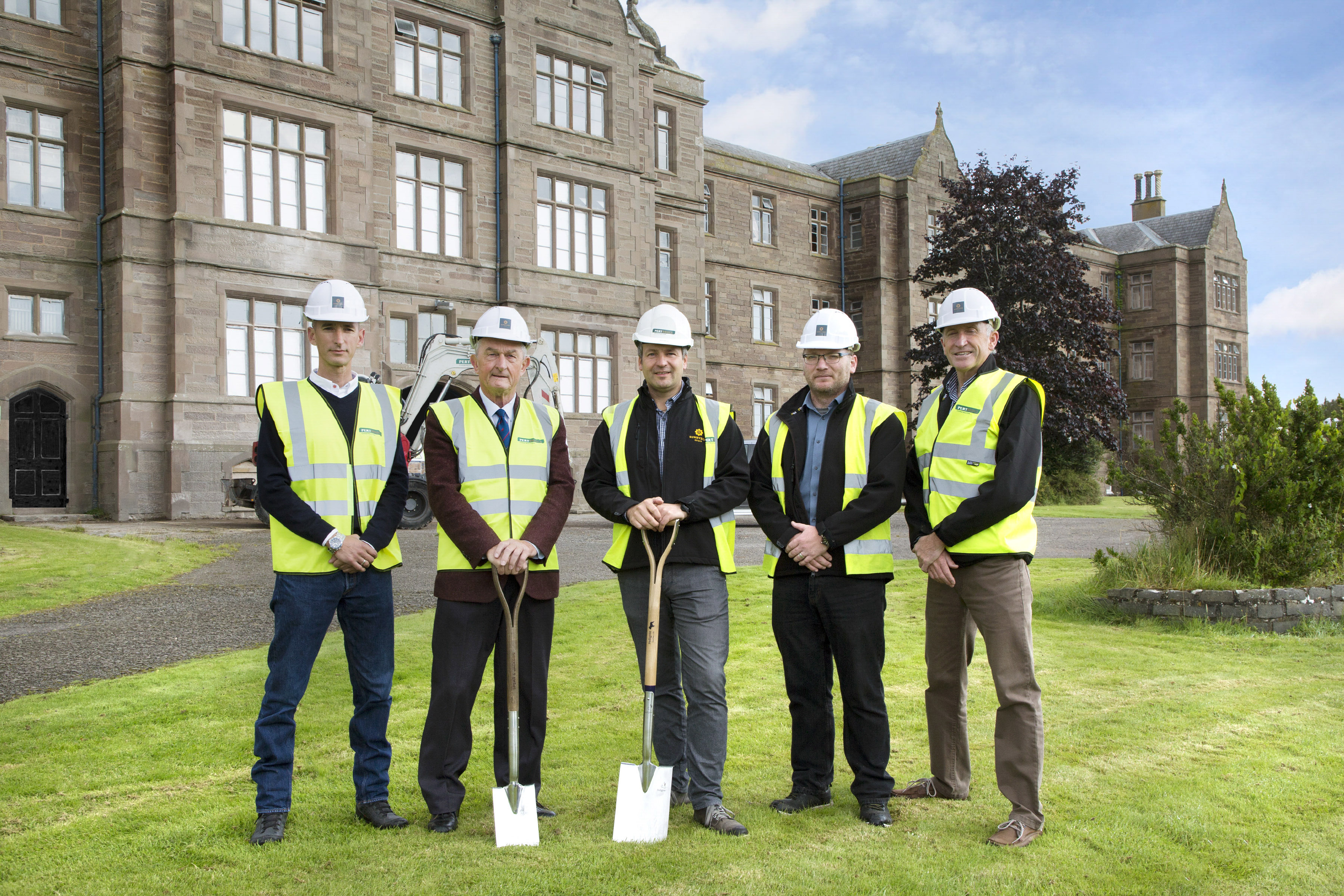 Sunnyside Estates Ltd has undertaken the development as a joint venture between local company Pert Bruce Construction and Edinburgh-based developer FM Group. The construction is expected to stimulate the local economy by creating around 50 local jobs within the next decade.
Just outside of Montrose, the 64-acre former Sunnyside Royal Hospital building and the estate is being redeveloped to provide a combination of apartments and family homes. Refurbishment into apartments and homes will form the centrepiece of the Sunnyside Estate. A further two new built areas, The Woods and The Orchard, destined for family homes are to be constructed. The redevelopment will also allow residents to access a community faculty located in the original Recreation Hall of Sunnyside main building. The build will also be linked by a network of walkway and cycle routes through the open landscaped and mature woodland areas.
---
---
Local stakeholders including local councillors Mark Salmond, Tommy Stewart, Bill Duff and Ron Sturrock joined John Milne and Richard Milne from FM Group and Craig Bruce, Jamie Pert and David Stewart from Pert Bruce Construction, to celebrate the sales launch of the Angus site.
Craig Bruce from Pert Bruce Construction said: "As a local, family company we look forward to delivering a high-quality residential development, transforming this magnificent site and ensuring that it will once again be prominent in the local community. We are passionate about building quality developments that preserve our country's heritage. In this context, we worked closely with the local community and planners to develop proposals that maintain the history and heritage of the former hospital and natural environment along with consideration to both existing and new communities."
He added: "Our desire to create a benefit for the local area, and this together with sustaining and creating local jobs has been foremost in our vision for Sunnyside. We anticipate this development to be successful and well-received by the local community."
Robert Croll from FM Group said: "We are very proud to be bringing luxury apartments in this historic listed building onto the market as well as family homes in the estate grounds. Given the uniqueness of the Estate, it will undoubtedly be in extremely high demand, delivering a desirable and sustainable place for those living here. We look forward to welcoming people here to view what Sunnyside Estate has to offer. Sunnyside Estate represents an idyllic setting, history and a uniqueness seldom found in other sites and we are very excited about bringing it forward."
---
---
Gordon McKenzie, director of Ballantynes, the sales agents for Sunnyside Estate, added: "Ballantynes is incredibly proud to be part of this project that is breathing life back into this historic estate of Montrose, which is a core part of the local heritage. Sunnyside Estate will provide much needed quality homes for the Montrose and Angus area. The wide range of options this project offers – from luxury apartments to large family homes is already proving to generate an unprecedented level of interest and we have no doubt that it will be a success."
---