£113m University of Glasgow research hub tops out
The construction of a £113 million research facility at the University of Glasgow reached a key milestone this week the completion of the five-story concrete frame and the half-way point in construction.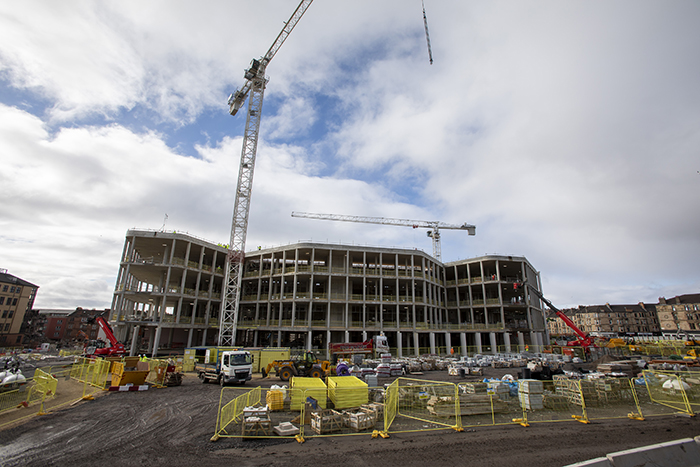 When complete, the research hub will be a unique and world-leading facility in the heart of the West End of Glasgow providing state-of-the-art facilities and inspiring spaces where world-changing research can thrive.
The topping out ceremony was led by Professor Sir Anton Muscatelli, vice-chancellor and principal of the University of Glasgow, Andrew Ridley-Barker, Multiplex operations director for Europe, Randy Kray, senior principal and director for science and technology and Alan Addison, project lead and principal from architects HOK.
---
---
Sir Anton said: "The University of Glasgow has fostered world-changing research for centuries and our major new investment in the Research Hub will ensure we continue to shape the world around us for years to come.
"This exciting development will provide a world-class research facility at the heart of our new Western campus. It will bring together academics from many different disciplines to create a unique and inspiring community, working to address some of the biggest challenges facing society."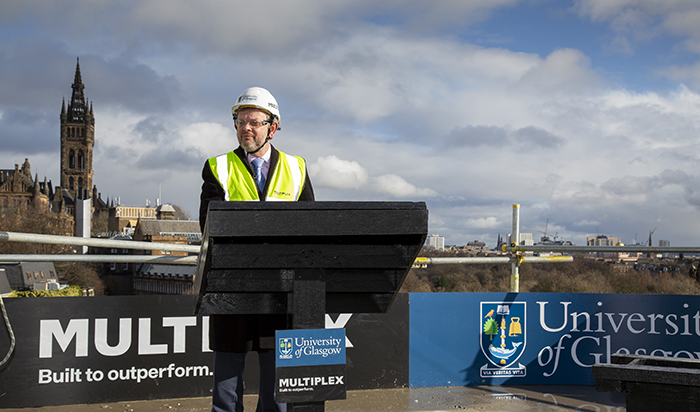 Darren Pike, Multiplex project director, said: "Multiplex are delighted to be working in partnership with the University of Glasgow to deliver the Research Hub. We are proud to have reached this landmark milestone on programme and look forward to delivering this world class research facility within the heart of the new Western Campus."
---
---
Gary Clark, regional leader for science and technology from HOK's London studio, said: "I am delighted that the University of Glasgow's Research Hub has reached this important milestone of topping out. This building has already built up a global following due to its uniqueness and all eyes are on it as it's set to be a ground-breaking, innovative facility for interdisciplinary research. I am especially proud that this is in my home city of Glasgow and hope this will be the beginning of a sustained presence for HOK in Scotland."
The research hub will be the second building delivered through the University of Glasgow's £1 billion Campus Development Programme.
The ground floor of the building will be publicly accessible, with café and exhibition spaces fostering engagement with research partners and the wider community.
---