Alex Orr: Planning for the capital's development
Alex Orr considers a key planning document being proposed for Edinburgh and what it might mean for developers.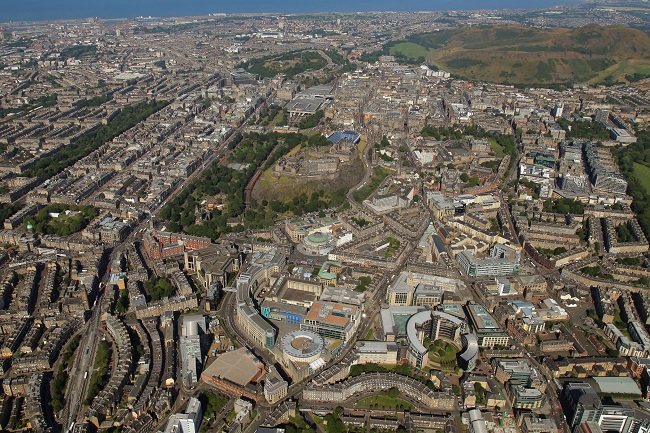 With summer well underway, housebuilders and other developers who we have been working with would normally have been spending time poring over the new proposed Local Development Plan, 'City Plan 2030', and formulating their response.
The plan will dictate Edinburgh's future, and the city we leave for generations to come, outlining policies and proposals for development in the capital between now and 2030.
---
---
It seeks to support lofty ambitions to make Edinburgh a sustainable city, with the right types and quality of new homes and neighbourhoods, in the right locations, with the right infrastructure.
The plan will set out locations for new homes and businesses, protects places of historic and environmental value and identify where new or improved facilities, such as public transport, schools and parks will be provided.
The current Edinburgh Local Development Plan, which City Plan 2030 aims to replace, was adopted in 2016.
The first point in the delivery of the local plan was the 'main issues report', Choices for City Plan 2030, which was published in January.
---
---
As the title suggests, the document sets out 16 development choices from the city council which are to be consulted on and range from a focus on brownfield developments to student sites over a certain size requiring to have 50% housing.
Due to COVID-19 however, the intended summer publication of the proposed City Plan 2030 has been delayed until later this year and, once produced, will be consulted on and adopted next year.
It will be interesting to see how this will be amended to take account of the obvious economic and social impacts of COVID-19, especially as they relate to a focus on brownfield development and increasing regulation of short-term lets.
The Choices for City Plan 2030 document noted that it is estimated that 22,600 market-led homes will be needed by 2032, while – as also noted in the document – officials expect 20,800 units from the council's affordable housing programme will be delivered over the same period.
---
---
Among the key aspects of the 'Choices' document are the following:
Greenbelt
Council officials have outlined in the Choices for City Plan that the preferred option is to deliver housing on brownfield sites, noting that it wants to "avoid the unnecessary use of greenfield land and build our new communities on brownfield land, at a better density".
Despite the brownfield option delivering 17,600 new homes compared to the 27,900 with Greenbelt release, officials stress enough housing will be provided through either option or a blended choice.
---
---
However, the Choices document recognises that this approach may not be financially viable for the council to deliver or for it to achieve an annual delivery rate to prevent the release of further Greenbelt land (for the purposes of this article, 'Greenbelt' being the land on the city's outer boundary, 'greenfield' being green space within the city).
If the preferred brownfield option is backed, the document warns that the authority may "need to intervene to deliver 275 hectares of employment land for mixed redevelopment" and the approach "may require a significant compulsory purchase order programme to ensure land comes forward".
Potential greenfield sites outlined in the report include land at Kirkilston, east of Riccarton and south of Edinburgh Airport. It is noted that, should sites be released, they will require "significant new infrastructure" such as schools, health care and transport.
This approach being taken by the council, focusing on brownfield sites, will clearly be of interest to those developers seeking to develop greenfield sites.
---
---
In a post-COVID world, the viability of opening up brownfield sites alone to deliver such levels of development is open to even greater challenges and I predict it will see the council soften its original approach.
On-site housing provision
Sites over 0.25 hectares coming forward for student housing, hotels and short-term commercial visitor accommodation, and other business, retail and leisure developments, will require at least 50 per cent of the site to be provided for housing. This would not apply to land specifically allocated within the plan for a specific use, e.g. business and industry.
This proposal will clearly be of some concern to developers seeking to deliver sites of a certain size, with housing provision on their developments not something originally intended and potentially impacting on viability.
---
---
Sectors such as student housing and hotels may find themselves impacted by COVID-19 and the council may have to rethink its strategy if it is looking to deliver housing requirements in part from these sites.
Affordable housing and carbon neutral
The council is committed to building 20,000 affordable and low-cost homes over the next ten years. In this context, it is proposed that affordable housing provision be increased from 25 per cent to 35 per cent for developments of 12 residential units or more and that all buildings should be zero-carbon in order to deliver the council's target to be zero-carbon by 2030.
In a financially-constrained environment, given COVID-19, the increased affordable housing provision may threaten the viability of such developments.
Short-term lets
One choice put to the public is to potentially designate the entire city or parts of it as a 'short term let control area', which would mean "planning permission will always be required for the change of use of whole properties for short-term lets", under new rules being introduced by the Scottish Government.
The authority has always maintained an ambition to cap the number of short-term lets in certain parts of the city. Given COVID-19, it may find that this is happening anyway, given greatly-reduced occupancy levels for the foreseeable future.
Conclusion
Given proposals that focus on brownfield development, that increase affordable housing provision and require 50 per cent housing on sites coming forward for certain types of development, there has naturally been considerable interest in Choices for City Plan 2030 from the developer community.
To what extent the council has undertaken surgery on its original proposals, given the impact of COVID-19, will be interesting to see, especially given any government focus on a construction-led economic recovery.
Like many others we, therefore, await the publication of the proposed City Plan 2030 with eagerness.
Alex Orr is managing director of Orbit Communications