And finally… Construction stars in new humour book by the man from BAM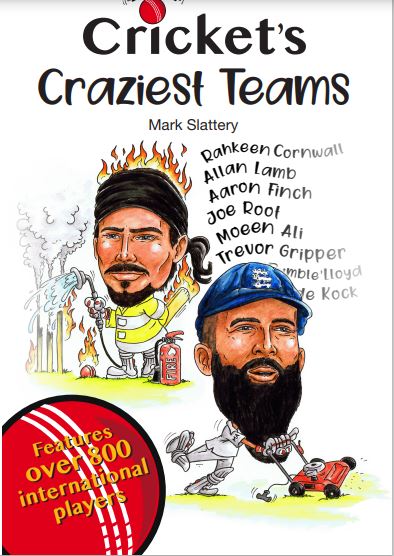 Construction and cricket might not sound like natural bedfellows, but for BAM Construct UK's long-serving communications man Mark Slattery, they have proven the source of considerable fun.
Slattery has just written his first book, Cricket's Craziest Teams, which features teams of real international players selected according to the commonality of their names. Inevitably, he's managed to assemble a team of construction-sounding cricketers.
"Cricket buffs who go back a bit may remember players named Contractor and Engineer," said Slattery, "so I thought there must be others to fit the theme."
The Construction Crazy Cricket XI therefore also features the likes of Mason Crane, the English leg-spinner (who Slattery says "counts double points") and players called Steel, Power, Loader and Wall.
---
---
His book is full of witticisms – "the selector had to decide if he was retaining Wall" – but also features stories about the players that he unearthed during two years of research. "Peter Loader, the English fast bowler of the 1960s, set up his own haulage company," he says. "He obviously got the idea before I did."
It isn't just a list of construction names he's assembled, however; Slattery says rules are important.
"I set myself the challenge of not just picking a team according to the players' names, but it has to be a balanced side. Imagine a football team with no strikers or a goalkeeper – you can't have 11 midfielders, and a cricket team also needs a number of different roles to function."
Cricket hasn't been unkind to BAM itself, the company having worked, over the years, on structures for Gloucester CCC, The Oval, two developments for Lord's, and the Headingley Carnegie Pavilion, where he set up a fun photo opportunity.
---
---
"Back in time BAM built parts of the Oval in the 1950s, when Surrey won cricket's county championship a record seven seasons in succession. The company formed a strong relationship with the county, and many England players including the captain, Peter May, played in charity fundraisers and attended its annual socials."
Cricket's Craziest Teams also lists XIs for tradesmen, industry, and such abstract themes as birds, illnesses, hotels, dogs, baking, and motoring among its 50. "It's got gift written all over it, it's very silly, but also very factual, and utterly absurd." There is also an 'unsafe' XI featuring players with names like former England bowler, Graeme Hole.
The cricket T20 world championships commenced on 17 October and the Ashes begins on 08 December.
---