And finally… fine print
A Dutch couple has moved into Europe's first 3D-printed house.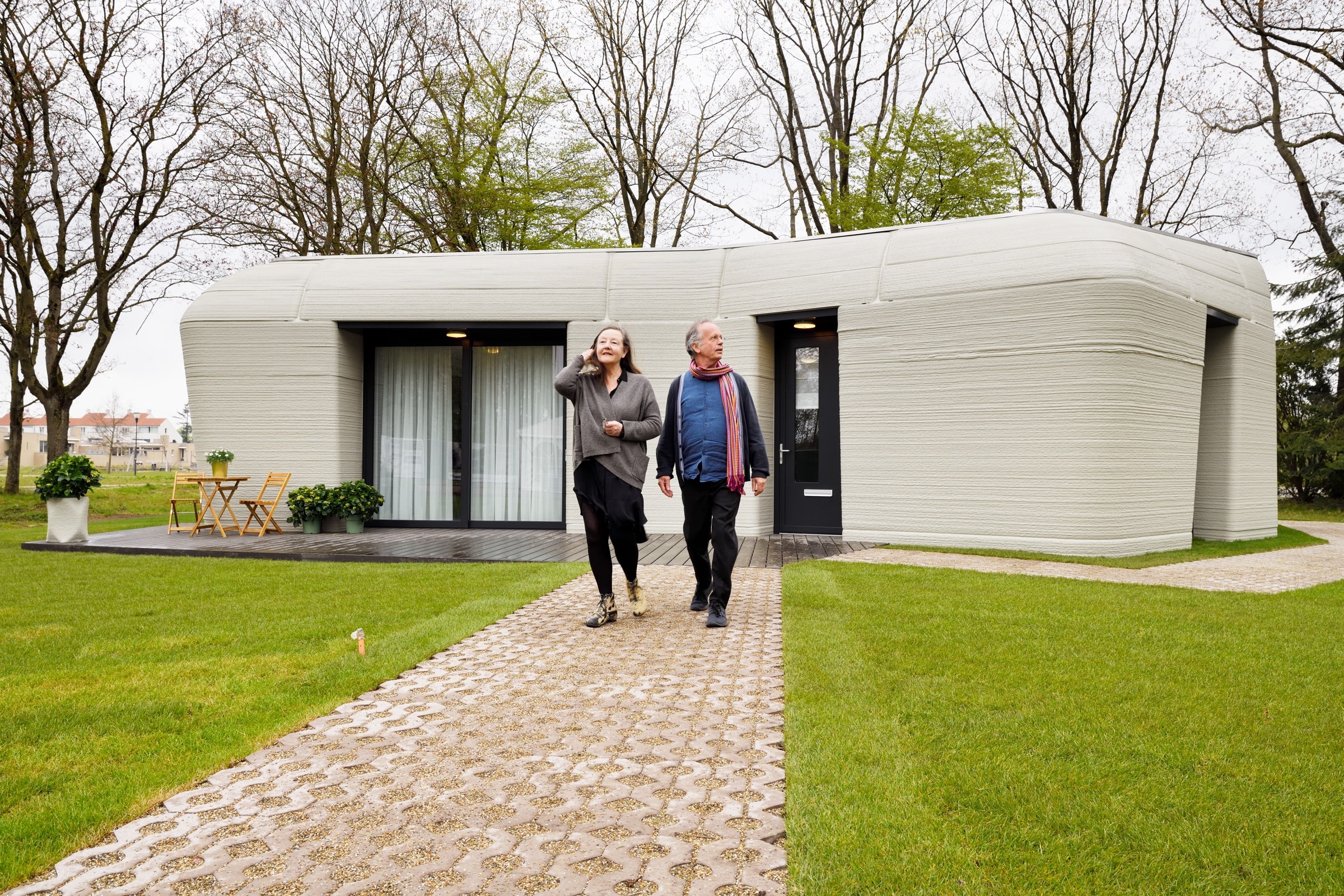 The house in Eindhoven – the first of five within 'Project Milestone' – fully complies with all of the strict building requirements of The Netherlands. Uniquely, the project partners have realized a home with an entirely original design thanks to extensive R&D that enlarges the freedom of form in concrete printing. Project Milestone is a joint construction and innovation project of Eindhoven University of Technology, Van Wijnen, Saint-Gobain Weber Beamix, Vesteda, the Municipality of Eindhoven and Witteveen+Bos.
The house is a detached single-story home with 94 square meters of net floor area, a spacious living room and two bedrooms in the Eindhoven neighbourhood of Bosrijk. The home is shaped like a large boulder, which fits in well with the natural location and nicely demonstrates the freedom of form that is offered by 3D concrete printing. Thanks to extra thick insulation and a connection to the heat grid, the home is highly comfortable and energy efficient, with an energy performance coefficient of 0.25.
---
---
Theo Salet, professor of concrete structures at Eindhoven University of Technology, said: "With this small building, a first major step has been taken today in the development of construction into a high-quality manufacturing industry. From design to implementation, digitalization leads to sustainable and affordable homes tailored to the wishes of the occupant. I'm proud that the knowledge we've developed at TU/e has led to this innovation by industry, with the help of the municipality, within a short timeframe."
The partners deliberately set the bar high by designing the house in the shape of an irregular boulder. In recent years, the necessary R&D has been done to make concrete printing possible in all sorts of forms. It was especially challenging to print the inclining walls but this has now been mastered by the project's participants. With the knowledge gained, the door has been opened to a completely different kind of construction to the usual rectangular houses.
In principle, printed homes can be built a lot faster with more flexibility and personalized designs. Additionally, this is more sustainable as less concrete is needed. The ambition of the Project Milestone partners is for 3D concrete printing to eventually become a sustainable construction method that contributes to solving the housing shortage.
The five houses of Project Milestone are being built one after the other so that each new round of construction can maximize the learning opportunities from the previous. Soon, the project partners will begin work on the design of the next homes, which will have multiple floors and therefore require further development of the technique.
---
---
The house consists of 24 printed concrete elements which were printed layer by layer at the printing plant in Eindhoven. The elements were transported by truck to the building site and placed on a foundation. The house was then provided with a roof and frames, and the finishing touches applied.
---