And finally… Glasgow students design world's first mobile luge ramp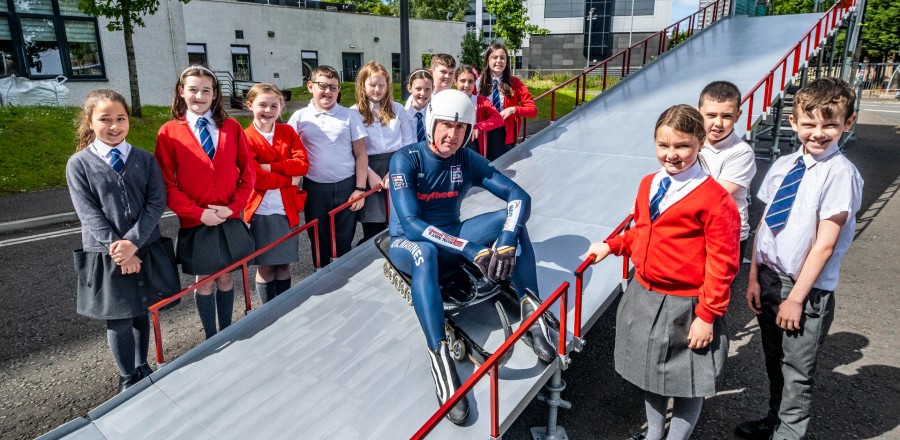 Glasgow Caledonian University engineering students, with the help of primary school children, have designed and manufactured the world's first mobile luge ramp.
The impressive 2.5m high and 13m long ramp, commissioned by the Royal Navy, was handed over to its luge team today (June 10) at a special event. The new ramp could also potentially be used to help the GB Luge Team prepare for the Winter Olympics in 2026.
Luge is a Winter Olympic sport which sees athletes hurtle down the icy course feet first. From a seated start position, luge athletes rock back and forth on fixed handles and can eventually reach speeds in excess of 85mph on the course.
---
---
The new specially designed ramp can be assembled and disassembled by the Royal Navy team, giving them the flexibility to train anywhere they wish.
The 10-month project, a result of a STEM partnership between GCU's Mechanical Engineering department and the Royal Navy, enlisted the help of six Renfrewshire primary schools.
Around 250 P5 and P7 pupils from Todholm Primary, Brediland Primary, Cochrane Castle, St James' Primary, Bargarran Primary and Langcraigs Primary took part in the project. The schools were funded through the Royal Society's Partnership Grants scheme.
The pupils worked with GCU MEng students from the Mechanical Systems Engineering and Computational Aided Mechanical Engineering programmes - Christopher Jordan, Jakub Choluj, Kevin Scollon and Mark Hughes - to look at which angle of descent was best to give the fastest speed and longest distance over a set course.
---
---
During the project, students and pupils met GB luge athlete Luke Farrar and the Royal Navy Luge Team lead Lt Cdr Emma Miles to discuss the sport and product specification for the ramp.
The project was supervised by MEng/BEng (Hons) Programme Leader for Mechanical Systems Engineering Dr Patricia Munoz-Escalona, co-supervised by Programme Leader for the MEng/BEng (Hons) GA Engineering (Design and Manufacture) programme Dr Andrew Cowell, and assisted by Senior Technical Officer Derek Leitch.
Dr Munoz-Escalona said: "This was a great opportunity for our Mechanical Engineering students to be involved in a project of this magnitude, where they have been able to showcase the knowledge and skills they have gained throughout their years of study, and produce a ramp that will be used by the Royal Navy Luge Team. The ramp will also have the potential to be used by the GB Luge Team to help with their preparations for the Winter Olympics 2026."
---