And finally… Pack to the future
Pupils at Kinmylies Primary School posted a message to the future after placing a time capsule in Inverness West Link's new Torvean (Swing) Bridge.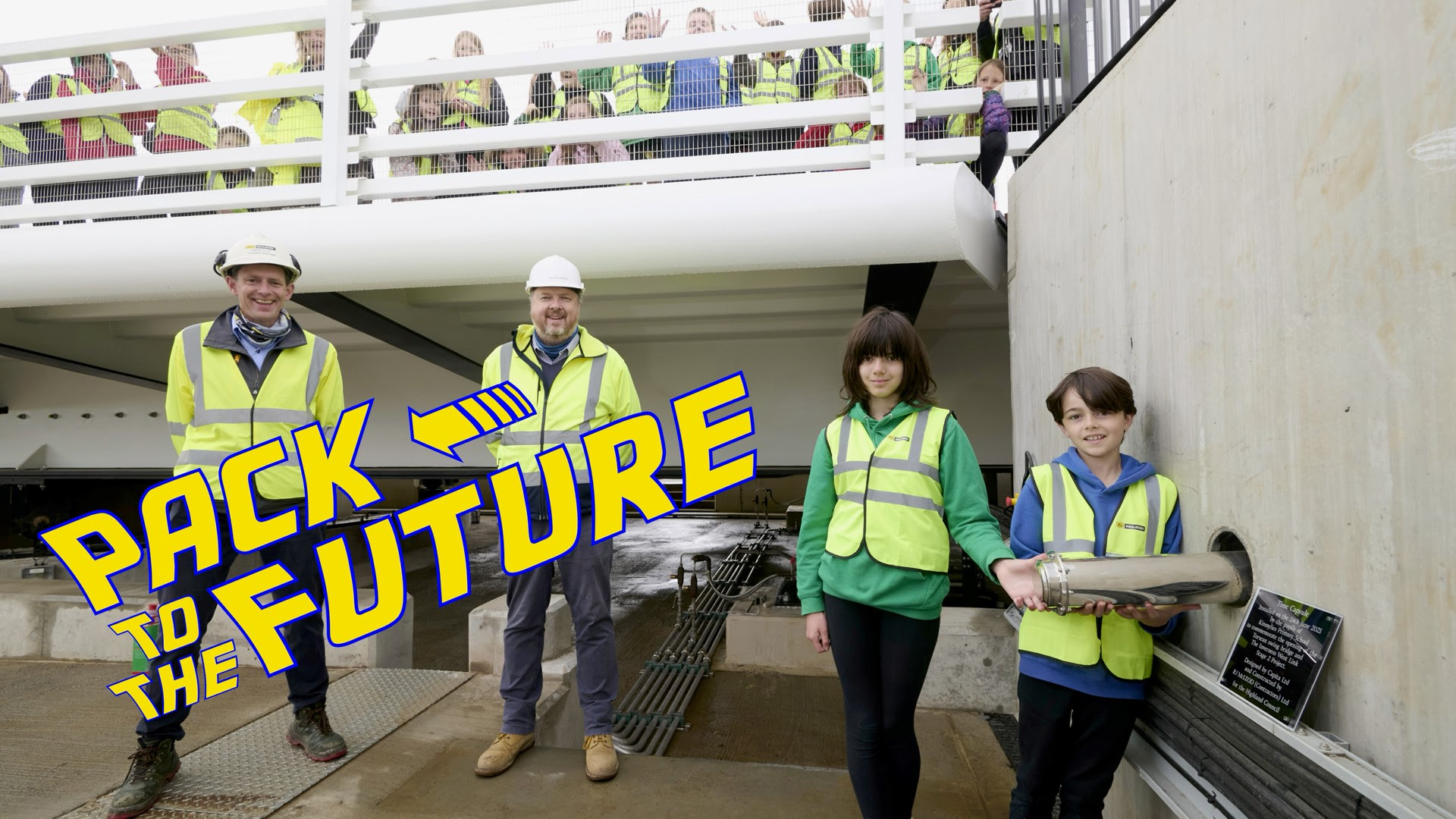 Kinmylies pupils Meghan Blain (11) and Sean Paterson (11) were assisted by Steve Scott of contractors, RJ McLeod, and Highland Council senior engineer, Iain MacLennan at last week's ceremony.
The bridge - which was opened on a trial basis at the end of May - is designed with a life of around 150 years and it will be interesting for those who finally recover the capsule to gauge what was happening in 2021, such as the COVID-19 pandemic.
---
---
The time capsule contained a school jumper, hand sanitiser, the pupils reflections on the COVID-19 pandemic - giving a first hand account to future generations.
Cllr Trish Robertson, chair of Highland Council's economy and infrastructure committee, said: "It was a special day today for the pupils at Kinmylies Primary as they posted their message to the future at Torvean Bridge.
"It's such a wonderful thing to do and it will certainly be interesting for the generation that eventually uncovers the capsule. They will get an insight into life in Inverness around this time, particularly as the past year and a half have seen the country go through a global pandemic."
The swing bridge trial opening represents a core element of the transformational West Link Project which is now drawing towards its conclusion.
---
---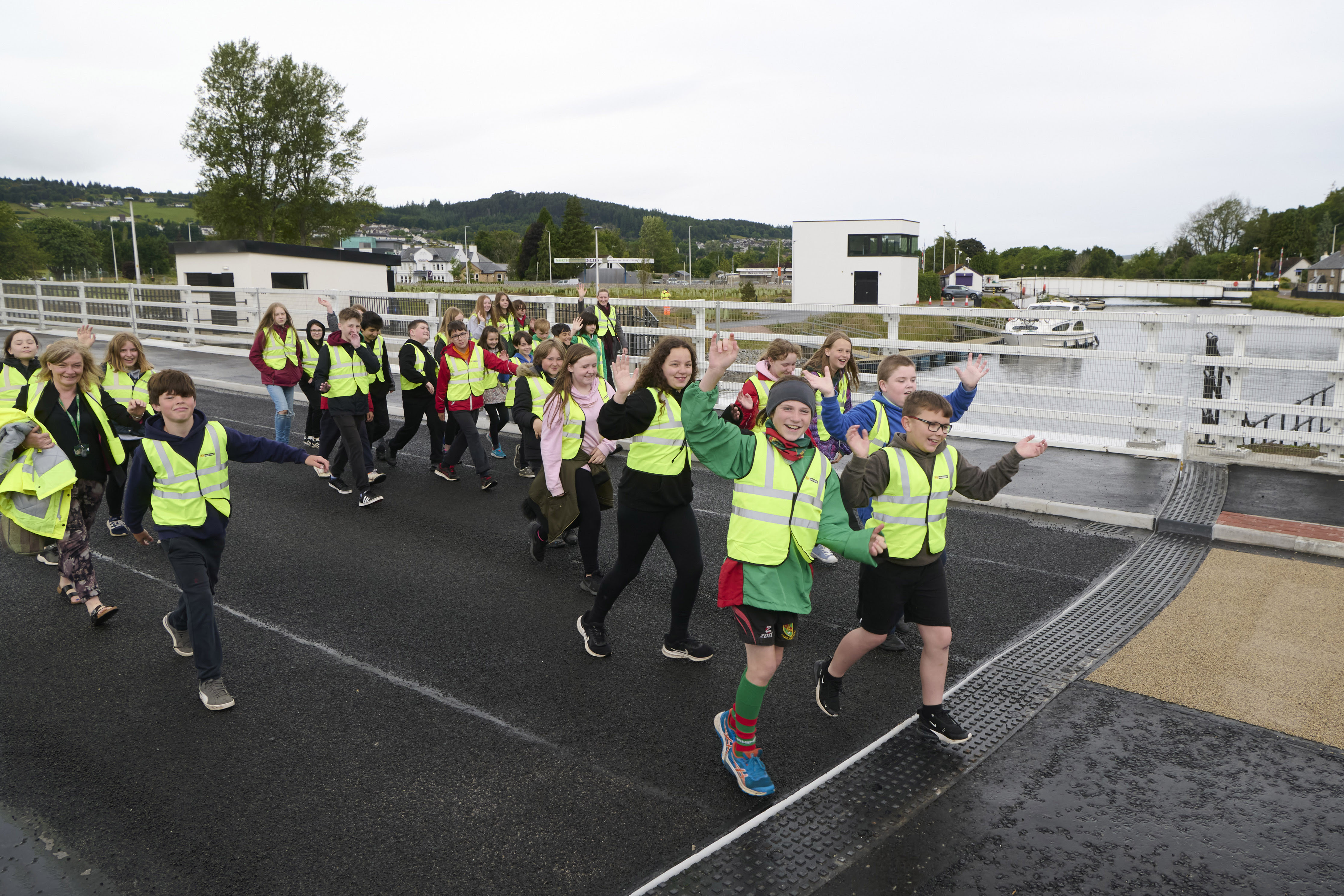 The West Link Project was made possible through investment by Highland Council and the £315m Inverness and Highland City-Region Deal. The City-Region Deal included £135m from the Scottish Government, supported by £127m from Highland Council and its partners and another £53m from the UK Government.
The project has seen the completion of the link from the Southern Distributor Road at Dores Road to the A82 including crossing the River Ness on the new Holm Mills Bridge; new sports facilities at Canal Parks including synthetic pitch and clubhouse; and a relocated golf course.
A core element of Stage 2 was the inclusion of the second swing bridge over the Caledonian Canal to the south of the existing Tomnahurich swing bridge. This tandem bridge arrangement will allow the free flow of vehicle traffic on the A82 to continue, while boats pass through one or other of the open swing bridges.
---
---
There will normally be two routes available for vehicles to cross the canal and vehicles will be diverted over one or other bridge, only while the other is open to allow boat passage.
The benefits of the West Link project include:
Reduced congestion at key junctions for both public transport and private cars within Inverness City Centre
Encouragement of cycling and walking within the city centre by reducing congestion thereby making for a safer and more pleasant environment
Improved journey times for movements to/from the west of the City
Torvean Bridge is opened to canal traffic. It will also improve response times for emergency vehicles and bus journey time reliability
Enable the development of significant areas for housing and other economic development at Ness-side and Torvean. To date 1,500 houses have been enabled
Enable the development of a City Gateway at the Caledonian Canal entrance to the city, working with partners such as Scottish Canals
Provides a new facility at Canal Parks, managed by Highlife Highland, for Highland Rugby Club and the wider community
Provides a reconfiguration of Torvean Golf Course, with enhanced facilities, golf development potential and a centralised location
---