And finally… Round the houses
A US developer is advancing the practice of smart home design in hurricane-prone areas as fear grows of increasingly unpredictable weather.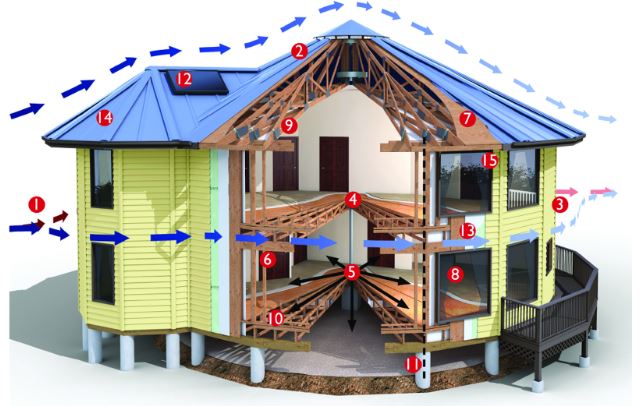 Deltec Homes said it considers a shape that is aerodynamic and minimizes pressure build up. For example, in a circular design, the pressure on the home is reduced by about 30% since the wind pressure cannot build up much pressure on any one side.
The ideal roof pitch for high wind areas is around 30 degrees (which is a 6:12 to 7:12 pitch), an angle allows the wind to be deflected with minimal pressure on the home. Hip roofs provide a sloping roof on all sides of the roof, eliminating the gable end which can be a target for high winds.
---
---
The "hurricane resistant" homes have been credited with standing up to storms that levelled surrounding houses on the coast of Florida and in the Caribbean.
"What you see is a structure that looks like a wheel," Steve Linton, a structural engineer and president of Deltec Homes told The Times. "From any direction the wind may be coming, the home is able to deflect the wind because it's aerodynamic, and transfer that weight throughout the entire home."
The company has built 5,000 houses, and gained more attention in recent years as hurricanes and storms appeared to increase in frequency and photographs of their aftermath showed the round houses still standing among ruins. "People saw how the houses performed in these really intense category five hurricanes," Mr Linton said.
When Hurricane Dorian struck the Bahamas in 2019, a retired dentist named Kenneth Langston, who had been unable to leave his home in time, was interviewed by the Weather Channel as the storm raged around him. The storm hit with a noise "like an explosion", he said. His house, a three-floor structure built by Deltec in 2009, remained standing. "This is probably my fifth hurricane," he said.
---
---
The homes are said to be between 5 and 10 per cent more expensive than other custom-built homes and come in ten sizes, all of them round, with wings and adjoining structures that can be added on.
Deltec is working on a design that could resist 225mph winds. They have to use computer modelling, Linton said. "There is no wind tunnel strong enough."
---