And finally… The force is wrong with this one
Visitors to an under-construction housing development have been drawing apparent comparisons between a roundabout and the Death Star from Star Wars.

Many locals are convinced the roundabout at Grange Road in Hugglescote, Leicestershire, is a doppelganger for the sci-fi monster machine.
Links to the epic sci-fi franchise Star Wars are deeply entrenched in the North West Leicestershire community courtesy of the Palitoy factory in nearby Coalville, where the films' iconic toys were once manufactured.
---
---
First seen in 1977's Star Wars Episode IV - A New Hope, the Death Star is a galactic space station and superweapon capable of destroying planets.
Some have even speculated that the appearance of the so-called 'Coalville Death Star' is bad news for some areas of the town.
"[It's] first task is to eliminate [the] Belvoir Shopping Centre" said one person online.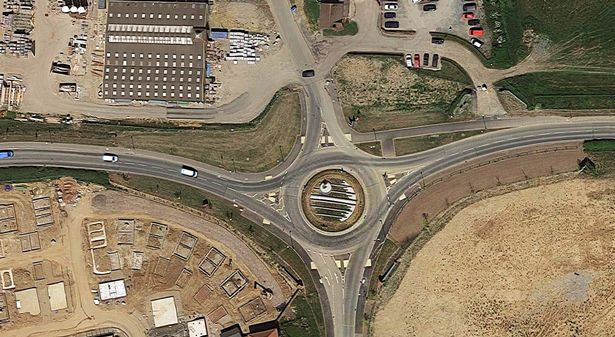 Others believe it is a deterrent for bad drivers in the Hugglescote area.
---
---
"It's so […] that when someone misses the roundabout they will be launched into a very short orbit… over the roundabout," speculated another.
Councillor Ozzy O'Shea, Leicestershire County Council's cabinet member for highways and transport, told the Leicester Mercury: "One of the planning conditions for the Grange Road housing development was that the developer come up with a landscaping scheme for the roundabout and the green space in front of the houses.
"The Death Star themed roundabout is rather unusual and we are pleased to see it is now fully operational (but not armed!)"
"It is a great way to celebrate Leicestershire's heritage - Palitoy, which made Star Wars figures for the UK market, employed hundreds of local people over many decades."
---
---
Funded by developers Harworth Estates, Cllr O'Shea confirmed the county council will adopt the roundabout after 12 months as part of the highway.
Harworth Estates will continue to be responsible for the Death Star's maintenance.
---