Aviva opens one of UK's largest solar and energy storage initiatives as wind turbine plan rejected
Financial services firm Aviva has unveiled a groundbreaking solar energy station in the car park at its Perth office, but plans to accompany it with a £3 million wind turbine have been knocked back by Scottish Ministers.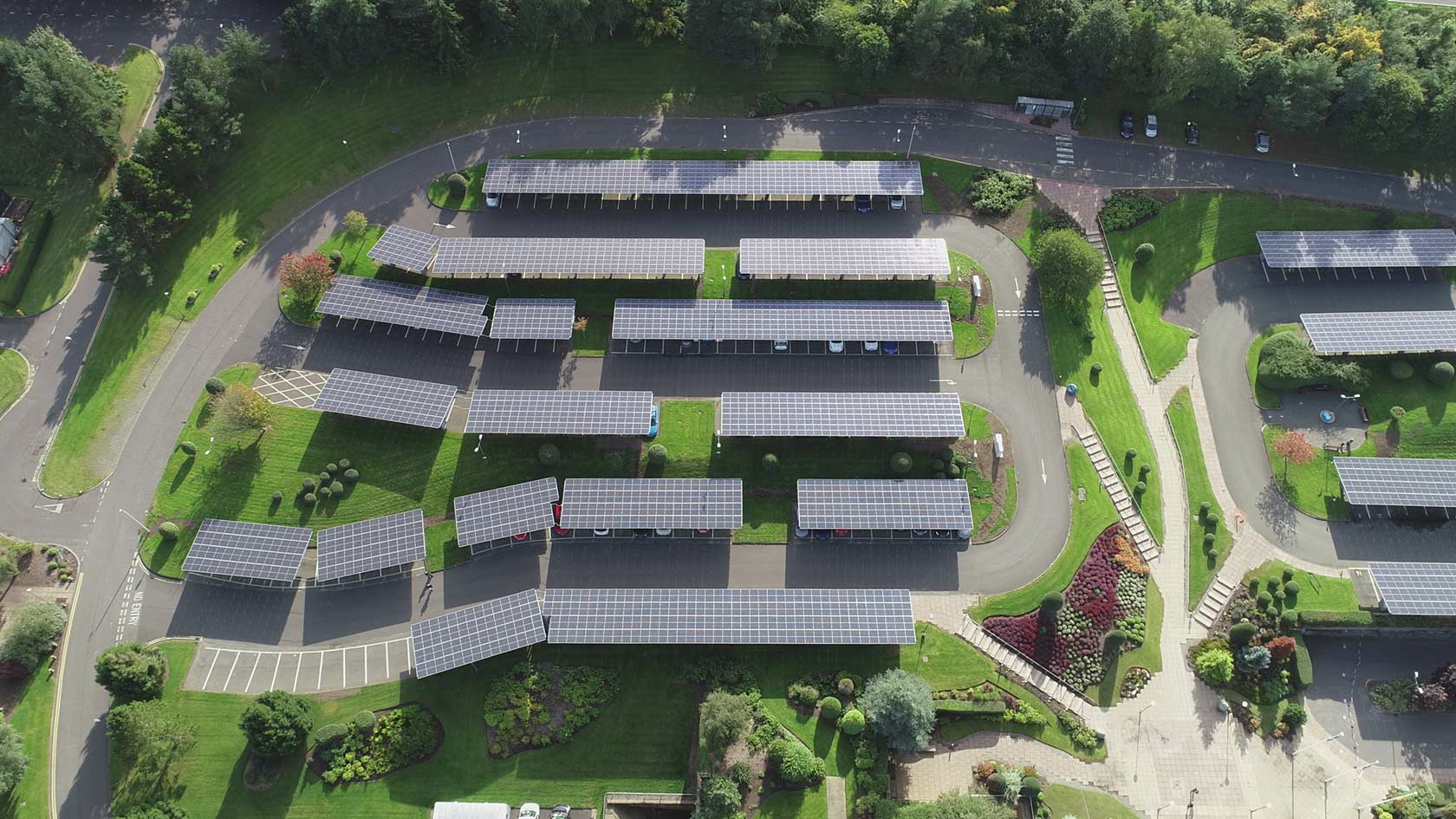 Backed by the Scottish Government's Low Carbon Infrastructure Transition Programme, the combined solar carport and energy storage facility, which covers 342 car parking spaces and provides 50 electric vehicle charging stations, is part of an ambitious bid to have its HQ powered almost entirely by renewable energy generated on-site.
The facility will be powered by cutting-edge Tesla Powerpack technology and is expected to contribute to a combined annual carbon emission saving of nearly 400 tonnes, equivalent to powering the electricity of more than 500 homes for one year. It means Aviva's Perth office can go off-grid for five hours every day when the national grid is at its busiest, [using three-quarters of the solar power generated]. The surplus energy will go to the battery for later use or exported to the grid.
---
---
Nick Amin, Aviva chief operating officer, said: "It's vital that businesses in all industries put words into action when it comes to tackling the climate emergency. That's why we are taking strides to reduce our environmental impact and partner with leading technology specialists to help make that happen. The Perth solar and storage initiative is a great example of how Aviva is innovating to secure a sustainable energy supply and support the electric vehicle revolution."
Roseanna Cunningham, cabinet secretary for environment, climate change and land reform, said: "I welcome the launch of Aviva's solar carport and energy storage facility in Perth. This ambitious project, which received £1.5 million support through the Scottish Government's Low Carbon Infrastructure Transition Programme, will significantly reduce the environmental impact and carbon emissions from Aviva's Scottish Headquarters.
"Aviva is providing an excellent exemplar for businesses across Scotland, as well as demonstrating innovation in the use of our vast renewable energy potential as we move towards an energy system that is consistent with net zero greenhouse gas emissions by 2045."
Aviva had planned to complement the new facility with an equally powerful 77-metre wind turbine. The company said the three-blade mast could generate about half of the A-listed building's energy needs.
---
---
The plan was initially rejected by councillors after complaints it could spoil living conditions for residents living some 350 metres away, as well as causing noise and shadow flicker.
However, Perth & Kinross Council's local review body later voted to overturn the decision, claiming the turbine is necessary to tackle climate change.
The case was called in by the Scottish Government due to a complaint from Historic Environment Scotland.
After an 11-month-investigation, Elaine Hunter from the government's appeals division has declared planning permission should be refused and added: "The potential benefits in relation to climate change are not sufficient to outweigh the adverse impact on the development of the listed building."
---
---
An Aviva spokesperson said: "We were very disappointed to receive this news.
"We are currently reviewing this to understand the basis of the decision."
---