AWPR drone footage released ahead of new section opening
The Craibstone to Stonehaven and Charleston section of the Aberdeen Western Peripheral Route (AWPR) will open early on the morning of Wednesday 12 December.
This significant new section of road, which includes the A90 between Stonehaven and Craibstone and the A956 between Cleanhill and Charleston, will give north east road users access to around 20 miles (32km) of new road.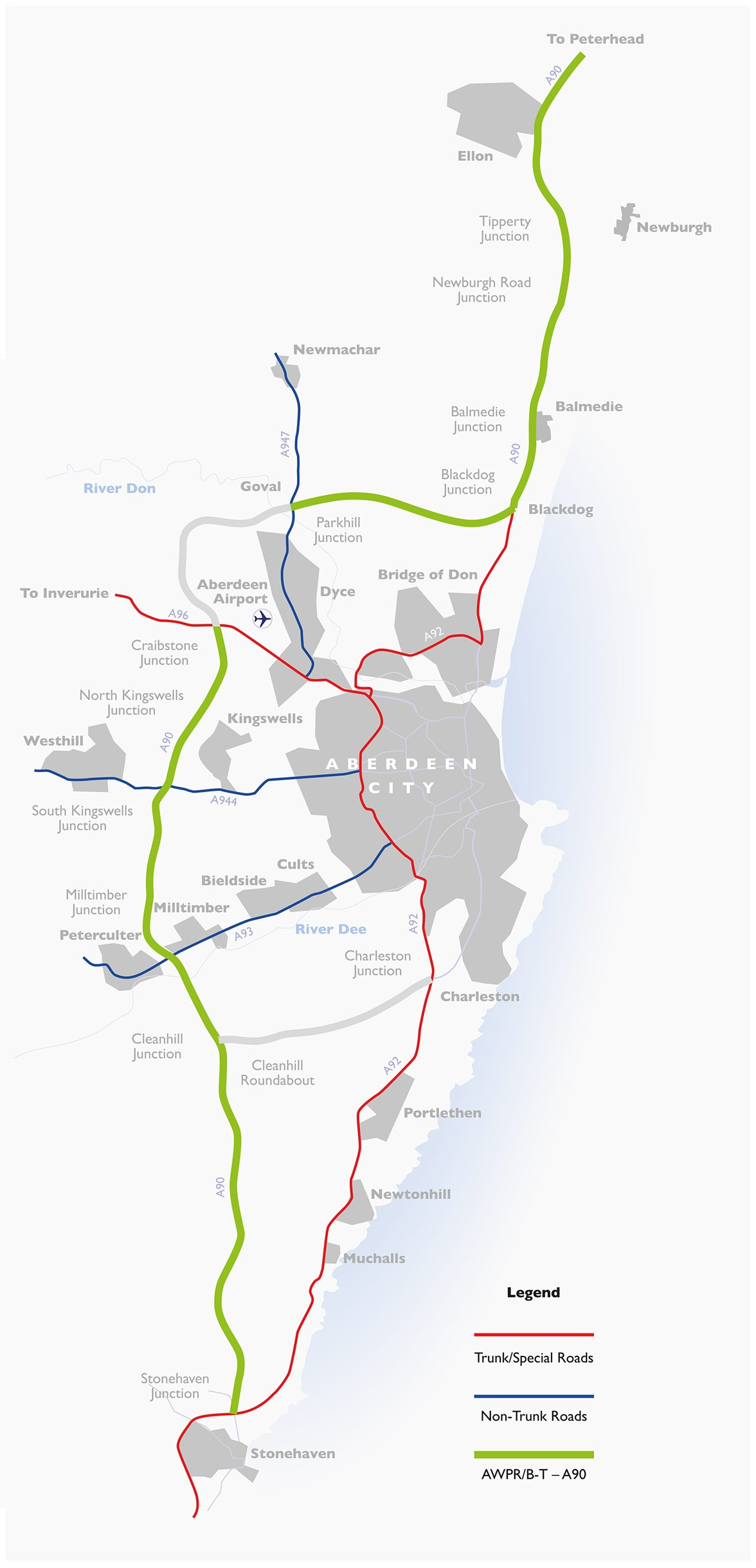 The section was completed in October but its opening was delayed due to a disagreement between the Scottish Government and joint venture Aberdeen Roads Limited (ARL).
---
---
It was revealed last week that negotiations were concluded, paving the way for its opening tomorrow.
A phased approach will be used by Police Scotland to open the junctions. Initially starting at Craibstone being open to traffic, with Stonehaven, Charleston, Deeside, Kingswells South and Kingswells North (A90 southbound exit slip road only) following shortly thereafter. Cleanhill Junction, which links the new A90 with the new section of the A956 will also open as part of this process. For safety reasons, there will be no access to the northbound AWPR from Kingswells North until the final section of road is complete.
Contractor ARL has also confirmed that it is targeting a December completion date for the River Don Crossing, but that this is subject to a range of factors including weather conditions.
---
---
Cabinet secretary for transport, infrastructure and connectivity, Michael Matheson, said: "This new section of road, which will make more than 85 per cent of the project open to traffic, will immediately make a tremendous difference to road users across the north east.
"It will provide thousands of drivers every day with a range of benefits, including improved journey time reliability, better local access and reduced congestion, while safety will also be enhanced. It will also improve air quality and reduce traffic volume in Aberdeen City, making pedestrian and cycle travel around Aberdeen easier, safer and a more enjoyable experience.
"We would like to thank local communities, road users and businesses from across the north east and beyond who have been extremely patient while these works were on-going and discussions were underway regarding the contract variation required for this new section to open.
"The full benefits of these works will be realised when the remaining section of the project between Craibstone and Parkhill also opens to traffic. This investment is expected to bring in an additional £6 billion to the north east economy and create around 14,000 jobs over the next 30 years."
---
---
These new sections follow road openings between Balmedie and Tipperty, in August 2018, Parkhill and Blackdog, in June 2018, and the Craibstone Roundabout and Dyce Drive section, in September 2016.
---