Barratt Developments unveils Scottish apprentice recruitment drive
Barratt Developments has pledged to recruit 23 new apprentices in Scotland this year as it doubles down on investing in new talent in response to a growing need for skilled tradespeople.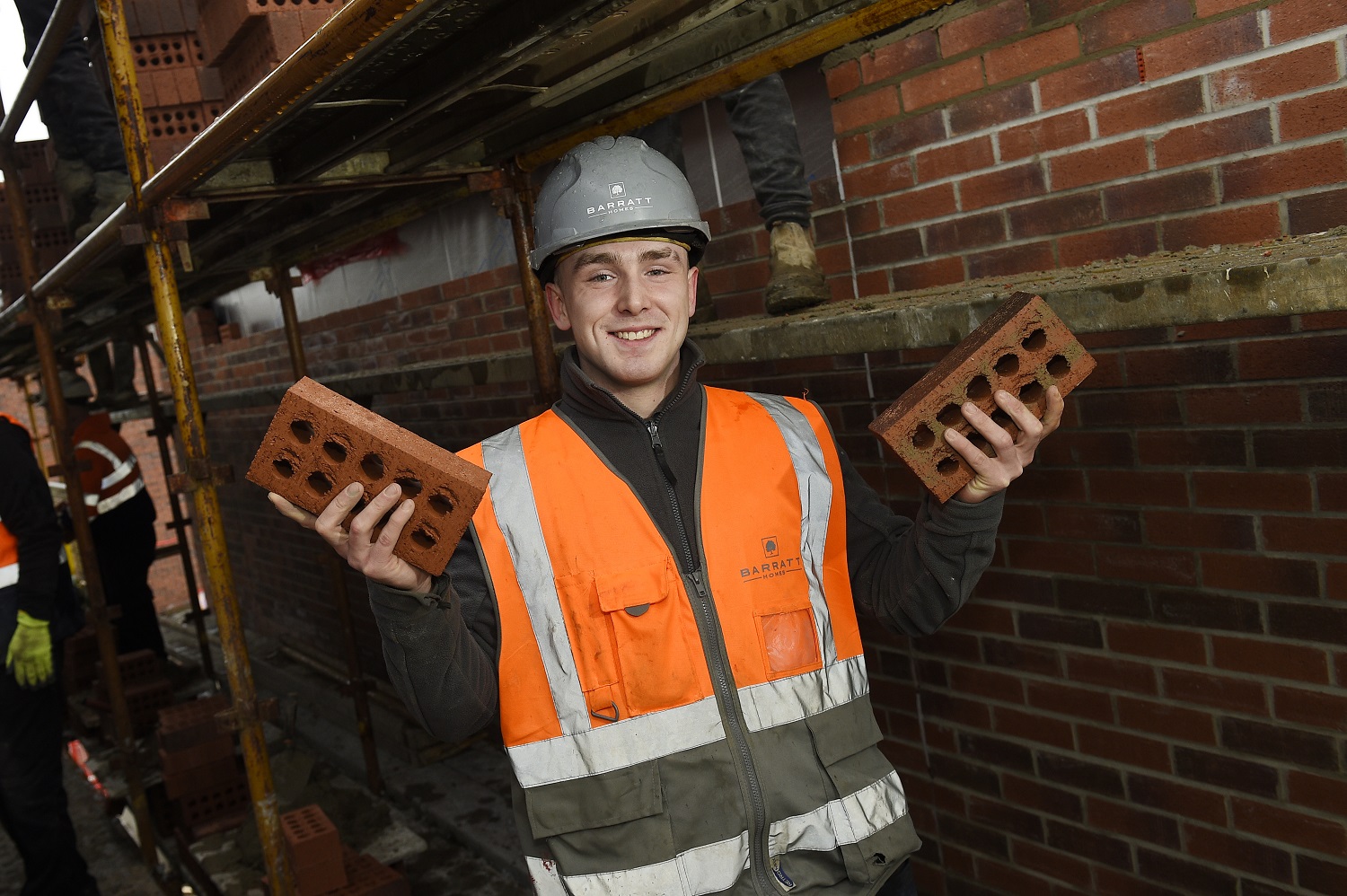 The 23 new trade apprentice roles are being launched as part of the homebuilder's biggest ever apprentice recruitment campaign and will see opportunities in bricklaying, joinery, electrical maintenance and plumbing in Barratt Developments sites across the country, which includes both Barratt Homes and David Wilson Homes.
The announcement coincides with the annual Scottish Apprenticeship Week, running from 7-11 March, which celebrates the benefits of apprenticeships for individuals, businesses and the wider economy. At a time when young people have been disproportionately affected by the COVID-19 pandemic, providing high-quality employment opportunities is central to economic recovery plans.
---
---
Douglas McLeod, regional managing director for Barratt Developments Scotland, said: "This is an exciting time for anyone with an interest in housebuilding to join Barratt. The construction industry is flourishing and we are committed to helping young people progress through the business. Many of the apprentices we've hired over the years are now in leadership positions responsible for managing and delivering multi-million-pound housing developments.
"As one of the country's top housing developers we are absolutely committed to investing in raw talent, and there's never been a more important time to provide these kinds of apprenticeship opportunities."
A shortage of skilled tradespeople has been repeatedly cited as a major risk to the growth and success of the construction sector, both in Scotland and the rest of the UK. The latest monthly construction market survey (Q4 2021) from the Royal Institution of Chartered Surveyors (RICS) shows the second most significant hindrance to construction activity is a skills shortage, with over two thirds (67%) of respondents reporting that skilled trades and project managers are in particularly short supply.
The new apprentices, who will start in August, will be based on a designated development site and will learn skills in bricklaying, carpentry, joinery, electrical maintenance or plumbing from experienced tradespeople, as well as attend college each week to gain formal qualifications.
---
---
Gage Wells, 23, a first-year bricklaying apprentice with Barratt Homes in Winchburgh, Midlothian, is encouraging anyone interested to apply for the apprenticeship as, although he's not even a year in, he's well on his way to mastering his craft thanks to the training and development offered.
He said: "I've been involved with the bricklaying process since day one – laying my first brick the very first day I started. I've since helped build around 15 homes. My goal when I'm fully qualified is to support more young people like myself into bricklaying."
Gage's thoughts are echoed by Zach Brown, who at just 20-years-old is in the final year of his joinery apprenticeship.
He said: "While joinery has evolved over the years, for example the increased use of timber kits, the job is still very much tools based and I love being able to work with my hands and get out and do different things on site; there's a lot of flexibility in the job. There's an existing perception that working in construction isn't a glamourous career, but this just isn't the case. There's lots of money to be made and a lot of skill to it. It's a job for life and working alongside other trades means you pick up other handy skills too, like plumbing, bricklaying and electrical maintenance."
---
---
The announcement comes as five longstanding employees of Barratt, who began their careers as apprentices with the company, are celebrating a combined service of 230 years.
Matt McLaughlin, a project manager who is celebrating almost 44 years with Barratt, had some advice to share: "I would strongly recommend apprentices embrace all the challenges and opportunities in the workplace and learn from seasoned professionals on site. Barratt provides comprehensive training and support to carry out every job effectively and safely and achieve a rewarding career, and I've had the chance to manage prestigious developments and bespoke city apartments across west Scotland."
---