Barratt Homes West Scotland gives £1,000 to Lilas Graham Trust
Stirlingshire-based children's service Lilas Graham Trust has received £1,000 from Barratt Homes West Scotland.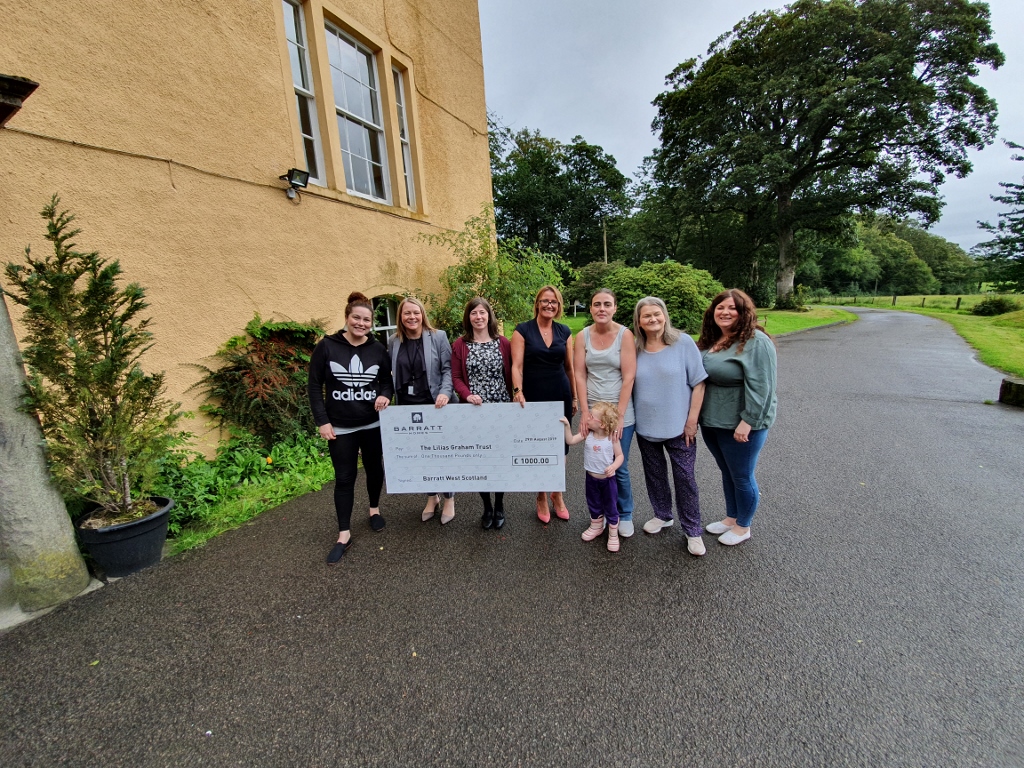 The Lilas Graham Trust helps parents and children to form positive and meaningful relationships, provides additional support to families where relationships are challenging and assisting parents to develop personal and social skills through the service.
The £1,000 donation was gifted to the group as part of Barratt Homes' ongoing commitment to local charities, causes and organisations through its Community Fund scheme. The money will be allocated to furnishing homes in the area, as well as stocking up on nappies, formula milk while enabling the team to continue helping those who benefit from the service.
---
---
Cath Morrison, Lilias Graham Trust, said: "It has really been marvellous and the donation – and our subsequent work with one particular family - ensures that the mum has a reason to keep parenting, and just as importantly keep happy. Because of this donation, we have been able to give one family a new start by refurbishing their home and providing supplies to see them through the next couple of months while they find their feet again."
She added: "I cannot thank Barratt Homes enough. In addition to the donation, a team from Barratt West Scotland came and did some volunteer work in our gardens. Their work will improve the mental health and overall wellbeing of our clients because now they have a nice place for us to spend time. Thank you doesn't seem enough – this donation really has made such a huge difference."
Suzanne Craven, finance director, Barratt West Scotland, said: "The community fund allows us to give back to local causes that are close to the hearts of the people that work for Barratt West Scotland. The Lilias Graham Trust was selected by the team at Barratt West Scotland as the recipient of the community fund for July because the protection of young people across the country is of paramount of importance. Our team are not only housing professionals but mothers, fathers, daughters and sons and therefore we know all too well the importance of a happy and nurturing childhood."
Other charities to benefit from the fund, which launched in January 2019, are Chris' House, Wishaw, LifeSavers Scotland, Glenbervie Care Home, Cleft Lip and Palate Fund, Mind the Men and St Andrews Hospice, Glasgow.
---
---
The Barratt Homes Community Fund has pledged to donate £1,000 each month to a charity or organisation in the west of Scotland.
Charities are nominated and voted for by employees of Barratt Homes and the focus for the fund continues to be on organisations that improve the quality of life for those living in the area.
Last year £1.2 million was donated across the Barratt Homes and David Wilson Homes in the UK.
---