BESA's revamped apprenticeship widens career options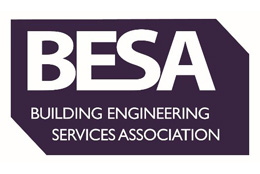 A key technical apprenticeship has been revised and updated to improve career development opportunities across the building engineering sector.
The Building Engineering Services Association (BESA) and the Technical Apprenticeship Consortium (TAC) have worked together to enhance the Level 3 Building Services Engineering (BSE) Technician Apprenticeship (2022) so that it better reflects the needs of employers and gives apprentices a more streamlined route to higher level qualifications.
This apprenticeship was formerly for 'design technicians' but BESA and the employers it represents felt this was too narrow. The new BSE Technician apprenticeship now creates a direct route through to Level 4 BSE Senior Technician which has also been recently reviewed by employers, with revisions set for publication later this Spring and gives installers and design engineers the potential to progress to Level 6.
The new Level 3 programme also attracts higher government funding – up to £16,000 from the £12,000 allocated to the previous version. BESA hopes this will help to overcome some of the historic reluctance to invest in apprenticeships, particularly among smaller employers.
---
---
It is designed as a three-year course with a choice of formal knowledge-based qualifications built in, which should run in parallel to the development of occupational competence. The new apprenticeship also meets international standards so opening further opportunities for employment overseas.
TAC led a review process that brought together employers, training providers, and professional bodies, including BESA, to ensure the new apprenticeship met the current requirements of all industry stakeholders. The course can be adapted to suit the needs of any building services employer who can use it as a vehicle for upskilling staff at different career stages. They can also work with the training provider to adapt the course content to suit their specific requirements, which should encourage more SMEs to take on apprentices and/or enrol existing staff.
The review also sought to address the industry workforce's lack of diversity, so the new standard has a broader basis to appeal to women, girls and the BAME population which are currently under-represented across the sector.
Several colleges are already in place to deliver the new apprenticeship course and BESA is working with its network of training providers to make it available to members and the industry at large.
---
---
"This is a major step forward for building engineering apprenticeships and the reception from employers has already been very positive," said BESA's director of training and skills Helen Yeulet.
"Making training more flexible and more widely accessible is the primary objective of all our development work. This revamped Level 3 apprenticeship is an excellent example of what we can achieve by working collaboratively with education providers, employers and fellow industry bodies."
---