Blackwood transforms failing Greenock care home into 22 new homes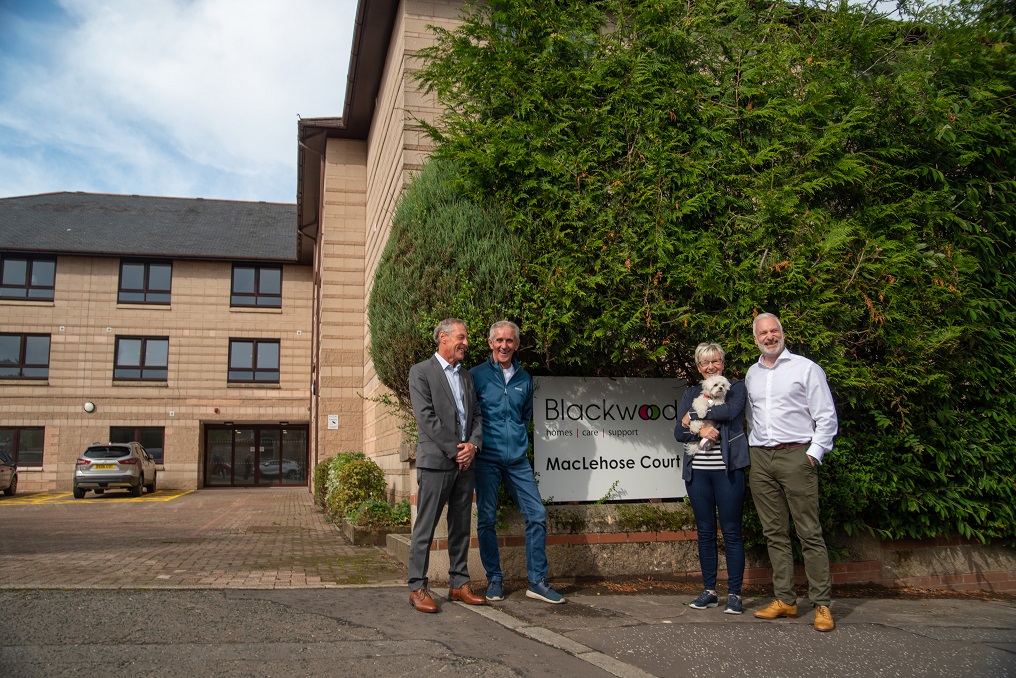 Delighted new tenants are moving into 22 redeveloped homes in Greenock – after Blackwood transformed a failing care home.
The revamped MacLehose Court building on Eldon Road includes much-needed new accessible properties which will enable people with a range of mobility issues to live more independently.
Meanwhile, up to 10 of the homes have been earmarked for families of Ukrainian refugees fleeing the Russian invasion of their homeland, ensuring they get the best possible chance to rebuild their lives in Scotland.
---
---
The official opening of the building is an important milestone for Blackwood, which took the difficult decision to close the care home in March 2020. It spent 12 months finding new homes for the dwindling number of residents.
David Melvin, vice chair of Blackwood, said: "This is an important moment, not least for the neighbours who have waited patiently to see this building brought back as a vibrant part of the community.
"We are delighted that the remodelling of MacLehose Court means 22 people will now move into accessible, modern homes, in this central location.
"Meanwhile we are also able to extend the warmest possible welcome to a number of Ukrainians who have been through the trauma of armed conflict, being forced from their homes and now find themselves thousands of miles away trying to start new lives.
---
---
"As a care home, this building simply wasn't serving the needs of its residents. Now it has been totally transformed to help not one, but two groups of people."
A total of £2.3m was invested in the transformation of MacLehose Court, including significant investment from the Scottish Government. Work was carried out by fit-out experts GHI Contracts. The building now comprises 17 1-bed flats, four 2-bed apartments and 1 3-bed property.
New tenants Mr and Mrs Scott said: "Our new home has really helped us to live more independently. Before we got the keys, we lived in a multi-storey building which just wasn't suitable for our needs. Living at MacLehose Court will make a massive difference to our lives."
All of the properties are accessible and some have been enhanced with a range of adaptations to help people live more independently.
---
---
The placement of refugees is being led by the Scottish Government, with 5000 Ukrainians expected in Scotland, including 300 in Inverclyde, where the council will take on responsibility for placing them into suitable properties, including with various registered social landlords.
Councillor Colin Jackson, convener of Inverclyde Council's social work and social care scrutiny panel, said: "This is a fantastic investment providing quality housing in a good location for local people with mobility issues to live independently and for our 'New Scots' families from Ukraine rebuilding their lives here in Inverclyde.
"It fits in perfectly with our Inverclyde Cares ethos and highlights once again that Inverclyde is a warm, welcoming and caring place to live.
"While there was disappointment that MacLehose Court's time as a care home had come to an end, credit to Blackwood in helping former residents to find new homes and ensuring the building was brought back into meaningful and productive use for the groups of people who are now starting to move in and I wish them every happiness in their new home."
---