Building Briefs - November 8th
Net zero minister hails community benefits example of Kype Muir wind farm
A South Lanarkshire wind farm operated by Hamilton-based Banks Renewables has been described as a "perfect example" of how to ensure the local community benefits, by the Scottish Government's cabinet secretary for net zero, energy and transport, Michael Matheson MSP.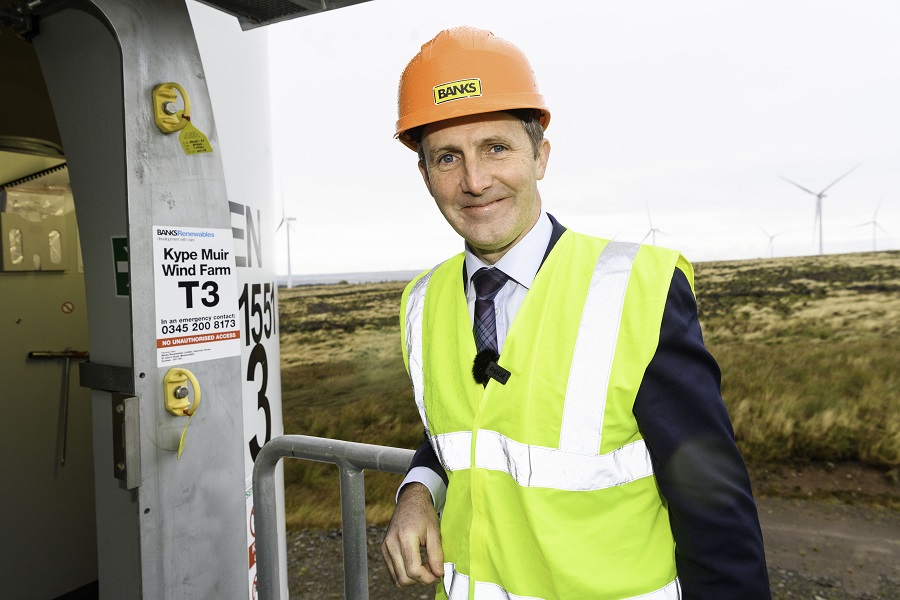 Speaking at the launch of a new Scottish Government consultation on onshore wind policy, Michael Matheson MSP praised Kype Muir Wind Farm for its positive impact on the local community.
---
---
The 26-turbine development was chosen by the Scottish Government as the location to launch its new draft onshore wind policy consultation, that outlines its ambitions to boost current 8.4GW onshore wind energy capacity by a further 8-12GW by 2030.
Work is currently underway on a 15-turbine extension to Kype Muir. Once this extension has been built it will further increase the economic, social and environmental benefits the development will produce. More than £750,000 per year will go towards community benefit initiatives and there will be a total investment into the Scottish economy of over £180 million.
Michael Matheson MSP said: "The way Banks Renewables developed Kype Muir wind farm, working closely with the local community in line with its development with care approach, is a perfect example of how onshore wind farms should be built to ensure that the local community benefits as much as possible from the development that it is hosting."
"The discussions at COP26 in Glasgow highlight that we need more onshore wind farms like Kype Muir Wind Farm, built in partnership with the local community to both achieve net zero and help local communities prosper – particularly in industrial areas.
---
---
"Kype Muir extension will see the UK's tallest onshoe wind turbines, which are very efficient therefore generate huge amounts of low cost green electricity. This will further advance Scotland on its journey to net zero.
"The wind farm's community fund is supporting good causes and local community councils through Banks' Connect2Renewables approach. This prioritises local contractors wherever possible and has meant that local jobs and training have been supported too."
Torvean Bridge to close for planned maintenance
Torvean (Swing) Bridge, at the Caledonian Canal in Inverness, will be closed to traffic from 8am on Monday 15 November for a week to allow planned maintenance to be carried out.
---
---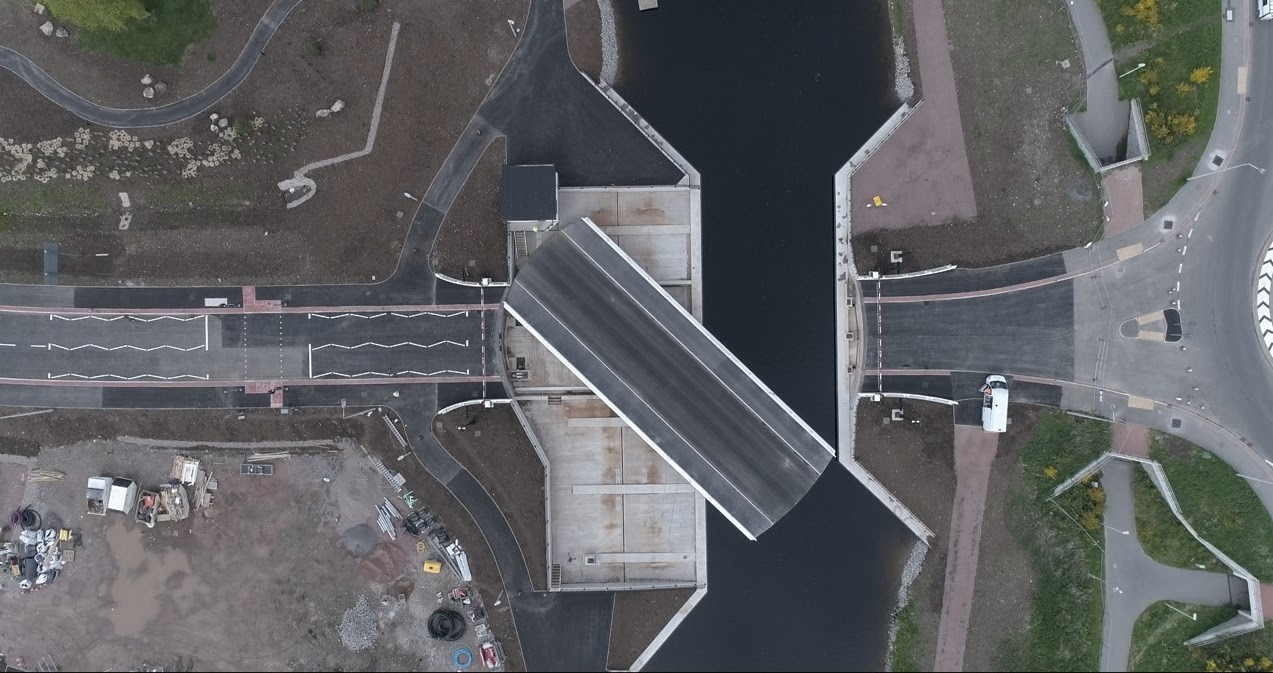 It is scheduled to reopen on Sunday 21 November at 5:30pm. The adjacent Tomnahurich Bridge will remain open to traffic during this time to minimise any impact on journey times.
This work is planned maintenance and inspection works following its opening earlier this year as part of the Inverness West Link Phase 2 Project.
The timing of the works will coincide with the planned road closure over the weekend of the 20 and 21 November, during which the Inverness Rowing Club Head Races will take place on the Caledonian Canal.
---
---
86 families move into new affordable housing in Cambuslang
A total of 86 people and families have set up new homes in South Lanarkshire thanks to affordable housing developed by Link Group.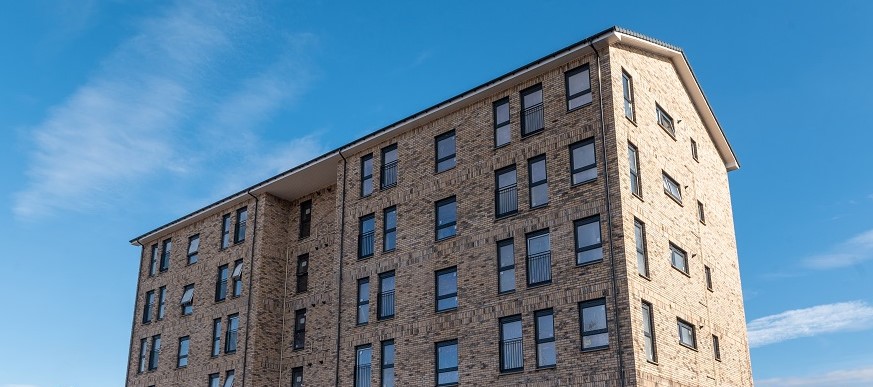 Construction of the £13.7 million development, just off Bridge Street in Cambuslang, started in October 2019 using £7.8 million funding from the Scottish Government, with the balance funded by Link Group.
The project was supported by South Lanarkshire Council and the Scottish Government as part of the drive to deliver more affordable housing in Lanarkshire.
Built by JR Group, the development consists of two and three-bedroom homes and eight wheelchair-accessible properties. It also includes a children's play area to promote a sense of community.
RSK welcomes four new businesses
RSK Group Limited is further strengthening its offering with the acquisition of four businesses across the environmental services sector.
New businesses Carbon Zero Consulting, Envireau Water, Enviroflow and Streetwise are the latest in a series of recent acquisitions to the group, affirming the company's desire to grow and diversify the business to ensure it can support global clients as they work towards achieving the United Nations Sustainable Development Goals.
Rutland-based Carbon Zero Consulting are expert advice providers in renewable energy, ground source heat pump technology selection, boreholes and groundwater management, and have almost 40 years of experience spanning natural resource, environment and water treatment technology issues. With the government's recently published Heat and Buildings Strategy focusing heavily on implementing low carbon heat pumps, this acquisition further strengthens RSK's renewable energy and renewable heating offering, a market area where there will be significant growth in the months and years to come as the UK moves towards net zero emissions.
Envireau Water, whose core services cover industrial and private water supplies, flood risk management and drainage and water treatment amongst others, are very well respected by their private sector clients and expand RSK's hydrogeology and hydrology capabilities. By joining RSK and collaborating with the existing companies in the group, Envireau Water will continue to deliver the excellent service they are known for while also exploring new opportunities across the public sector.
Specialist waste management company Enviroflow provides investigation, maintenance, and repair of underground drainage assets for local authorities, utilities providers, the Highways Agency and other commercial customers. The business will bolster RSK's offering in below ground asset management services and will provide many synergistic opportunities in relation to RSK's ongoing growth in civil and structural engineering supporting construction, national infrastructure and other developments requiring below ground asset management services.
Streetwise, which specialises in traffic management services on low and high-speed roads, delivers services for key clients including Northern Gas Networks, Amey Utilities and Sunbelt Rentals. The acquisition improves RSK group's position in highways management and enable us to deliver additional work for existing clients. Streetwise will work closely with RSK's businesses, looking for collaboration and cross-selling opportunities.
All businesses will retain their current workforce, leadership, brand, values, strategy and culture, whilst gaining support and reputation from a much larger parent organisation.
Antonine Wall Project wins prestigious national award
An innovative West Dunbartonshire Council-led project that brings to life the ancient Roman Antonine Wall has been honoured with a prestigious national award.
The Rediscovering the Antonine Wall Project was voted the top Outdoors attraction at the Association for Heritage Interpretation's Engaging People Awards.
An expert panel hailed the Arniebog distance stone and the Silvanus sculpture – a towering metal depiction of a Roman soldier's head - at Nethercroy in North Lanarkshire for capturing the imagination of local residents.
It's the latest success for the £2.1 million project, led by West Dunbartonshire Council on behalf of four other local authorities and Historic Environment Scotland, that aims to raise awareness of the Roman UNESCO World Heritage Site and attract local community and visitors to understand its significance.
The project was previously held up as an example of best practice in cultural heritage throughout Europe by being included in the European Guide for Cultural Heritage in Action.
Climate-friendly regeneration in Gairloch wins UK award
The regeneration of the Achtercairn site in Gairloch, north west Highlands, has won 'Best Regeneration Project – Rural & Suburban' at the Inside Housing Development Awards in London.
The awards celebrate the very best residential developments across the UK, and recognise innovation in striving for more sustainable and net-zero solutions.
The regeneration of Achtercairn, led by the needs of the community and undertaken by the Communities Housing Trust (CHT), was completed in 2020 during lockdown. It includes a mix of affordable housing, new shops and commercial space, and the GALE Centre which is Scotland's first public building to be awarded Passivhaus status.
The development is an example of a climate-friendly '20-Minute Neighbourhood', where key services and amenities are a 20-minute walk, cycle or drive from home. It supports the local circular economy and wider area while reducing the need to travel.
The regeneration project has given the village a bustling new centre, while addressing some of the inequalities faced by rural communities, such as access to affordable housing, education opportunities, and shops and services.
The project was made possible with support from the Scottish Government through funding and flexible policies that are empowering many more communities to follow Gairloch's example.
The Highland Council's support for a wide range of affordable housing tenures that provide choice to communities and those in housing need was also crucial. Other key partners include Albyn Housing Society, Highlands & Islands Enterprise, Gairloch Estate, the Ministry of Defence, the Gairloch & Loch Ewe Action Forum (GALE), and many others within the community.
A former brownfield site in the centre of Gairloch with a derelict hotel, Achtercairn was an eyesore for the village which is on the North Coast 500 route popular with tourists. In addition, the number of pupils in the primary school was dropping as families struggled to find suitable accommodation locally.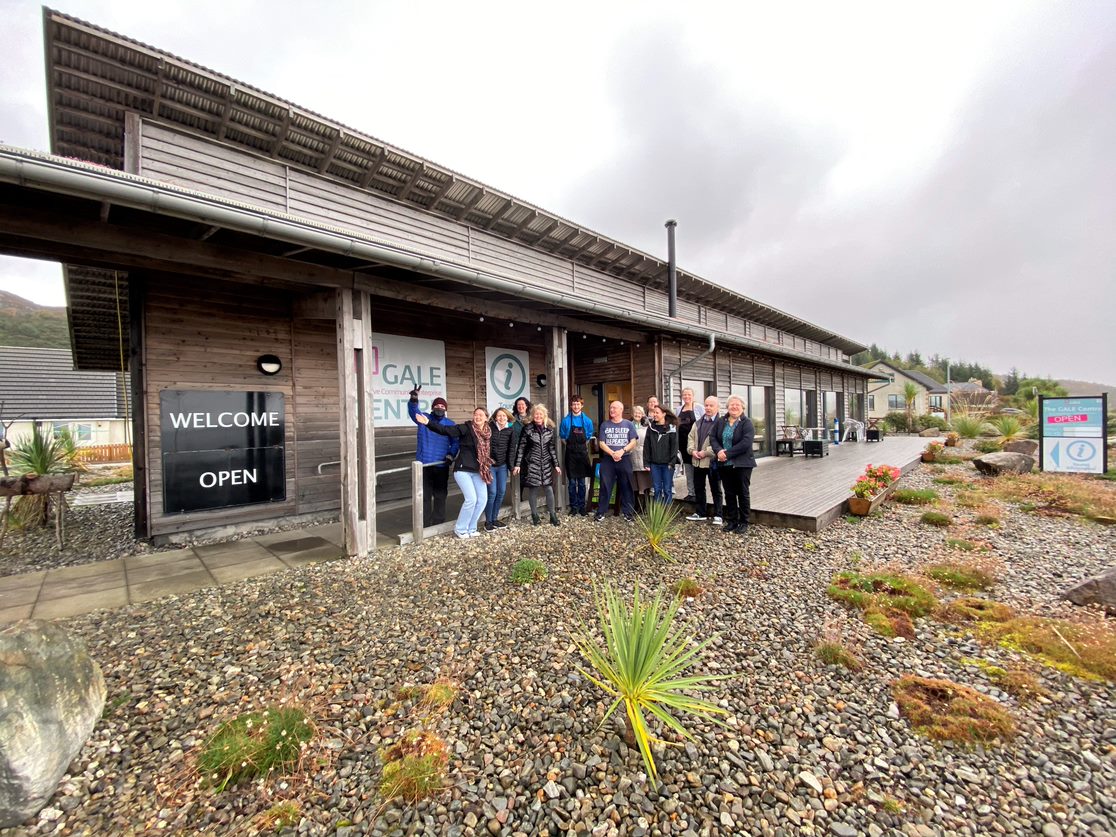 Working closely with the Gairloch community, CHT acquired several pieces of land and brought together many partners to provide 25 affordable homes of five different tenures with three housing providers; the GALE Centre with offices, Tourist Information Hub, community shop and café, and classroom for learning of all ages.
The GALE Centre receives over 40,000 visitors per year and supports 100 people locally by selling their crafts and produce. Also on site is the Gairloch Farm Shop, vet clinic, and a new Air Training Corps facility providing skills and education opportunities.