Building Briefs - September 29th
Groundwater Guy bags award
A groundwater specialist is celebrating after receiving an award from a top national business body.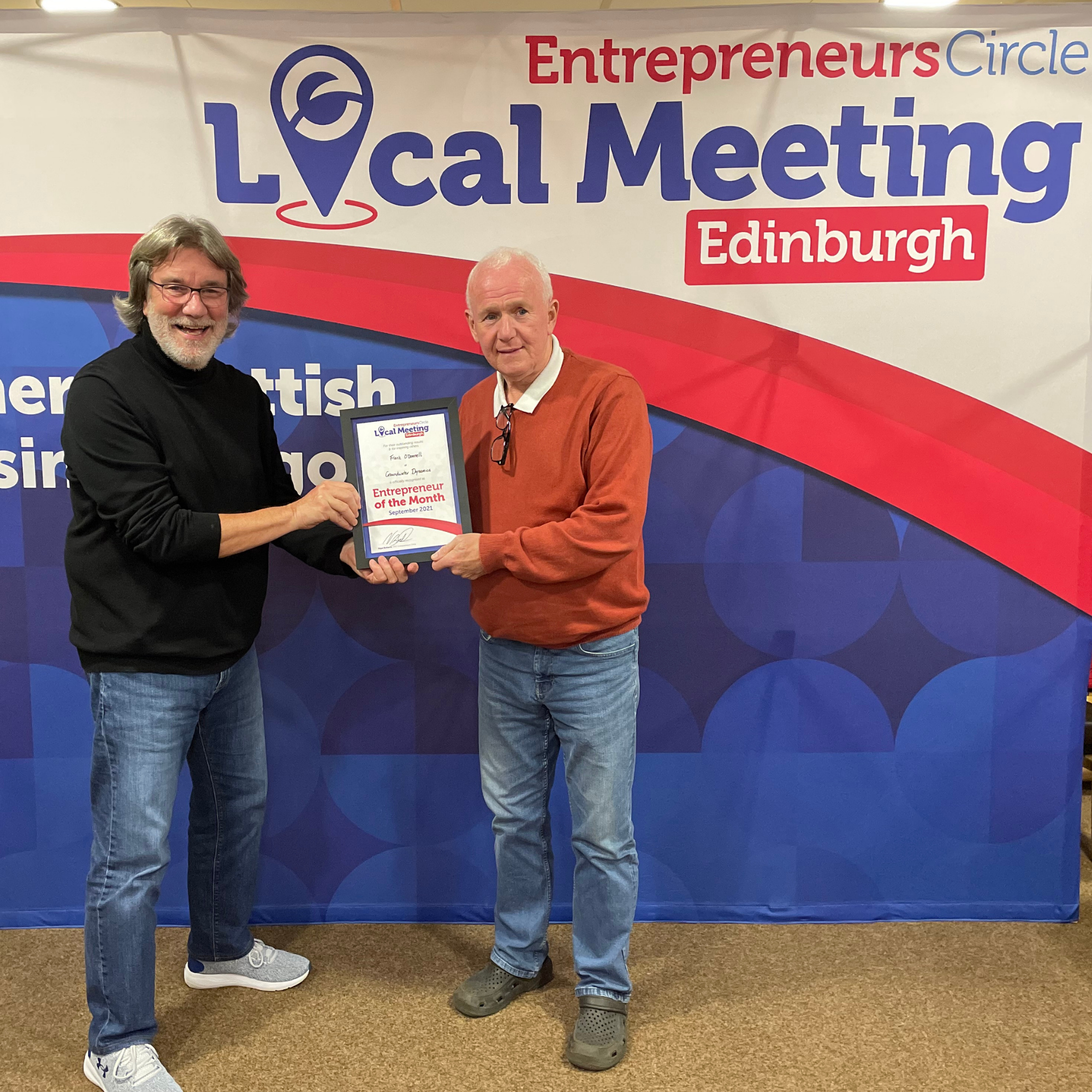 Frank O'Donnell AKA The Groundwater Guy received the Entrepreneur of the Month Award from Edinburgh Entrepreneurs Circle.
---
---
Edinburgh-based Frank said: "I am absolutely chuffed to be recognised in this way. When my clients are happy then I'm happy, but it's also great to be recognised by your peers for the way you run your business."
One of the reasons for the accolade was the recognition Frank received after saving an under-threat Fife community project.
The Gallatown Community Centre project in Kirkaldy ground to a halt when its budget couldn't stretch to provide drainage for the site.
But Frank came to the rescue with a cost-effective drainage solution keeping the project on track and within budget.
---
---
Edinburgh Ambassador for the Entrepreneurs Circle David Browne presented Frank with his award on September 27.
Cities lack plans for managing extreme weather
This summer's intense rain and floods, together with the IPCC's alarming report about more extreme weather, are turning all eyes on water supply and management in our cities. To secure a healthy future and prevent system failures, Sweco proposes three water strategies in a new report.
---
---
The IPPC's latest report sounds the alarm on the devastation caused by more frequent and extensive rainfall and flooding. We saw clear evidence of this last summer in many places around the world. The sewer systems in many European cities, often built over 100 years ago, are sorely unprepared for such extensive flooding. As freshwater and sewage systems in European cities deteriorate, the sewage infrastructure might collapse in 10-20 years due to material failure.
Healthy water cities is the third in a series of Urban Insight reports from Sweco on the topic of Urban Health and Well-Being, in which experts highlight specific ideas, solutions and scientific findings needed to plan and design safe and resilient future urban environments.
85-acre park opens at Winchburgh development
Over 100 Winchburgh school children gathered to plant bulbs in celebration of the opening of Scotland's largest new park.
---
---
The opening of phase 1 of the Auldcathie District Park marks a major milestone in the development of the historic West Lothian mining village, which is home to one of the largest placemaking projects in the UK.
The bulbs will add extra colour to a new avenue once spring arrives. The students were joined for the occasion by local residents, John Hamilton, CEO of Winchburgh Developments, all four local councillors, three Winchburgh home developers and local MSP, Fiona Hyslop.
The phase 1 opening unlocks around a quarter of the 85-acre park. It re-opens the Drovers Road link path to the Union Canal from the village, allowing locals and visitors to enjoy 20 acres, the equivalent of 6.5 football pitches, of grassed playing areas, new walking and running routes and an enclosed dog park. The celebration also marked the handing over of a new 1.5 acre community garden to the Winchburgh Community Growing Group.
---
---
Once the next two phases are open, the community will have access to 40 acres of the park, which already boasts over 15,000 new woodland trees and shrubs as well as more than two kilometres of paths and fitness trails. Other developments include a new outdoor play park, designed with the input of local school pupils and installed by Broxburn-based Russell Play.
Over 500 members of the Winchburgh community, and a further 350 local primary school pupils, were involved in a detailed consultation for the park in 2018, contributing ideas and providing feedback on options for the design and layout, which will become the community's largest outdoor recreational venue.
A significant part of the site reclaimed from the Auldcathie landfill, which had lain unused for over 17 years. Extensive reclamation and capping works have taken place over the last two years to revitalise and prepare the site.
The final park, to be completed in 2023, will be over twice the size of Edinburgh's Princes Street Gardens. It will see a further 15,000 trees planted and will include a variety of different open spaces including a dedicated bike park, additional paths and fitness trails, extensive wildlife areas and a community orchard. The viewing areas on higher ground will afford long-range views across Winchburgh and to the Forth bridges beyond. On completion, a café with public toilets will be located in the centre of the park.
Auldcathie District Park will be situated adjacent to the new schools' campus area, which is located on the south-east boundary of the park site. With good connections between the park and schools' campus, these 'schools in the park' will feature playing fields and synthetic sports pitches, providing a quality learning environment for future pupils.
Taylor Wimpey launches next phase at Maidenhill
Following the success of the first phase of new homes at its Westfield Gardens development in Maidenhill, Taylor Wimpey has launched a second phase of new homes which are now available to reserve.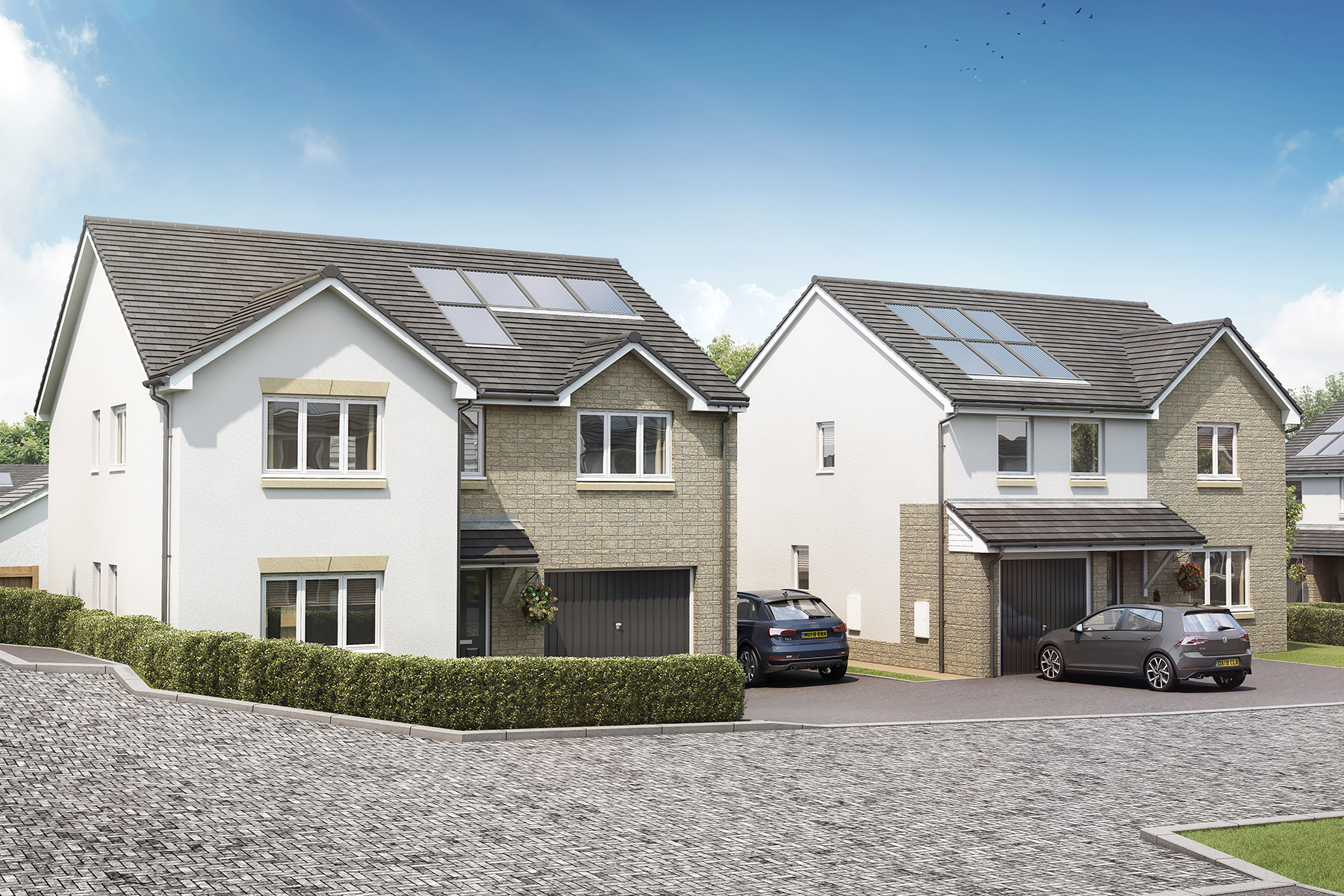 Phase 2 at Westfield Gardens offers a good mix of two, three, four and five-bedroom homes from Taylor Wimpey's Scottish range, as well as four and five-bedroom detached homes from its Caledonian range.
This latest phase of development is part of the wider Maidenhill masterplan. It forms a key part of the emerging new community at Newton Mearns that will consist of 625 private homes and 209 affordable homes to meet the needs of the area, provide new community facilities, public open space and transport upgrades.
The Maidenhill development also features the new Maidenhill Primary School and nursery, which includes sport and play facilities including a multi-use games area and a 3G pitch.
Dundee set for play area, park and environmental improvements
More than £350,000 worth of improvement works to play areas, parks & green spaces throughout Dundee has been given the go ahead from city councillors.
Proposals were agreed to install adventure trail equipment at several locations, carry out tree works at Balgay Park, implement a series of individual projects throughout the city, install an attractive therapeutic garden at the Lily Walker centre and conduct a renewed programme of public play area improvements.
The various environmental improvement works are expected to be completed by March 2022.
More than £60,000 worth of security and path works will also take place at city allotments to carry out fencing works at Old Craigie, replace a gate at Magdalen Green, and install DDA complaint path networks at both Fintry & Whitfield Community Gardens.
Bellway makes a splash with Helensburgh swimmers
Helensburgh Amateur Swimming Club has received a big funding boost thanks to Bellway Homes Ltd (Scotland West).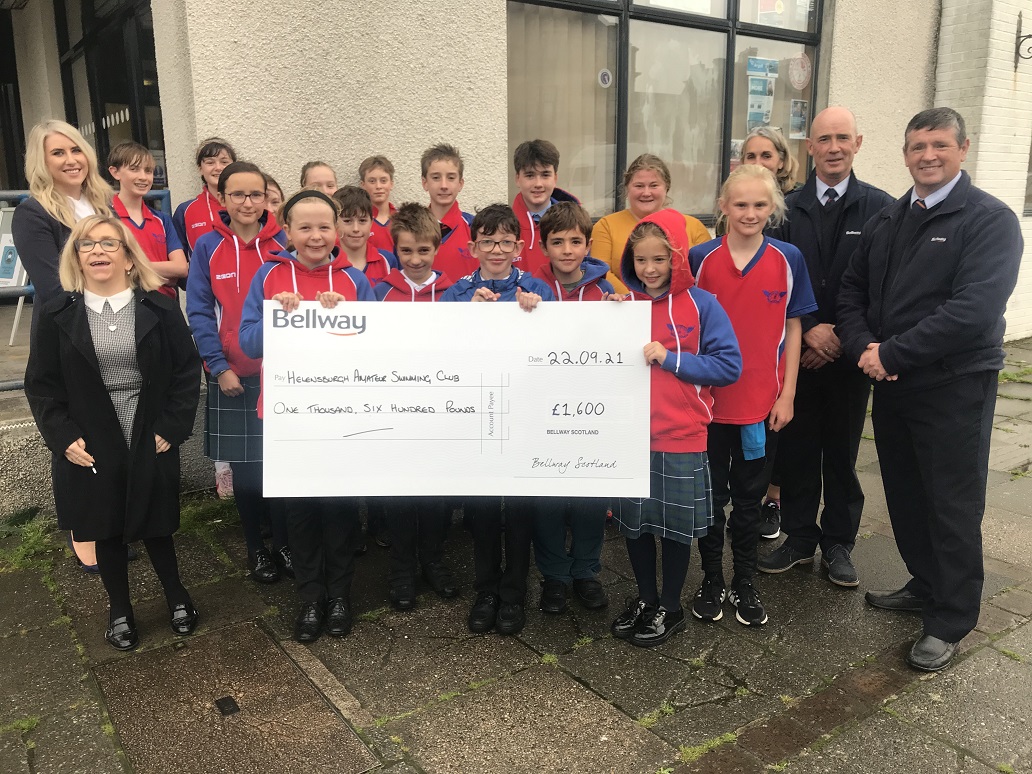 The housebuilder, which is building homes at Alder Gate in the town, heard the club was trying to raise funds for new timing equipment and enlisted the help of contractors and suppliers.
And thanks to their generosity the club was presented with a giant cheque for £1600 this week.
The club plan to also use some of the donation money to buy hoodies for the young swimmers to celebrate the club's 130th anniversary this year. Based at Helensburgh Swimming Pool and run by parent volunteers, HASC currently has over 50 members ranging in age from 7 to 19 years old, who are enjoying the return to the pool following the easing of restrictions in April.
Thornhill farmhouse gets conditional approval
Conditional approval has been granted for plans to build a farmhouse in Thornhill.
Stirling Council planners have backed an application by Martyn Steedman for a farmhouse 145 metres south west of Mains Farm Caravan Park off Kippen Road.
In their decision they said: "The applicant has provided supporting evidence that there is a labour requirement for on site presence.
"Supporting justification has also been provided to state that the house is required to replace a substandard existing farmhouse located within the village envelope and to allow the occupiers to be closer to their farm and equipment.
"Whilst not all farming operations presented are considered to require an on-site presence it is accepted that some operations support such a presence in the interests of animal welfare and it is noted that removing the crop element still results in a labour requirement of approximately 1.58. The adjacent caravan site is under the ownership of the applicants."
Tenants welcomed to new flats at Malory House
The first wave of happy customers have moved into Bield's affordable new homes in St Andrews – in a luxury block inspired by legendary author Enid Blyton.
The 30 apartments in Malory House are sought-after one and two-bedroom homes and, under a pioneering project, are being split 50-50 with priority cases from Fife Council's housing waiting list.
Now Bield Housing and Care believes the homes, which are earmarked for people over-60, will free up other properties across the area, easing congested waiting lists and benefitting younger families as well.
Malory House is named after the Malory Towers books by legendary children's author, Enid Blyton. Although her books are set in an English boarding school, the castle-like building she described was widely believed to have been inspired by nearby St Leonards School in St Andrews.
Malory House was constructed as part of Bield's The Walled Gardens, a prestigious development of 78 luxury one and two-bedroom retirement apartments. Bield took the radical decision to offer the 30 homes for social rent, bringing even greater benefit to the popular seaside town.
Half of the flats have been offered to Fife Council's Housing department for letting to council tenants aged 60+.
The smart partnership with Bield is now part of Fife Council's ambitious Affordable Housing Programme that is increasing the number of affordable houses.
Between 2012-17 the local authority delivered 1700 new council homes across Fife. It is on course to deliver a further 3500 new affordable homes by 2022 and, in late June, the council approved proposals to build 1200 more council houses between 2022 and 2024.
Malory House comprises three two-bedroom flats and 27 one-bed apartments. Each of the spacious, high-spec homes boast light and airy rooms, stylish kitchens and bathrooms. Each flat has a video door entry system and secure front doors and double-glazed windows. Every flat can be accessed by a lift servicing all floors.
Fife Council's Affordable Housing programme is one of the biggest in Scotland and as well as providing more housing it aims to create jobs and apprenticeships, supporting the Fife economy and the construction industry.
Wedding venue plan for B-listed church
A landmark building in the centre of Stirling could be turned into a wedding venue.
Company Eros Events Ltd, which bought B-listed Allan Park Church South in Dunbarton Road earlier this year, have submitted a change of use proposal from class 10 (nonresidential institution) to class 3 (food and drink) and class 11 (assembly and leisure).
The scheme covers internal and external alterations including the installation of a new lift and stairwell, and a new central entrance as well as cloakroom and toilet facilities.
Agents Jewitt and Wilkie Architects of Glasgow conclude in a conservation plan and design report submitted with the proposal: "The proposed use of the former church as a wedding/functions venue was felt wholly appropriate and, although required interventions to satisfy the Technical Standards, these have been mitigated upon the fabric of the building.
"The interventions have been fully tested in accordance with conservation planning protocol and believed to be the minimum required without fundamentally altering the fabric of the original building. Through this process, the historic, architectural, social, communal and economic value of the building to Stirling would be maintained and enhanced by the proposed change of use."
Other potential uses proposed by the agents include creche, day nursery, educational establishment, museum, and public library.