Business and skills minister meets Springfield's up and coming workforce
Private and affordable housebuilder Springfield Properties welcomed MSP Jamie Hepburn, minister for business, fair work and skills, to its Dykes of Gray village at Dundee.
The minister visited Dykes of Gray to meet with a number of Springfield employees in a bid to see first-hand the variety of career and development opportunities Springfield offers young people. He spoke with apprentices, students hired through work experience and employees who are in full- or part-time further education.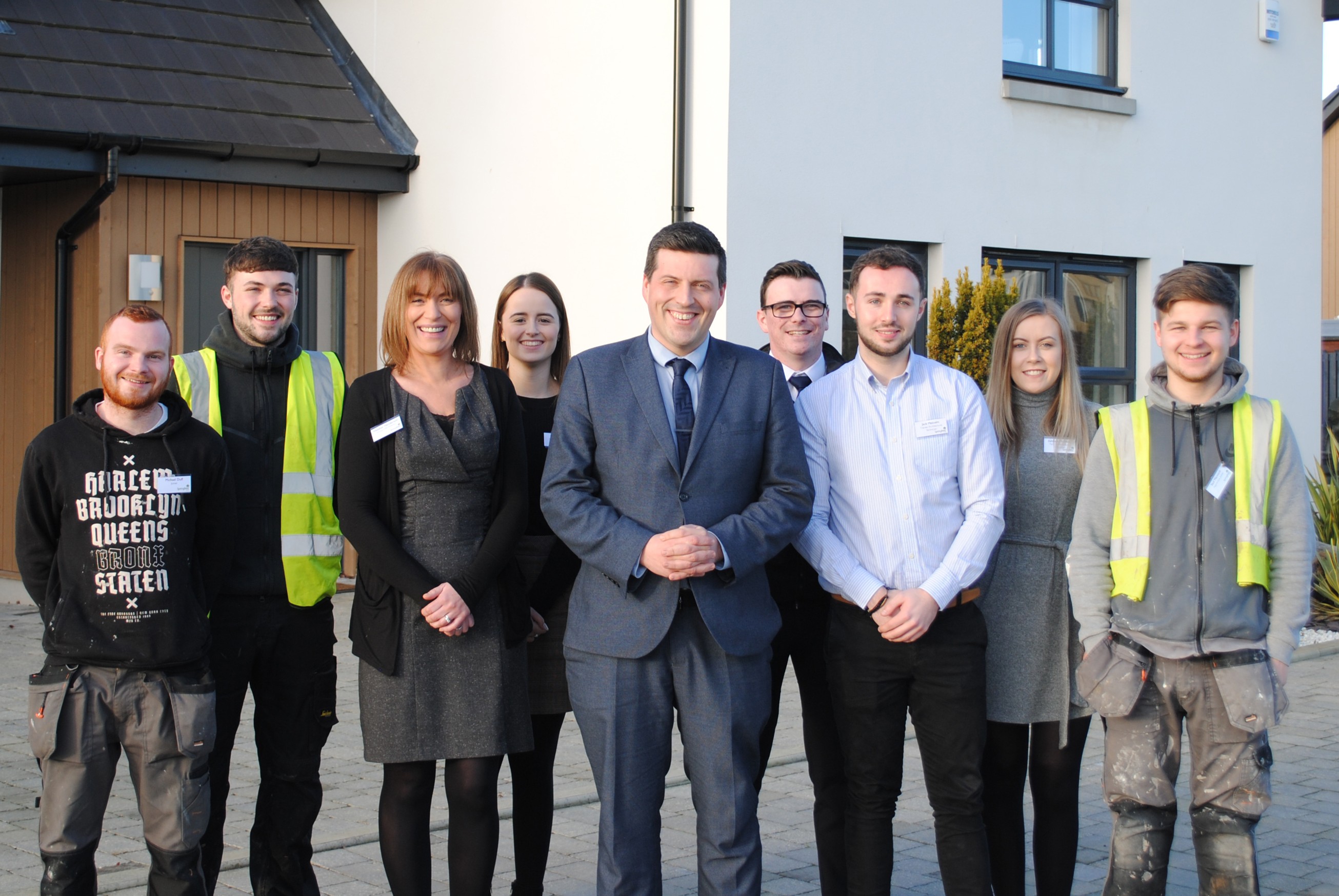 Springfield aims to support 20% of staff as apprenticeships, modern apprenticeships or further education. At 21%, Springfield exceed this target with 57 craft apprentices, 31 modern apprentices, 20 technical apprentices and 23 staff in further education or training.
---
---
Group HR director, Heather Henderson, offered an insight into the variety of work placements, sponsorships and apprenticeships available at Springfield.
She said: "Training and development is a key part of the Springfield ethos. We're a learning organisation, good at developing people and giving them a chance to flourish. Our development programmes help us future proof the company and contribute to maintaining the skills base in the wider industry. Internal programmes make sure we have the right people, with the right skills to support growth and working with external partners brings in new talent.
"There are lots of talented, hardworking young people in Scotland and these types of programmes help them find and further their careers. In 2018 alone, we hired eight young people following successful placements and apprenticeships. We are working to keep this valuable momentum going.
"Springfield employees can benefit from a wide range of on the job learning opportunities. We have established relationships with schools, colleges, universities and local authorities to offer a range of programmes to young people before, as well as after, they enter the working world full time. These include work placements and student sponsorships. Participants are given clear responsibilities and get thoroughly involved in a range of projects. It's a productive way to help students find a vocation they enjoy, while further developing their skill set and highlighting that people can still build a great career in their hometown with a local company.
---
---
"It's great that Mr Hepburn has taken an interest in the support Springfield offers and the relationships we have established to help young people find and develop their career."
Michael Duff, joined Springfield in 2012 as an apprentice joiner. During his studies he was named Best Apprentice while in his second year at Granton College in Edinburgh and went on to successfully qualify as a joiner in 2016 at which point, he was offered a full-time job with the company.
He said: "The apprenticeship really helped bring the practical side of college to life for me. Working on site gave me a chance to put the things I was learning into practice and pick up tricks of the trade from experienced joiners.
"Now, every day is different. I get to travel all across central Scotland, interact with Springfield customers and work on different projects and tasks for a company that is helping me to get on.
---
---
"On top of my apprenticeship, Springfield encouraged me to take other courses and training to broaden my skillset. I am a joiner to trade, but I am also licensed to operate an aerial work platform and I'm sure there will be other opportunities to develop further with Springfield in the future."
Jamie Hepburn MSP said: "I was delighted to visit Springfield Properties at its Dykes of Gray village development in Dundee and meet members of its workforce including Modern Apprentices.
"I welcomed hearing first-hand how Springfield's innovative recruitment and training initiatives are providing employees with the right skills and training to meet current and future business needs. It was evident that recruiting and developing Modern Apprentices is key to Springfield's recruitment strategy as demonstrated by its ambition to support 20% of its staff as apprentices or on further education."
---