CBRE: Glasgow office market sees highest quarterly take-up since Q4 2019
Take-up for the Glasgow office market totalled 289,209 sq ft in the third quarter of the year, the highest quarterly total since Q4 2019, according to the latest office market figures released by real estate advisor CBRE.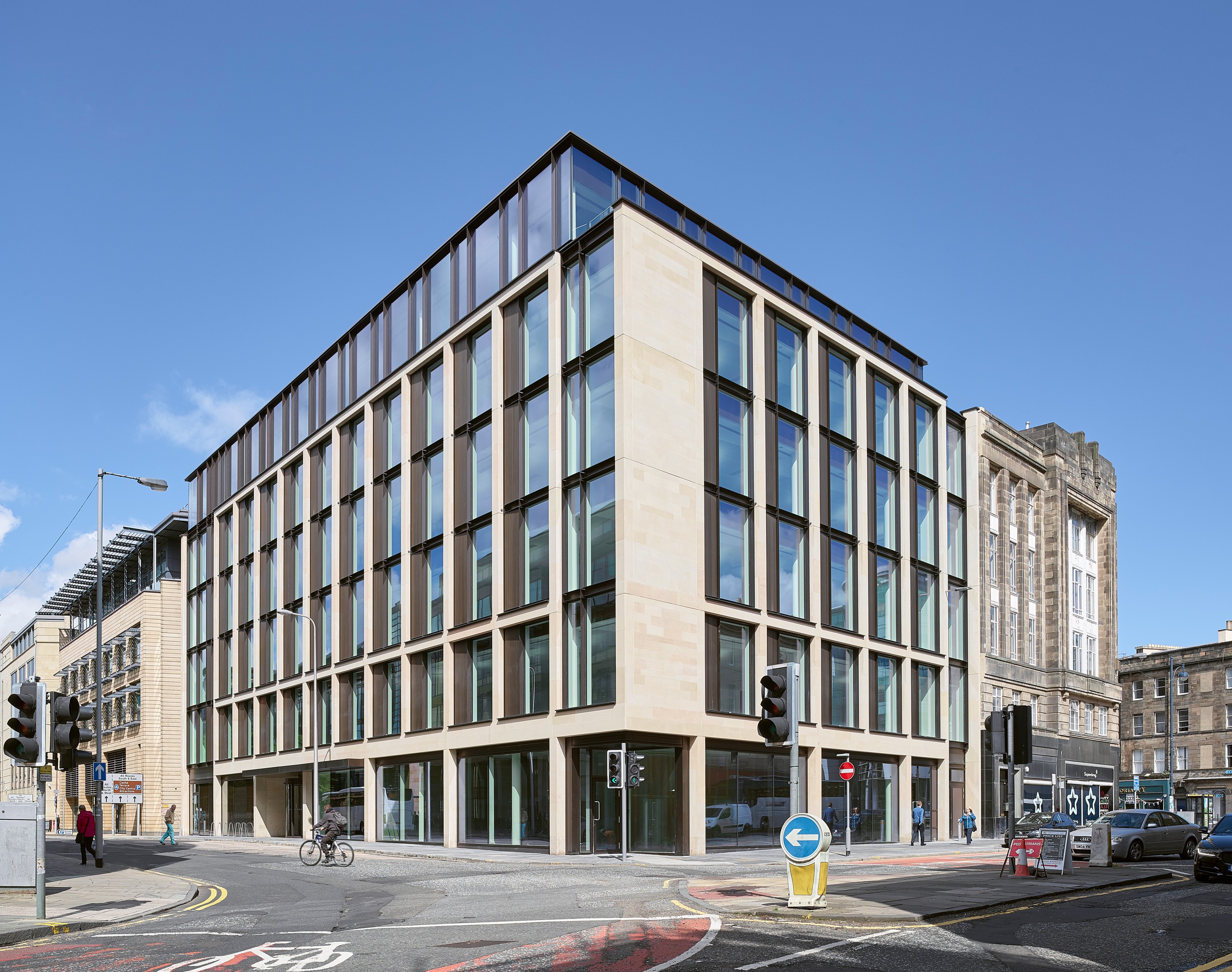 The figure marks a 234% increase from Q3 2020.
In Glasgow, a total of 44 deals were transacted during the quarter, three of which were over the 20,000 sq ft mark. The largest letting was The Student Loans Company's 75,000 sq ft pre-let of space at Buchanan Wharf. Atkins acquired 21,630 sq ft at the recently completed 2 Atlantic Square and there were also two notable pre-lets at 177 Bothwell Street, with both CBRE and AECOM agreeing to take space in the brand-new office development.
---
---
Current office supply in Glasgow sits at 1.847 million sq ft, up 28% from the year-on-year figure. However, this figure reflects a mixture of newly developed office space recently coming onto the market in addition to second-hand vacated space. Grade A space within the city remains at a premium, with just one building within the city able to offer readily available Grade A office space: 2 Atlantic Square which currently has 77,219 sq ft of space available. This represents a Grade A vacancy rate of 0.34% and led to Glasgow's prime office rents growing to £35.25 per sq ft in the last quarter.
Office take-up in Edinburgh totalled 145,864 sq ft in the third quarter of 2021. Although this is down 7.9% from Q2 2021 and 31.07% against the Q3 five-year average, it is 62.8% up from Q1 2021 showing further recovery to the market as restrictions are lifted.
Notable deals included the short-term 50,000 sq ft sub-letting of Elgin House, RSM's 7,346 sq ft letting at 2 Semple Street and Huawei acquiring an additional 3,861 sq ft also at 2 Semple Street in a deal in which CBRE acted on behalf of the landlord.
Encouragingly there was also activity in West Edinburgh with The Scottish Prison Service taking 21,575 sq ft at 1 Lochside Avenue and Go For Finance taking 1,550 sq ft at 3 Lochside Way. As stock falls in the city centre and prime rents grow further, West Edinburgh increasingly offers an attractive alternative for certain businesses moving forward.
The demand for serviced space has increased as companies consider flexible solutions for the short to medium term. Occupancy levels for flexible space in Edinburgh are at an all-time high with limited options available and serviced space city wide accounts for less than 1.5% of Edinburgh wide stock, whereas in Manchester for example, serviced space accounts for 5% within the city centre.
---
---
Office supply in Edinburgh currently sits at 1.793m sq ft, representing a 7% increase from the same period in 2020. New city centre Grade A space remains at a premium with just 0.85% currently available to occupy and an extremely tight pipeline for the foreseeable future.
With 51,316 sq ft transacting across 13 deals, up 96% from the previous three months, recovery was evident this past quarter in the Aberdeen office market.
Notable deals in the third quarter include Mental Health Aberdeen's purchase of Langstane House, Sport Aberdeen taking 7,597 sq ft at The Bridge of Don and DeepOcean sub-letting 7,330 sq ft at Prime Four in a deal in which CBRE advised on.
Overall office supply sits at 2.891m sq ft, indicating a slight rise in supply against the year-on-year figure. New Grade A space in
---
---
Aberdeen remains at a premium however, with just 492,020 sq ft currently available, representing a Grade A vacancy rate of 4.92%.
Stewart Taylor, head of CBRE's Scottish Advisory and Transactions business, commented: "Despite the fact that Scotland isn't as far down the lockdown exit road as its English neighbour, the office markets in each of the three principal cities are showing encouraging signs of recovery, with Glasgow leading the way.
"Each of the markets have quite distinct characteristics but the general trends are the same with occupiers considering reducing their footprints and increasing quality. The larger corporates are moving quickly through a period of analysis to determine what they will look like in the future with their strategies likely to emerge in early 2022."
Alistair Urquhart, director at CBRE in Glasgow, added: "As many had expected, Glasgow's office market continues to recover strongly as society navigates itself out of the Covid-19 pandemic, and the positive rental growth is evidence of that. Prime occupiers want to be based in the city, to take advantage of its fantastic facilities, excellent transport links and educated workforce. The increase in both take-up and rents will also stimulate interest amongst investors, ensuring that the city attracts attention from across the globe."
---
---
Angus Lutton, surveyor from CBRE in Edinburgh, said: "As we continue to see occupiers return to the workplace, it is clear their drivers for choosing space have changed. ESG is at the forefront of their decision making, from the performance of the building to providing staff with more than just a desk space. This will only grow in importance for all occupiers."
Amy Tyler, senior surveyor from CBRE in Aberdeen, commented: "Aberdeen is used to adverse market conditions, and it is a city with tremendous resolve. The signs of recovery are encouraging, and further reassurance can be taken from the amount of active requirements currently on the market. We therefore anticipate a strong level of take up in the final quarter."
---