CBRE: Signs of office market recovery in Edinburgh, Glasgow and Aberdeen
Real estate advisor CBRE has released its latest figures on the office markets in Edinburgh, Glasgow and Aberdeen during the first quarter of 2022.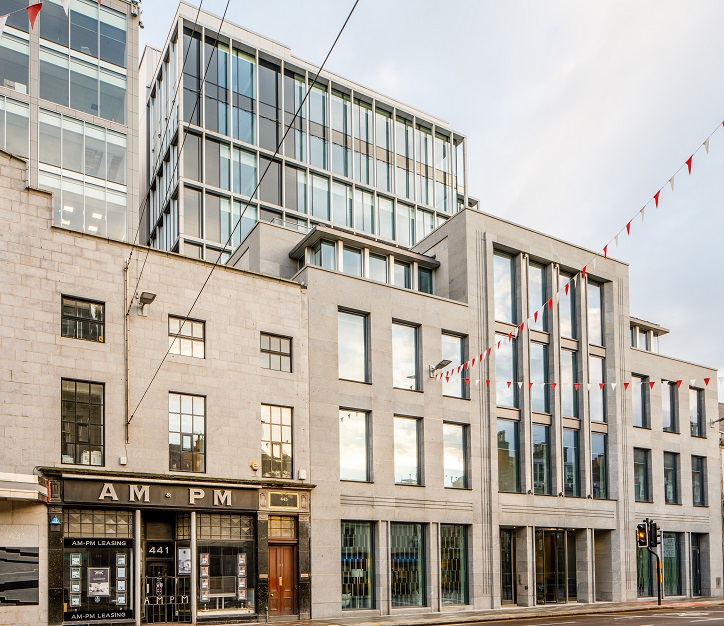 Office take-up in Edinburgh totalled 118,926 sq ft in the first quarter of 2022. This is up 33% from the first quarter of 2021 and only marginally below the pre-pandemic levels of Q1 2020.
A similar trend continues in 2022 as occupiers remain focused on a flight to quality space, reflected in the number of Grade A office transactions. Grade A take-up reached 67,161 sq ft, representing 56% of the Q1 total. Notable deals included another two lettings at The Haymarket development, where Shoosmiths and Dentons have taken space totalling 31,345 sq ft. The development is now fully pre-let, emphasising occupiers' appetite for prime new Grade A space that remains in very short supply across the city.
---
---
There was an influx of deals in Q1, with 31 transactions for new business space within the city, up 15% on Q1 last year. The highest level of activity was recorded in the sub 5,000 sq ft market with 29 deals, re-emphasising the strength of this market in Edinburgh. It was also a strong quarter for the 10,000 sq ft plus bracket of the market with four deals totalling 57,501 sq ft. These included the deals at Haymarket as well as Trust Pilot, the Danish consumer review company, letting 10,515 sq ft at 10 George Street and Roslin Cells agreeing to let circa 15,000 sq ft at Edinburgh Technopole.
Coinciding with the increased number of deals there was also a high level of re-gears and lease extensions across the city totalling 77,727 sq ft over twelve transactions. The most notable being at Princes Exchange, where Turcan Connell agreed a five-year lease extension in which CBRE acted on behalf of the landlord, Lloyds Banking Group.
Serviced office space remains at a premium in Edinburgh city centre with various flex operators at capacity for the foreseeable future. Operators continue to seek space in Edinburgh city centre, however, due to the lack of large floor plates and a preference for management agreements, landlords continue to seek traditional leases.
There is continual pressure on prime rents in Edinburgh as the supply of Grade A space continues to decrease in the city centre. Prime rents now sit at £38.50 per sq ft, but with the tightening of supply and limited development pipeline in the near future, it is expected to reach £40 per sq ft soon.
---
---
Supply once again crept up in the last quarter, with 1.97m sq ft of office space now available within the city. Crucially, with the longer-term supply average sitting at 1.99m sq ft, Edinburgh still finds itself below this figure despite the impact of the Covid pandemic.
Beverley Mortimer, associate director, CBRE Edinburgh, said: "As hybrid working becomes synonymous with daily life, the heightened level of transactions is expected to continue throughout the year. We are currently working with a number of occupiers to re-evaluate their space plans, better understand their requirements, and assist them in finding suitable space that suits their new needs and ways of working.
"Whilst we are seeing occupiers taking less space, they still want to secure the best space possible which is evidenced by the demand for good ESG credentials and wellbeing facilities. Occupiers require space to assist with their internal net zero commitments, an attempt to encourage staff back to the office and to help win the war on talent. This trend thus far has been predominantly driven by large multinational companies but we're beginning to see smaller companies demand the same quality."
Take-up for the Glasgow office market totalled 95,496 sq ft in the first quarter of the year, which is up 28% from the first quarter of 2021.
---
---
A total of 38 lettings took place across the quarter, which is already 30% of the total number of transactions throughout 2021, providing evidence that the recovery momentum shows no sign of slowing down. Furthermore, Glasgow's twelve-month rolling average has increased, with 623,888 sq ft transacting in the past year.
The largest of the Q1 deals was Burness Paull's 14,814 sq ft letting at the recently completed 2 Atlantic Square, at which BDO also took 8,078 sq ft, with CBRE involved in both deals. A further 10,200 sq ft was transacted at Tay House with civil engineers Fairhurst taking space within the building on a ten-year lease. 180 West George Street was also involved in a couple of deals – with Frazer Nash and LMR Partners responsible for some 13,454 sq ft exchanging over two floors.
Office space supply continues to rise gradually within the city, with availability now sitting at 2.684m sq ft – the highest it has been since 2015. However, Grade A office supply remains at a critical shortage with just 168,000 sq ft available, reflecting a vacancy rate of 0.74%. Demand for best-in-class space remains strong as evidenced by the current list of requirements for office space within the city. Indeed, numerous pre-lettings at 177 Bothwell Street throughout 2021 displayed the appetite occupiers have for Grade A space within the city, and with a lack of new developments within the pipeline, it is expected the current prime rent of £35.25 per sq ft will continue to rise. This is partly due to construction cost price inflation, but also due to occupiers turning to pre-letting. There continues to be a good supply of refurbished second-hand space, with positive rental growth in this sector as well.
Martin Speirs, associate director from CBRE in Glasgow, added: "Glasgow remains at the forefront of the Scottish office market revival as lockdown measures are eased. The city's offering of a highly skilled and educated workforce coupled with modern, affordable workspace to suit the requirements and needs of today's office tenants, means it continues to draw in new occupiers and investment in the city. Furthermore, positive rental growth in both Grade A and Grade B office markets will be an attractive proposition to investors and will further indicate the recovery path Glasgow finds itself on post-Covid; highlighting just how well Glasgow looks set to for the next few years to come."
---
---
Aberdeen witnessed an exceptionally strong first quarter of 2022 with take-up reaching 195,905 sq ft, a 115% increase from the previous quarter and the highest since Q1 2012. CBRE advised on 169,460 sq ft of the space transacted, equating to 86% of all deals in the quarter.
The largest deal of the quarter in both Aberdeen and in Scotland was energy giant Shell committing to 100,312 sq ft at The Silver Fin Building, resulting in full occupation of the Grade A city centre office property.
Other prominent deals across the quarter include the recently rebranded North Sea Transition Authority (formerly Oil & Gas Authority) acquiring 18,000 sq ft in Marischal Square, PBS and RelyOn Nutec taking 17,911 sq ft and 7,933 sq ft respectively in Westhill, DNV leasing 10,948 sq ft in Aberdeen International Business Park, Dyce and Waldorf Production purchasing 6,803 sq ft 70 Queens Road.
Office supply from last quarter reduced by 5% and currently sits at 2.67m sq ft, with only 428,000 sq ft of Grade A space available.
---
---
Amy Tyler, associate director from CBRE in Aberdeen, commented: "Aberdeen has enjoyed a strong start to the year with a spread of transactions happening in both the city centre and out of town markets. The six largest transactions in the quarter have involved energy occupiers, CBRE was involved in all six transactions, with each seeking a modern workplace as they reinvigorate their businesses for the energy transition.
"The most notable has been the Shell deal at The Silver Fin Building. It is the largest and most significant office letting to take place in Aberdeen city centre and represents the growing confidence in the market and indeed the physical workplace. In a reverse of the usual trend, this is the first time one of the major energy operators has decided to relocate their office HQ from an out-of-town location to the city centre, bringing around 1,000 employees to Union Street, a sign that Aberdeen City Council's City Centre Masterplan investment is impacting on occupiers' decision making."
Andy Cunningham, head of CBRE's Scottish advisory and transactions business, added: "We've witnessed an encouraging start to the year in all three cities with the same recurring themes that were prevalent in 2021 – a flight to quality space and strong environmental credentials. It is pleasing to see Aberdeen having a particularly strong first quarter of take up, largely due to the team's recent letting for Shell's new HQ at The Silver Fin Building.
"Going forward we suspect there will be fewer lease re-gears than in the past as the desire to have a more modern building will be stronger, and with so little supply, larger occupiers will have to commit earlier than ever to secure the best space meaning we're likely to see an increase in pre-letting activity."
---