CCG and West of Scotland Housing Association bury time capsule at East End development
Pupils of Silverdale Nursery in Glasgow's East End have buried a time capsule in the hope that people of the future will find fun "artefacts" and "memories" from the 21st century.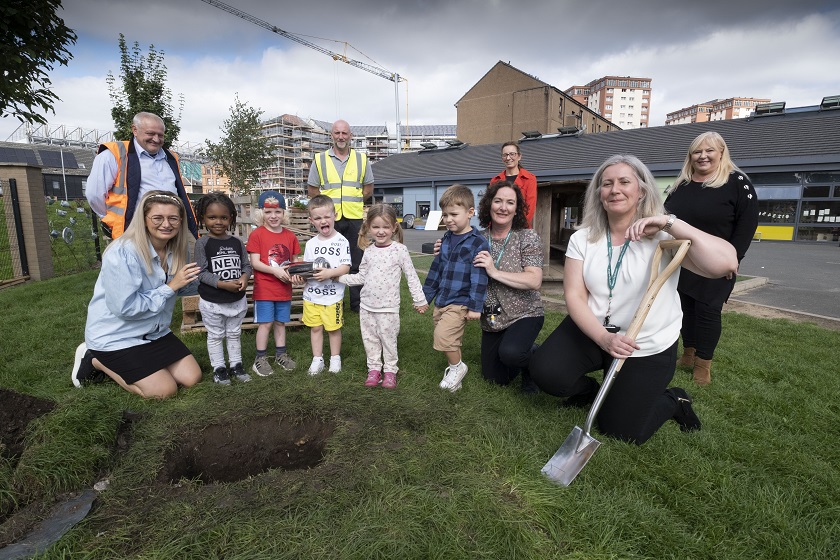 Aged between 2 and 4 years old, the children were accompanied by headteacher Margaret-Anne MacKinnon and representatives from CCG (Scotland), West of Scotland Housing Association (WSHA) and hub West Scotland who are each working together to create Glasgow's largest Passivhaus development at Springfield Cross, Dalmarnock, adjacent to the nursery premises on Williamson Street.
The time capsule will be buried within the grounds of the nursery and contains a variety of Silverdale artifacts, drawings, official opening invitations and photographs.
---
---
Headteacher, Margaret Anne MacKinnon, said: "We are delighted to be working in partnership with CCG (Scotland) and West of Scotland Housing Association, the housing development at Springfield Cross has sparked our children's interest and this in turn has manifested in creating mini building sites/construction areas within the playrooms.
"Our children have also had lots of visits to the site and Derek has helped to source materials for the children's outdoor play area.
"We look forward to meeting the new residents and maybe welcoming them as potential service users in the future."
---
---
CCG contracts manager, Derek Gall, said: "We thoroughly enjoyed getting to meet the pupils of Silverdale Nursery. CCG believe it is very important to create a legacy for the communities in which we operate, offering support by a variety of means including jobs, training, curriculum support for schools and donations.
"Alongside the engagement with the nursery, we have created new trade apprenticeships for two young people from the East End. We are also committed to delivering up to eight work placements and, through our work with WSHA, we will donate upwards of £5000 to locally-based projects."
Springfield Cross is one of the most significant affordable housing projects currently being constructed in the city due to its advanced standards of energy performance.
Comprising 36 one-and-two-bedroom flats for social rent by WSHA, the development is being delivered to a Passivhaus standard of build whereby very high levels of insulation and airtightness combine to vastly reduce heat loss and, thus, energy demand.
---
---
Ultra-low energy bills for the tenant and lower carbon emissions are the upshot of this performance with the building standard being seen as a hugely important step forward in understanding how fuel poverty can be tackled across the country as well as supporting the economy's climate agenda in moving towards 'net zero'.
Karen Shaw, development manager at West of Scotland Housing Association, said: "It is fantastic that we are able to involve the children at Silverdale Nursery in such an exciting project which will have a lasting legacy for the community. This exciting initiative is part of our community benefit, which is included in our procurement process with contractors and is being delivered in partnership with CCG at our first Passivhaus development. Community benefits are really important to WSHA as it allows us to invest in the communities and local people of where we have homes."
hub West Scotland CEO, Iain Marley, added: "This leading edge development will play an important role in the community so it's highly appropriate to invite the community to help plan this time capsule. It's fascinating to contemplate what a future generation will think about the memories that have been buried and I wonder if by then all developments will be designed and built to such high standards?
---
---
"Springfield Cross will offer very energy efficient and high quality accommodation to tenants in the East End of Glasgow. The development provides 36 one and two bedroom flats that are built to Passivhaus specifications – as such it will make a significant contribution to addressing fuel poverty and meeting net zero emissions targets."
Derek Gall concluded: "Springfield Cross is being constructed using CCG's own, specially-designed 'iQ' Timber System and as well as windows and doors which are both produced within just 2.5 miles from our site. The development, therein, is not only significant for its sustainability standards – which are some of the most advanced in Scotland – it also supporting local jobs. We commend Glasgow City Council and the project partners for their commitment in bringing this project forward."
Funded by a £4.3 million of grant funding from Glasgow City Council's Affordable Housing Supply Programme and WSHA's private finance, Springfield Cross is due for completion in summer-2022.
---