Clyde Mission Fund hands woodland park £2.3m funding boost and consults on future work
Views are being gathered on how the Clyde Mission Fund can maximise the river's economic, social and environmental potential while tackling risks such as flooding.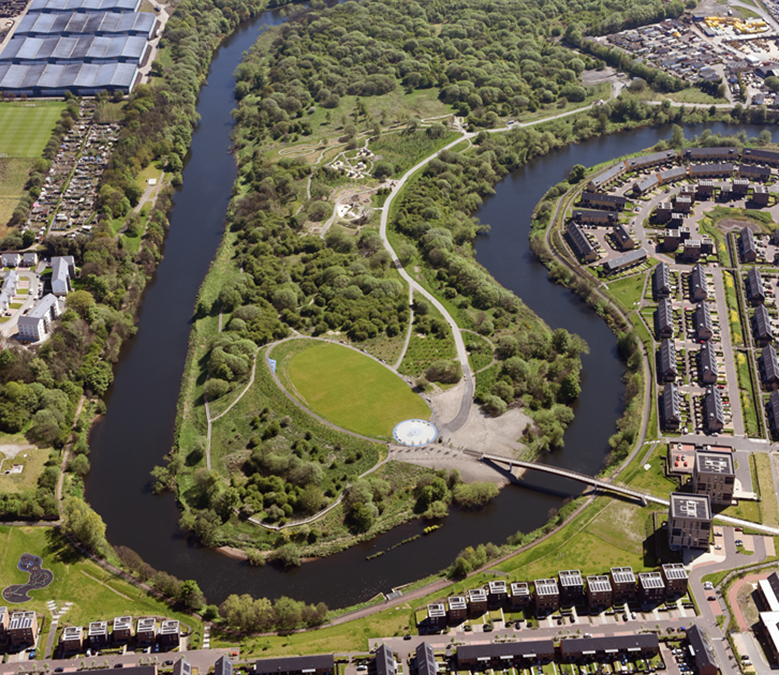 Last year the Scottish Government-led initiative provided more than £11 million of funding for projects that will create jobs and benefit communities along the river.
A further £2.3m has been awarded to Clyde Gateway to support the extension of the riverside Woodland Park at Cuningar Loop near Dalmarnock. The project will reclaim 8.5 hectares of vacant and derelict land that has been unused for 50 years and turn it into an extended park providing quality, accessible green space along the river.
---
---
Economy secretary Fiona Hyslop said: "It's our goal to make the river an engine of sustainable and inclusive growth for Glasgow, the region and Scotland.
"We want to understand the priorities and ambitions of people and organisations connected to the river. Whether you live or work in the area, this is your opportunity to influence the Clyde Mission's development and future plans.
"The river presents challenges as well as opportunities and we want to hear ideas on themes including jobs, skills and how best to bring land back into productive use through projects like the Cuningar Loop Woodland Park, which benefits communities and the environment."
In partnership with NatureScot, the next phase of Cuningar Loop will see the transformation of previous derelict and inaccessible land into a new green space which will be designed to enable community engagement, health, wellbeing and lifelong learning as part of the local response to the COVID-19 pandemic.
---
---
Cuningar Loop, developed in partnership with and managed by Forestry and Land Scotland, currently spans 37 acres of woodland, linking communities in Dalmarnock in Glasgow's East End and Rutherglen in South Lanarkshire. Since it first opened to the public in 2016, it has welcomed over 500,000 visitors and provides a range of features including adventure play, bike pump track, bouldering zone, boardwalk and events area.
The green infrastructure project will see a natural extension to the riverside park and the inclusion of:
167 specimen trees
11,000 square metres of wildflower meadow and grassland
6,990 square metres of new woodland planting
a 400m extension of the existing riverside walkway
additional linked woodland walkways with seating and picnic areas
an educational area including a pond to encourage wildlife and a teaching amphitheatre, created using tree trunks
1,722 linear metres of footpaths
50 additional parking spaces.
During this new phase, the local economy will also benefit from the creation of 43 opportunities for youth employment and two new jobs during construction.
---
---
Alison Thewliss MP, chair of Clyde Gateway, said: "I am delighted by this welcome funding and thank the Clyde Mission for their continued support and partnership approach. Green recovery will play a vital role in our response to the pandemic and this exciting new development allows the creation of an exemplar for greenspace and low carbon which connects health and nature as a priority and one which will be worthy of being showcased on a worldwide stage."
Clyde Gateway's chief executive, Ian Manson, added: "We are pleased to secure Clyde Mission's funding to unlock this next stage of investment. Cuningar Loop Woodland Park has been a focal point for Clyde Gateway, and as well as providing an immediate jobs boost in terms of construction, it will help address issues of health inequality, educational attainment and social capital which have been further impacted by COVID-19."
The additional funding will build upon the recent award from the Scottish Government's Clyde Mission for the creation of a roadway on the Shawfield Regeneration site. The road will be constructed from the existing junction of Queensferry Street with The Clyde Gateway Road to provide 190m of new roadway, providing an immediate stimulus to surrounding development whilst maintaining and improving the access into the existing industrial and commercial businesses at Toryglen Street.
The Call for Ideas is now live and will close on March 29.
---