Conference to feature toolkit for town centre regeneration
A new online resource created to support all those who work to improve Scottish towns is set to be featured at the flagship Scotland's Towns Conference event.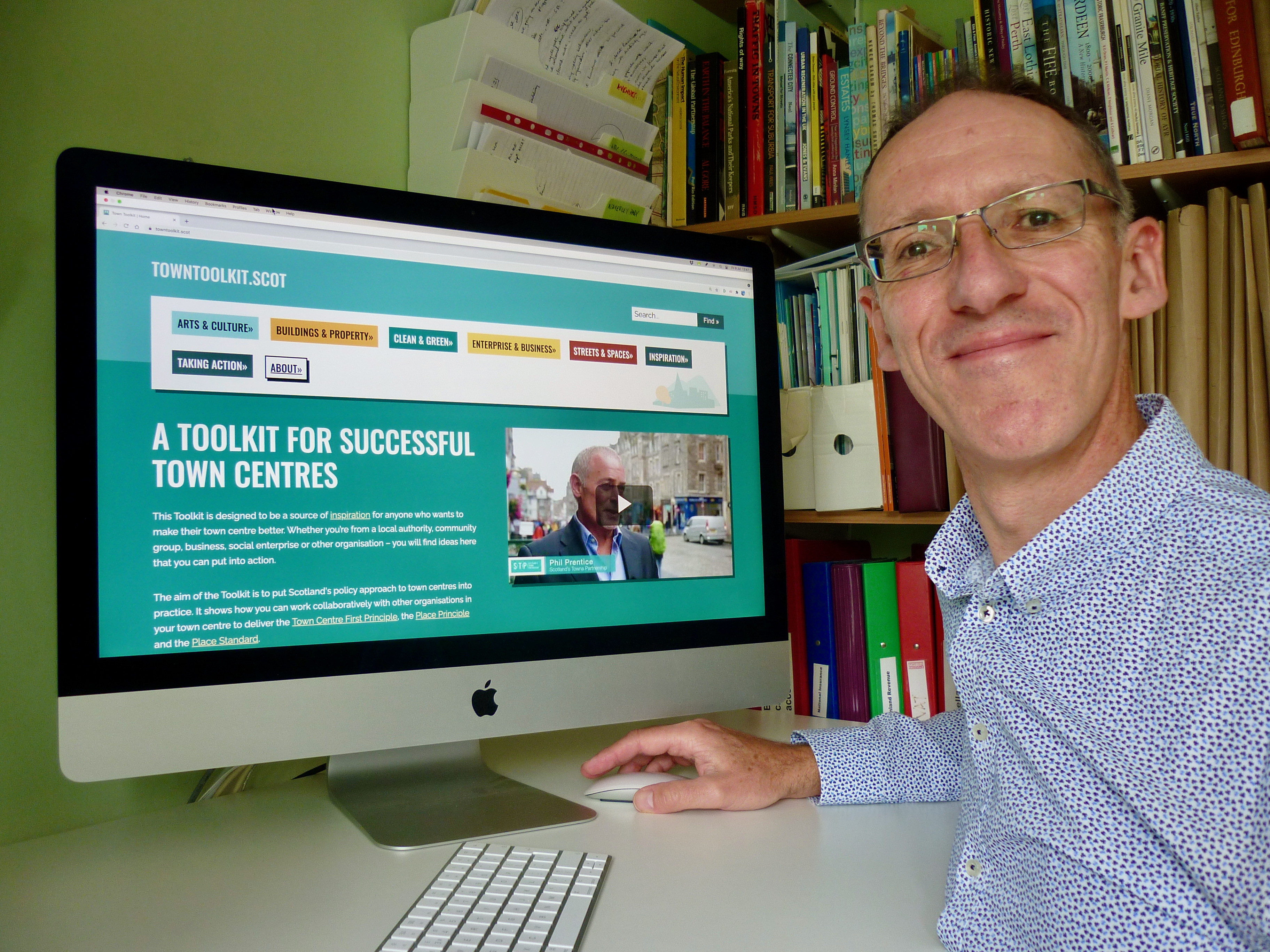 Launched this summer, the Town Toolkit was developed by Scotland's Towns Partnership with support from the Scottish Government and over 200 contributing organisations.
It is full of tried and tested ideas to help anyone who wants to make positive changes in their town, covering topics such as arts and culture, buildings and property, clean and green, enterprise and business, and streets and spaces.
---
---
Now one of those involved in creating the Toolkit, town planner Nick Wright, will deliver a workshop on how to make the most of the free-to-use resource. He will be joined by Donald Boyd of Huntly Development Trust, who will give a personal perspective on how the Aberdeenshire town became widely considered a regeneration success story.
The session will take place online on Friday 26th November, 12pm-1pm as part of Scotland's Towns Conference – the flagship annual event focused on the wellbeing and development of towns and urban districts in Scotland.
Nick Wright said: "I would encourage anyone who is attending Scotland's Towns Conference to join us for the session on the Town Toolkit. I look forward to walking people through some of the interesting and unique features of the Toolkit and how it can help make their aspirations for their towns happen. I'll also be able to answer any questions attendees have about using the Toolkit."
The Town Toolkit is built to facilitate access to the information that users most need depending on the focus of their project and current stage on the journey to delivery, whatever their organisation or sector. It includes the following areas:
---
---
The 'taking action' page gives information on the nuts and bolts of making change: collaboration, planning, resourcing, delivery and measuring success.
The thematic sections provide ideas, advice, case studies, short videos and links to further information.
'Inspiration' case studies show how four towns – Dumfries, Huntly, Paisley and Stromness – have become success stories by bringing ideas featured in the Toolkit to fruition, each in their own unique way.
Since its launch, the Town Toolkit has been warmly welcomed by town centre experts and advocates.
Audrey Michie, service lead, Sustainable Communities, Angus Council, added: "It is important that our communities learn from other towns to overcome the challenges that can be faced in developing town centre initiatives, projects or redevelopments. The Town Toolkit highlights exemplar town centre projects and ideas from all over Scotland and is a useful tool for inspiration."
Julie Twaddell, director, Dementia Friendly Prestwick, commented: "Using real-world examples of streets, spaces and buildings, and hearing the stories behind the towns' projects, is a great way to stimulate meaningful change. We have worked with two towns since the Toolkit was launched, and their own dementia friendly projects."
---
---
Matt Baker, orchestrator, The Stove Network, Dumfries, added: "We've found the Scotland's Town Toolkit so helpful: it's filled with a great range of case studies and you can take different bits from each to develop your own approach. We're thrilled that Dumfries is now one of the 'inspiration' case studies in the new edition!"
---