Construction firms awarded enhanced memberships of The 5% Club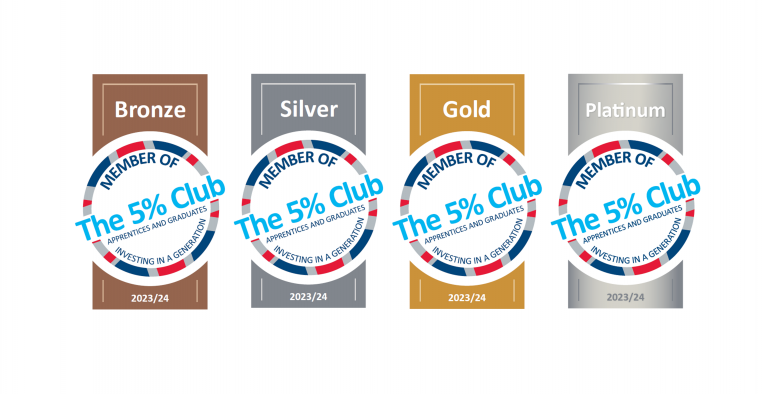 The 5% Club group of employers inspired to take positive action for increased, inclusive, and accessible workplace training for all has awarded enhanced memberships to a number of construction companies.
During the Annual Employer Audit Symposium broadcast from London yesterday, The 5% Club awarded 180 enhanced Bronze, Silver, Gold, and Platinum Memberships, in recognition of the commitment and measured inspired action of those members completing the 2023 Employer Audit. Over 250 attended the online event, which included research insights and interviews with participants, and leading thought leaders.
During the online event, participating employers from a membership of over 930 Companies were awarded their Bronze, Silver, Gold and for the first time Platinum Memberships for 2023/24.
---
---
31 Members were awarded Platinum Membership
119 Members were awarded Gold Membership
22 Members were awarded Silver Membership
8 Members were awarded Bronze Membership
McLaughlin & Harvey was one of the businesses to be awarded Platinum membership by The 5% Club.
Launched to mark its 10th Anniversary, The 5% Club's new top tier of Platinum Membership is awarded to those who have attained Gold Membership for three consecutive years, with the third year consisting of 10% or more staff members "earning and learning".
Alison Reilly, group HR director at McLaughlin & Harvey, said: "We have supported the 5% Club for a number of years as we believe investing in talent development creates a sustainable pipeline of skilled and motivated employees. Earn and learn employees currently make up 11.5% of McLaughlin and Harvey's workforce. The initiative promotes diversity and inclusion in the workplace, addresses the skills gap and demonstrates our commitment to social responsibility and investing in long-term success and sustainability."
---
---
Among the Gold standard winners were Pacific Building, Clark Contracts and Tarmac.
Speaking at Pacific's headquarters in Hillington, managing director Gerard McMahon said: "We are delighted to have been recognised yet again for our commitment to training and development of young people.
"As an employee-owned business, it is critical to continually develop our own talent to meet the growing demands of the construction industry."
In November 2022, Pacific secured its first Gold accreditation when it was one of just six organisations in Scotland – and one of 107 in the UK – to be honoured.
---
---
Gordon Cunningham, managing director of Clark Contracts, said: "We are proud of our investment in our employees, which is why we first joined The 5% Club back in 2015. We formed our Academy in 2006, and since then have supported over 300 apprentices and trainees into the construction industry, a number of whom have progressed to senior positions within the business. This accreditation recognises and reinforces our commitment to the continuous training and development of our people."
Harriet Slatter, HR director for UK materials at Tarmac, added: "We're delighted to have maintained our Gold membership of The 5% Club once again this year - the award recognises the work we've done to date and is something we are hugely proud of.
"Our apprentice and graduate onboarding at Tarmac forms a key part of supporting the UK's construction and infrastructure ambitions. We're dedicated to investing in a range of professional development and training initiatives to create a highly skilled and diverse workforce."
Launched in 2013, the goal of The 5% Club is to increase the employment and career prospects of today's youth and equip the UK with the skilled workforce it needs to safeguard Britain's economy.
---
---
Key insights from the research included:
Large Employers
114 employers with 250 employees or more took part in the Employer Audit.
Their combined workforce is 787,190 employees, of whom 60,873 are in 'earn and learn' roles.
At 88 employers, at least 5% of the workforce are 'earn and learn' employees.
These employers have 47,634 apprentices, 9,930 graduates and 1,284 degree-placement students.
77% of apprentices are male, 12% are BAME, 68% are under the age of 25, and 12% are from low-income families.
65% of graduates are male, 25% are BAME, 60% are under the age of 25 and 11%are from low-income families.
On average, 85% of apprentices successfully complete their apprenticeships and 89% of graduates finish their graduate programmes
'Earn and learn' recruitment is expected to increase in 2023-2024, with a 10% rise in apprenticeships likely.
SME Employers
---
---
66 SME employers with fewer than 250 employees took part in the Employer Audit.
Their combined workforce of 7,947 employees includes 1,170 who are in 'earn and learn' roles
At 62 employers, at least 5% of staff are 'earn and learn' employees.
Diversity continues to be a challenge for SME employers as 90% of apprentices and 75% of graduates are male, and fewer than 1 in 10 'earn and learn' employees are BAME apprentices or graduates.
Apprentices and graduates have very high completion rates for their 'earn and learn' programmes.
'Earn and learn' recruitment is expected to grow at SMEs in 2023-2024.
Membership of The 5% Club remains free, and this exciting scheme is easily accessed, offered at a marginal cost, and takes minimal time to complete. The Symposium today will be followed up by comprehensive reports individualised for each participating employer, all of whom have also been invited to a Celebration Reception at the Mansion House, London on 29th November; this is likely to include attendance from Rt Hon Gillian Keegan MP, Secretary of State for Education, and Rt Hon Robert Halfon MP, Minister for Skills, Apprenticeships and Higher Education. During this reception, the UK National Employer "Earn & Learn" Awards will be made.
Mark Cameron OBE, chief executive at The 5% Club, who co-hosted the event, said: "Now in its third year, we are delighted with the adoption and growth of this accessible scheme, by our Members and the wider employer community. This is mirrored in the growth of The 5% Club, which has nearly doubled in size since 2020, with a membership rapidly approaching one thousand employers.
"The outcome of this research will be used to shape our campaigning and forward events programme, as we seek to collectively learn from the insights, and ensure the Skills System across the UK is tuned to the needs of Employers. We also celebrate the achievement of all those awarded enhanced memberships, including the thirty-one who have met the Gold Standard since we launched the scheme in 2021, and who this year have more than 10% of their workforce in recognised 'earn and learn' schemes."
He added: "It's inspired action such as this which is so essential to our national prosperity and the enduring resolution of the skills challenges."
Gill Cronin, director of operations at The 5% Club and event co-host, added: "Having seen The Club grow to more than 920 members, I am always impressed at the commitment, drive, and energy our members channel into offering "earn and learn" skills opportunities. This scheme bestows important recognition on these companies and truly recognises the breadth and depth of their contribution to the future of skills in our economy."