Construction headlines at Meet the Buyer 2022 virtual event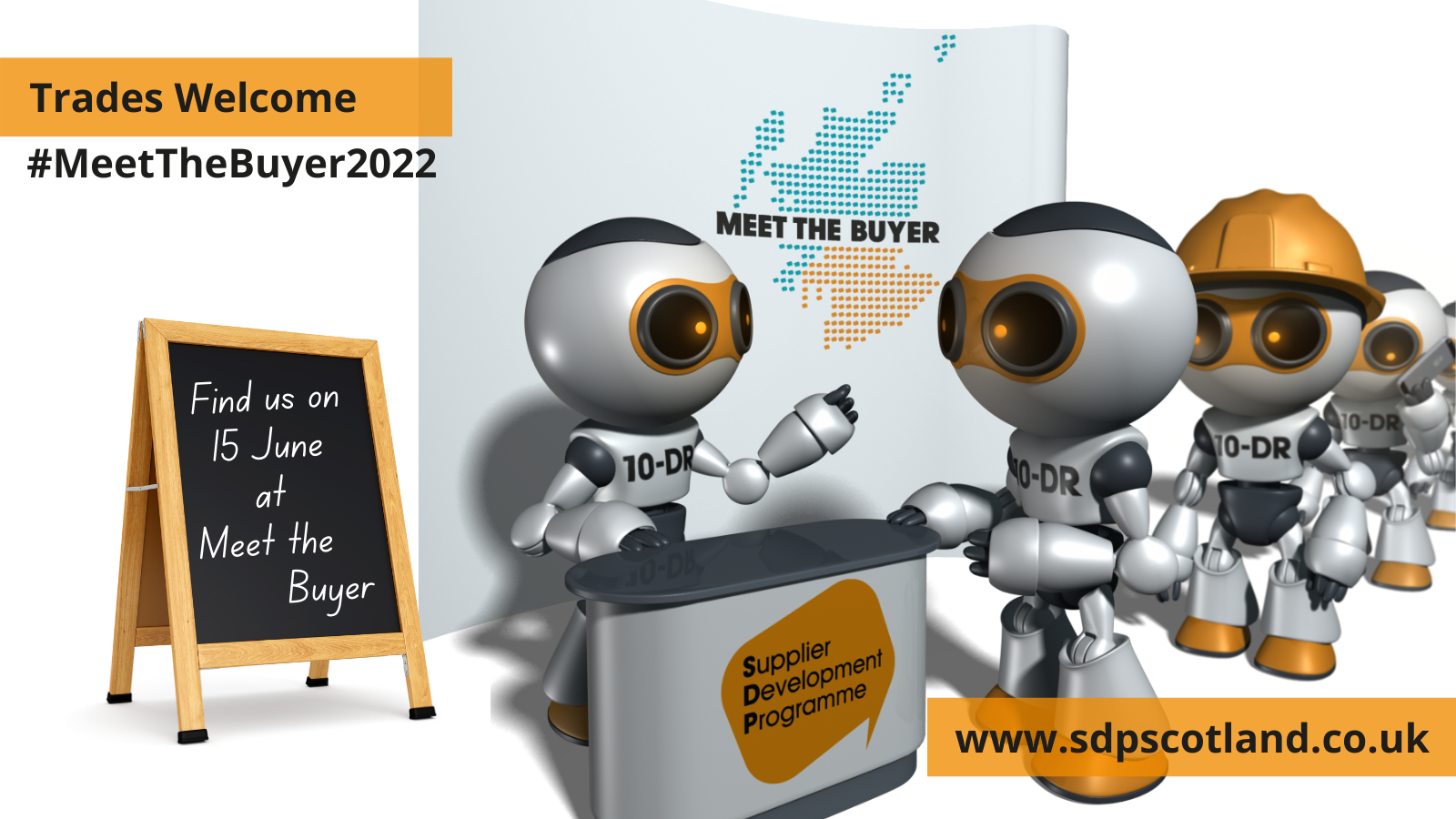 The Supplier Development Programme is to hold the 13th annual Meet the Buyer event online on June 15 with headline partners, the Scottish Government and Scotland Excel.
Meet the Buyer 2022 will see more than 200 staff from 41 online exhibition stands come together for one-to-one meetings with businesses, representing the public sector, private contractors and business support providers.
The event is free to attend.
---
---
The virtual stages feature speakers on emerging business opportunities and topics such as the Aberdeen Hydrogen Hub, diversifying NHS Greater Glasgow and Clyde and NHS Lanarkshire supply chain, Net Zero, Growth Deals, links to Community Wealth Building, sustainable procurement, Fair Work First, how to bring innovation to the public sector, Brexit, and COVID-19 economic recovery plans.
Scotland Excel is also seeking businesses to bid for an upcoming national framework opportunity for Repair, Maintenance and Refurbishment services.
Micro, small and medium-sized businesses, from blacksmiths to bathrooms, electricians to fencing, joiners to flooring, kitchens to painters and plumbers, roofing to heating, ventilation, windows and doors, and other trades too, are invited to ask their questions on how they can potentially get business from this framework wherever they are located in Scotland.
The heads of procurement for NHS Greater Glasgow and Clyde and NHS Lanarkshire will also present on plans to diversify their local supply chains in partnership with the Supplier Development Programme.
---
---
The Ministry of Defence will also be available next month at Meet the Buyer 2022, and will present on how to bid and ensure that SMEs have a fair opportunity to contribute to UK defence and security, and the ability to compete successfully in international markets.
RJ McLeod and Levenseat will both be in attendance to speak with sole traders and small businesses to increase transparency of their supply chain opportunities and Community Wealth Building initiatives for projects being delivered in local areas throughout Scotland.
From the comfort of their own screen, businesses will have the chance to introduce their companies, talk to the key contacts and find out about what tenders and projects buyers have in the pipeline for micro, small, medium and supported businesses for the supply of materials, goods, and services to Scotland and the UK's public sector.
Ivan McKee MSP, minister for business, trade, tourism & enterprise, is confirmed to deliver an opening address, subject to Parliamentary business.
---
---
This is the second year in a row that this event will be held virtually - and 91% of Scottish SMEs and supported businesses were more likely to bid for public sector contracts after attending last year's event.
Non-SME suppliers are also eligible to attend and must register an account with SDP to book a place.
The Supplier Development Programme (SDP) is a business support initiative that uses training and information to help micro, small and medium sized businesses support in all aspects of tendering.
SDP is a partnership of local authorities, the Scottish Government and other public bodies working together to help businesses become ready to tender for contracts.
---
---
With public procurement processes that require a more formal tendering approach than some private sector opportunities, SDP improves the prospects of SMEs when competing throughout Scotland where there is an annual public spend of £13.3 billion.
SDP delivers this support through training and events.
Gillian Cameron, programme manager, Supplier Development Programme, said: "Meet the Buyer is a free virtual event that provides small businesses with unprecedented access to buyers and decision makers from across the public and private sectors, with the opportunity to raise your profile as a business and prepare for upcoming contract opportunities.
"No business is too small to attend Meet the Buyer. The public sector procures goods, works and services from businesses and sole traders right across Scotland, so this event offers a chance for businesses of all sizes - particularly in construction - to give an elevator pitch to lots of potential new customers, all in one place."
---
---
Whether just starting out with public contracts or as experienced bidders, the UK and international marketplace, particularly the EU, offers small construction businesses extensive opportunities.
Businesses must register in advance to attend Meet the Buyer 2022 by visiting www.sdpscotland.co.uk.
---