Construction sector counts the cost of February storms
Output in the UK construction sector has suffered its first monthly decrease since October 2021 as the storms which hit the country in February took their toll on site conditions, the Office for National Statistics (ONS) said today.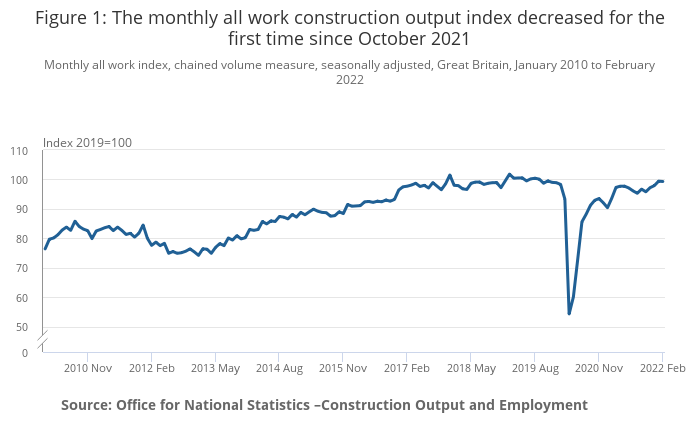 Monthly construction output decreased by 0.1% in volume terms in February 2022, after an upwardly revised 1.6% increase in January 2022.
Anecdotal evidence from returns received for the Monthly Business Survey for Construction and Allied Trades suggested the storms experienced between 16 and 21 February 2022 resulted in projects being delayed, as more working days were lost on sites and premises than normal for this time of the year.
---
---
The decrease in monthly construction output in February 2022 came from a decrease in repair and maintenance (0.5%) as new work saw a slight increase of 0.1% on the month. At the sector level, the main contributors to the decline in February 2022 were infrastructure, and non-housing repair and maintenance, which decreased by 2.5% and 0.9% respectively.
The level of construction output in February 2022 was 1.1% (£155 million) above the February 2020 pre-coronavirus level; new work was 3.7% (£354m) below, while repair and maintenance work was 10.2% (£509m) above.
Despite the monthly decrease, construction output rose 2.4% in the three months to February 2022; this is the strongest growth in the three-month on three-month series since June 2021 (4.0%), with similar increases seen in both new work, and repair and maintenance (2.2% and 2.6% respectively).
Responding to the data, the Federation of Master Builders (FMB) said while the construction sector's recovery appears promising after a testing two years, it risks masking the continued pressures small builders face with materials and labour.
---
---
Brian Berry, chief executive of the FMB, said: "Construction as a whole is on up year on year, but local builders continue to operate in an extremely challenging environment, facing difficulties in sourcing affordable materials and labour. The FMB's recent membership survey highlighted the severity of these pressures, with 95% of local builders reporting increased material costs and upwards of 40% struggling to recruit for key trades such as carpentry and bricklaying. Faced with rampant inflationary pressures and significant uncertainty regarding the economic impact of the war in Ukraine, smaller building firms look set to suffer at a time when consumers are tightening their belts."
Mr Berry added: "I urge government to take a proactive approach to reduce the difficulties faced by local building firms. A move that would act as a boost for builders and reduce long terms costs for consumers would be the introduction of a National Retrofit Strategy – a measure sorely missed in the Government's Energy Security Strategy. This would create demand for retrofit projects, that local builders will then deliver and cut energy bills for customers."
Clive Docwra, managing director of property and construction consultancy McBains, said: "Today's statistics are a setback coming after a strong return in output over the last three months.
"Although storms Eunice, Dudley and Franklin had an impact on work delays, more serious underlying concerns over factors such as energy price rises, disruption due to the Ukraine crisis and rising inflation are triggering nervousness both from investors and in the construction sector itself.
---
---
"One positive is that demand remains strong as new work overall increased slightly, but the government missed a huge opportunity last week to provide a boost to the industry by not introducing measures to improve home insultation in its energy strategy.
"Not only would this have helped households with rising energy costs, but a programme of retrofitting work would provide support for smaller players should there be a noticeable downturn."
Gareth Belsham, director of the national property consultancy and surveyors Naismiths, added: "For now, this is a wobble rather than a worry. February's dip in output came after a barnstorming January, and it's likely the figures were dragged down by the series of exceptionally strong storms that tore across the UK during the month and forced external construction work to cease for several days.
"Nevertheless the output data serves as a wake-up call, and a reminder that there's nothing inevitable about the momentum that construction built up at the end of 2021 and into January.
---
---
"Construction is highly reliant on global supply chains for building materials, and the imposition of tough sanctions on Russia following its invasion of Ukraine is now disrupting the supply of key materials including steel and timber.
"This data gives a snapshot of UK construction on the eve of war, and the picture it paints is of an industry that was still in a good place, even if it had given up its crown of fastest-growing sector of the UK economy.
"Builders began 2022 with reassuringly full order books, after new orders jumped by an impressive 9.2% during the final quarter of 2021.
"For this reason, industry sentiment remains mostly positive, even if the situation in Ukraine has brought the unwelcome return of material shortages and triggered a new wave of cost inflation.
---
---
"Longer delivery times for materials, a chronic shortage of skilled workers and stubbornly high numbers of working days lost to Covid are all proving constant headaches for project managers.
"Yet the market is at least more free-flowing than it was; and having showed incredible fortitude in the way it dealt with the pandemic and then the post-lockdown supply problems, construction is adapting well to this latest challenge."