Cruden scoops double win at Homes for Scotland Awards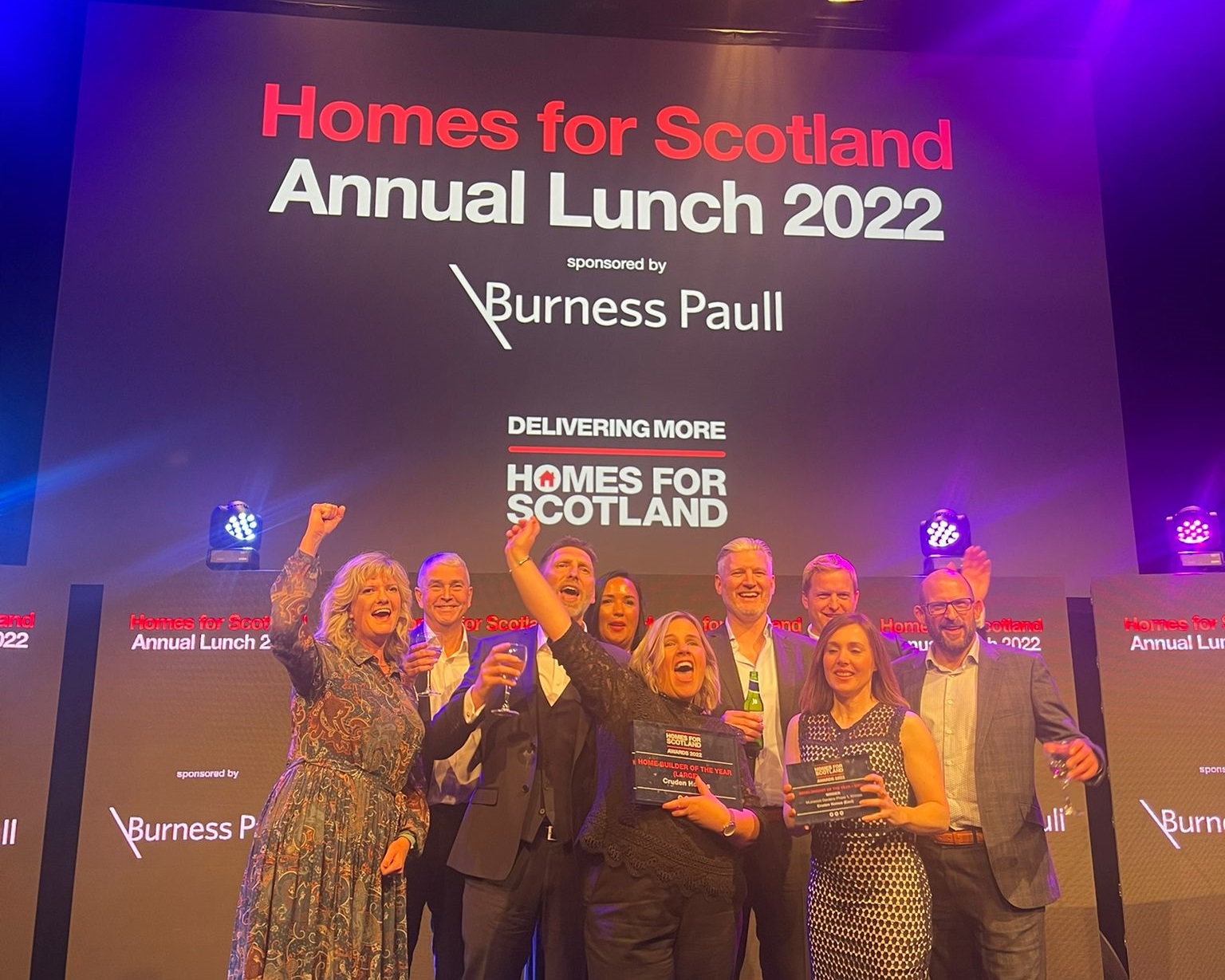 The Homes For Scotland Awards 2022 took place on May 20 at the Edinburgh International Conference Centre, bringing together key players from the Scottish construction industry to celebrate the sector's greatest achievements from an array of innovative home building projects across the country.
The annual event saw Cruden Homes secure the prestigious title of Large Home Builder of the Year alongside the Development of the Year - Small.
Awarded the highly sought-after title of 'Large Home Builder of the Year', Cruden Homes was praised by judges for its high quality finish and carefully thought out designs. The developer was deemed a testimony to this year's panel theme of "going the extra mile" and stood out from the crowd due to its sheer dedication to creating all-encompassing community developments for homebuyers.
---
---
Cruden Homes' stylish development for those exclusively aged 55 and over, Muirwood Gardens, also received the prize for 'Development of the Year - Small'. Offering a mix of modern two and three-bed bungalows, villas and cottage flats, Muirwood Gardens has been developed by Juniper Residential, sister company of Cruden Homes. The development is conveniently located within close proximity of the historic town of Kinross and on-site amenities at Muirwood Gardens boast superb hotel-inspired communal areas such as a residential club lounge and luxury guest suite for visitors.
Delighted to have secured the Home Builder of the Year title, Steven Simpson, managing director, Cruden Homes East, said: "My team and I are thrilled to have Cruden Homes recognised as a pioneering player in the Scottish homebuilding industry.
"Winning Large Home Builder of the Year is extra special, particularly as our sector continues to overcome the challenges faced through the pandemic. Thanks to the hard work and dedication of our staff, we have come back stronger than ever and we look forward to delivering more sustainable, community-driven developments in the future.
"Cruden is committed to creating sustainable homes which successfully pair comfort and functionality with quality and style. Our customers are at the heart of our designs and we do our utmost to ensure that the living spaces we create are carefully curated with them in mind."
---
---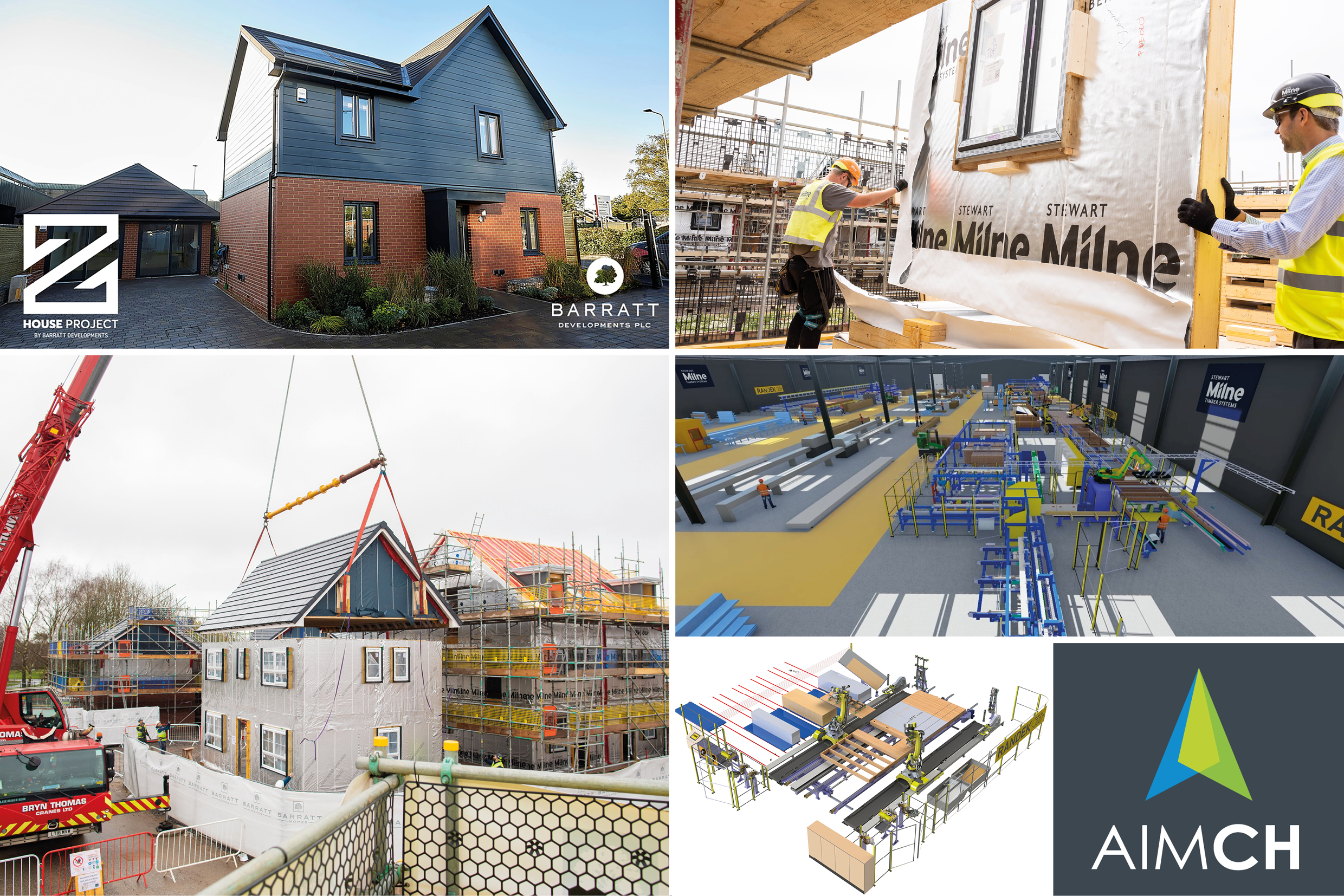 Stewart Milne Group, in partnership with Barratt Developments and Forster Group, took home the 'Innovation of the Year (Transition to Net Zero)' award on the night for its Advanced Industrialised Methods of the Construction of Homes (AIMCH) project.
Originally set up to tackle challenge issues faced within the housing sector and meet net-zero carbon targets, AIMCH is a £6.5 million, three-year, collaborative, research and development project.
In addition to sourcing solutions for workforce challenges, skills shortages and low affordability, AIMCH has become fundamental in identifying outcomes to increase productivity and processes across the sector.
---
---
Stewart Milne Group's innovation and sustainability director, Stewart Dalgarno, is also project director at AIMCH and has recently presented a blueprint for the industry to support the delivery of quality and sustainable homes. He also led a study which showed how construction hazards can be reduced by 20%, critical for health and safety within the industry.
Stewart Milne Group is aligning its methods and processes with research from AIMCH projects, which will see more modern and innovative ways of constructing new homes.
Mr Dalgarno commented: "The work AIMCH is producing is vital to the future of the property and construction industry, so to be recognised alongside our partners is extremely rewarding.
"This is a collaborative effort, and it reinforces the progress we can make when we can work together as an industry, with each partner bringing relevant skills and complementary knowledge to the project.
---
---
"The solutions identified so far are a real catalyst for change, encouraging developers to use modern methods and increase design standardisation in pursuit of net-zero."
"We are continuing to source the most efficient, safe and high-quality way of doing things so we can meet buyer demand, keep people safe and reduce our carbon footprint."
The partners in AIMCH - Stewart Milne Group, Barratt Developments PLC, L&Q, the Manufacturing Technology Centre, the Construction Scotland Innovation Centre and Forster Roofing Services Ltd - have been collaborating, researching and trialling near-to-market, scalable housing solutions for the last three years.
With all shortlisted development entries subject to a site visit by the panel as well as a separate online interview with senior management representatives, judges were hugely impressed by the headline winners, noting demonstrations of strong community engagement, high levels of customer satisfaction and a commendable focus on innovation across the board.
---
---
Chair of the independent judging panel David Knight, former managing director at Avant Homes, said: "As chair of this year's refreshed judging panel, I was delighted to see such strong submissions from HFS members, particularly given the challenges of the past couple of years.
"These entries showcased organisations which are not only rising to the challenge of delivering more of the much-needed homes we require across the length and breadth of the country but are doing so in a way which goes above and beyond – that could be in terms of their use of innovative technologies or building techniques, creation of a sense of place and community or notable sustainability features – and all with the customer to the fore.
"The panel, therefore, congratulates all who entered and those taking home the top awards."
The winners in full are below:
Development of the Year – large (100+ units) - sponsored by Hacking and Paterson
Barratt and David Wilson Homes - The Strand, Edinburgh
CCG (with South Lanarkshire Council hub South West) - Whitlawburn Regeneration, Glasgow
Link Group & McTaggart Construction - Riverside Dalmarnock, Glasgow - Winner
Places for People - Chapelton, Aberdeenshire
Springfield Properties - Bertha Park, Perth
Stewart Milne Group - Dunnottar Park, Stonehaven
Development of the Year – medium (26-99 units) - sponsored by VELUX
CALA Homes (East) - Boroughmuir Phase 2, Edinburgh
CCG (with City of Edinburgh Council) - Bingham Avenue, Edinburgh
Cruden Homes (East) - Bonnington Mill, Edinburgh
Lovell Partnerships - Claish Farm, Stirlingshire
Westpoint Homes - One Hyndland Avenue, Glasgow - Winner
Whiteburn Projects - Caerlee Mill Phase 2, Innerleithen
Development of the Year – small (up to 25 units) - sponsored by Openreach
Cruden Homes (East) - Muirwood Gardens Phase 1, Kinross - Winner
Hadden Homes - Glenluie Green, Perthshire
Panacea Homes - The Primary, Glasgow - Commendation
Rural Renaissance - Darnick Green, Melrose
Innovation of the Year (Transition to Net Zero) - sponsored by Shoosmiths
Barratt Developments - The Z House
Pixel - Online selection systems
Stewart Milne Group with Barratt Developments and Forster Group - AIMCH Project - Winner
Associate Member of the Year - sponsored by Anderson Strathern
Perceptive Communicators - Winner