Demolition of Irvine's high flats reaches final stages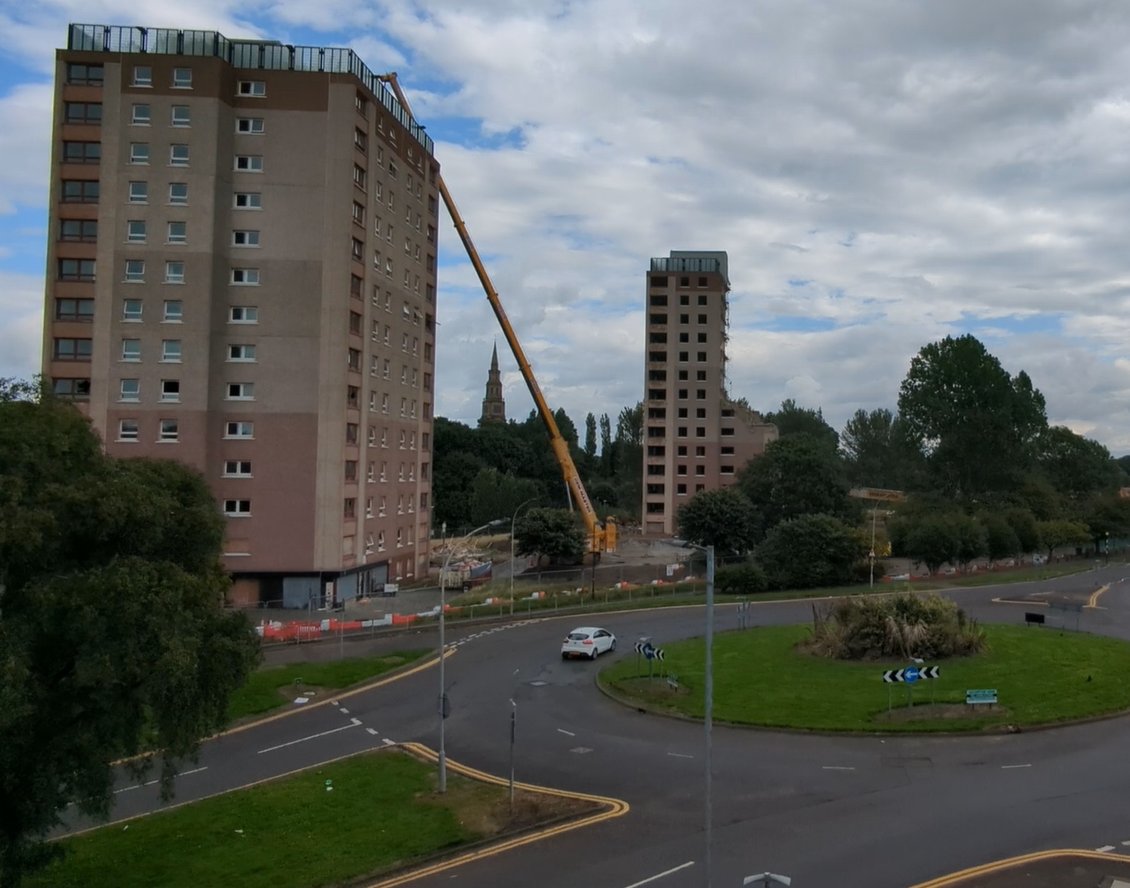 The demolition of Irvine's high flats is nearing its conclusion with preparations well advanced to bring down the last remaining tower block, Afton Court.
Drivers and nearby residents are asked to be aware of road restrictions during this final stage of the demolition programme.
Since the demolition programme got underway last year with the removal of internal fixtures, four of the five blocks of flats have been gradually brought down.
---
---
Because Afton Court is closer to the road than the other four blocks, it will mean additional restrictions will have to be temporarily introduced to ensure safety.
The A737 (Fullarton Street) and southbound footway will require to be closed from Monday, August 21, for a period of four weeks.
During this time, vehicle access to the delivery/service area below the Rivergate Centre will be granted for emergencies, deliveries and users of the Fullarton Centre (The Gate) only.
Pedestrian access around Afton Court will also be restricted during the closure, although the footpath along the riverside will remain open.
---
---
However, there will be no pedestrian access between the river walk and Fullarton Street along the side of the Rivergate Centre. Pedestrian access will be maintained to the river walk via the Fullarton Centre (The Gate) at the northern end of the Rivergate Centre.
Vehicles wishing to exit the delivery area below the Rivergate Centre will be restricted by a controlled exit barrier, operated by the contractors, Dem-Master Demolition.
Outwith general working hours, and at weekends, the exit barrier will be removed. This is to allow uninterrupted access for emergency vehicles and deliveries to the Rivergate Centre only.
Please note, the road closure will remain in place 24 hours a day and there will be no access for the general public to the delivery/service area for the duration of the above work.
---
---
Motorists and pedestrians are asked to adhere to the diversions which will be in place during the closure and clearly signposted.
Councillor Tony Gurney, cabinet member for Green Environment and Economy at North Ayrshire Council, said: "We would like to thank neighbours for their patience during the demolition works. It's been a major project but one which has so far gone very well without any major issues.
"The end is now in sight with only Afton Court still standing. Given its close proximity to a major road, it is necessary to have these road restrictions in place to ensure the safety of motorists, pedestrians and indeed the staff working on the demolition.
"Once the demolition is complete, we can then look forward to seeing a new beginning for the Fullarton site with the creation of modern, affordable homes for our residents."
---