Deputy First Minister officially opens BDP's new Queen Margaret Academy
Pupils, parents and teachers were among the VIP guests who came together to celebrate the official opening of the new Queen Margaret Academy in Ayr.
John Swinney, Deputy First Minister and cabinet secretary for education and skills, officially opened the building on Thursday 27 February, where a range of musical entertainment was provided by pupils and teachers.
Designed by BDP's Glasgow studio, the new Queen Margaret Academy is designed around a naturally lit central atrium with modern, well-equipped classrooms. Pupils, teachers and parents were heavily involved in the consultation process for the design of the new building, which can hold 800 pupils. It boasts interactive learning environments, a large games hall, a gym, two all-weather pitches, a fitness suite and a host of other exciting facilities.
---
---
Lindsey Mitchell, architect director at BDP, commented on the design of the new school: "This building is a product of the collaborative approach we take at BDP, to deliver educational spaces that help the school achieve their educational and societal aspirations.
"By consulting with parents, students and teachers, we were able to create inspirational spaces that promote a range of teaching and learning styles. We are very proud to have assisted South Ayrshire Council to develop this fantastic new school."
Construction of the £25 million school began beside the old school in November 2017. The original St Margaret's school was founded in 1856 in the building which is now St Margaret's Church Hall in Elba Street. In 1893, the school moved to Whitletts Road where over seventy-three years, it developed from a purely primary to a combined primary and secondary school. In August 1966, the secondary department moved to a new building in Mainholm Road, next to Mainholm Academy and was renamed Queen Margaret Academy; the primary department remained at Whitletts Road and was renamed St John's Primary School.
Before long, both Queen Margaret and Mainholm Academies outgrew their accommodation and, in January 1976, Queen Margaret Academy moved to the new building on Dalmellington Road which it now occupies. After two years of construction, pupils stepped foot into the new building in October 2019.
---
---
The school was built by Kier Construction and delivered by South Ayrshire Council in partnership with hub South West.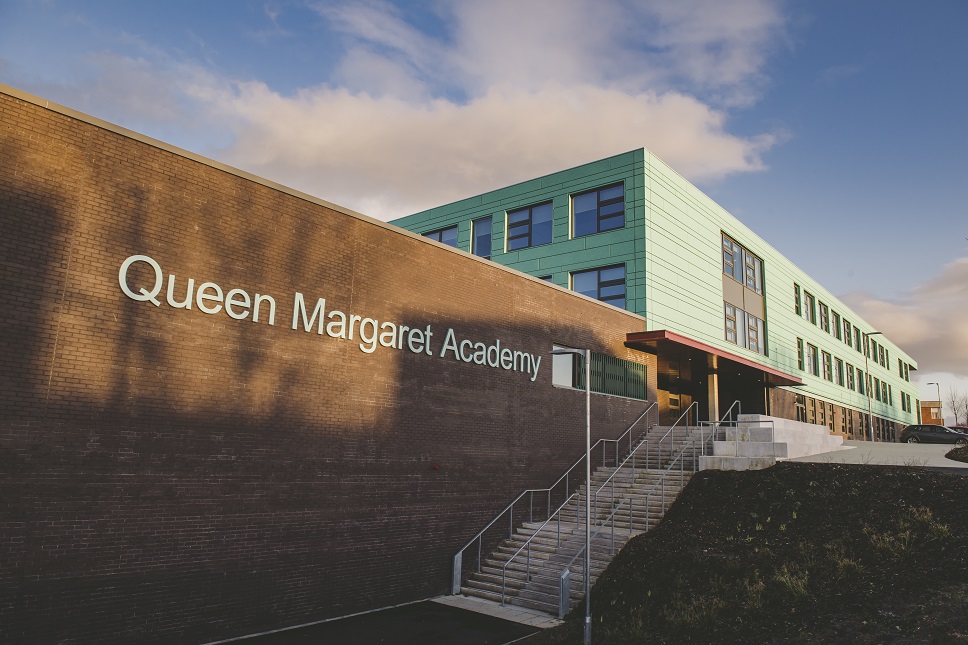 John Swinney MSP said: "It was tremendous to join pupils, teachers and parents to open the new Queen Margaret Academy in to celebrate the history and future of a school that has grown at the heart of its community for over 150 years.
"My thanks to South Ayrshire Council for its ongoing investment to build and refurbish schools, which we support through Scotland's Schools for the Future and the £1 billion Learning Estate Investment Programme. The impressive new facilities Queen Margaret Academy boasts will serve pupils, teachers, and the surrounding community for years to come."
---
---
Councillor William Grant, South Ayrshire Council's portfolio holder for lifelong learning, said: "Through our school build programme, we are transforming learning in South Ayrshire. The new Queen Margaret Academy signifies another chapter in the school's future, and gives us an opportunity to reflect on its history.
"The fantastic new facilities will enhance the strong sense of pride and belonging that staff and pupils, past and present, contribute to and enjoy."
Sean O'Callaghan, operations director of Kier Regional Building Scotland, said: "We are pleased to have delivered this leading, modern academy with fantastic new sports facilities for 800 students and the wider community to enjoy, building on our track record of delivering quality schools throughout Scotland.
"Through hub South West Scotland, we worked with local suppliers to ensure that the project boosts the Ayrshire economy and provided local talent with the opportunity to gain valuable experience of working on a state-of-the-art building."
---