Doosan launches new DL420CVT-7 wheel loader
Doosan has launched the new DL420CVT-7 Stage V compliant wheel loader equipped with a Continuously Variable Transmission (CVT) as part of its DL-7 series.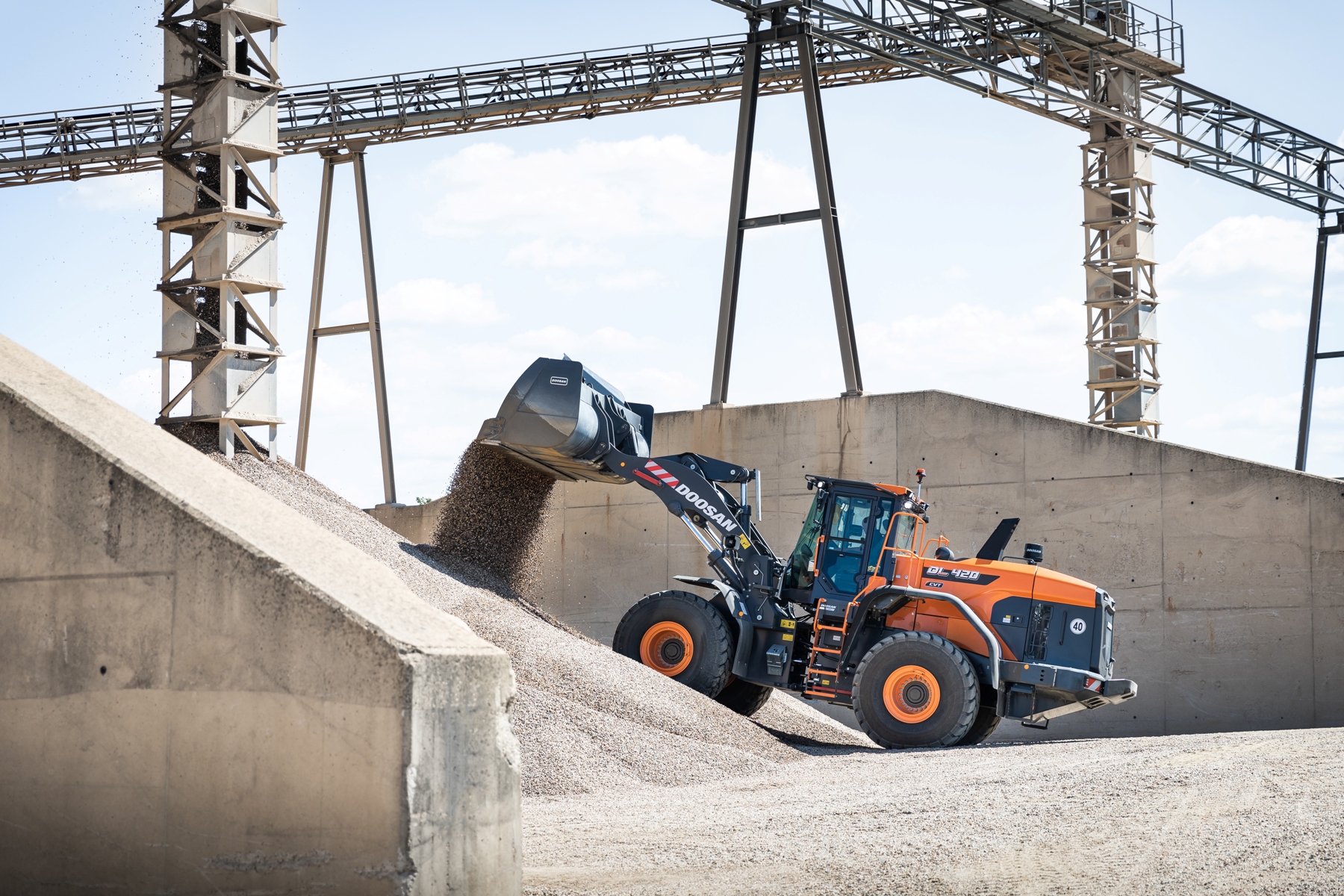 With a maximum bucket capacity of 4.5 m3, the Doosan DL420CVT-7 wheel loader is intended to meet a wide range of material-handling needs from loading and transporting granular material (such as sand or gravel) to quarrying, mining, construction, demolition, industrial, waste and recycling applications.
A CVT transmission is the result of a permanent combination of a hydraulic technology and a mechanical technology which provides a smooth and continuous speed variation. The CVT design combines the benefits of a hydraulic mechanical transmission and a hydrostatic transmission in the same machine. It allows the DL420CVT-7 to automatically transition from hydrostatic power at low speed to the mechanical system to operate at higher speeds.
---
---
By combining the two types of transmission, the CVT technology ensures high loads can be carried at low engine speeds with high dynamics for an optimum wheel loader operating cycle. The DL420CVT-7 therefore provides an increase in machine performance for operators working in digging, loading and lifting applications. For most tasks, operators will utilise the hydrostatic part of the transmission, which offers greater fuel efficiency in low-speed applications. The combination of the two transmissions is automatic and fully transparent for the operator.
The complete driving range, forwards and in reverse, is controlled by the CVT system. Low engine speeds ensure a high efficiency and the highest driving comfort irrespective of the traction speed. The power splitting continuously variable technology facilitates moving off softly and hydraulically. Furthermore, with the CVT, a fuel saving of up to 15% can be achieved.
With an output of 240 kW (326 HP) of power at 1800 RPM, the Scania DC09 engine in the DL420CVT-7 provides generous torque at low RPM and meets Stage V emission regulations without the need for exhaust gas recirculation (EGR), through the use of selective catalyst reduction, diesel oxidation catalyst and diesel particulate filter (DPF) after-treatment technologies. The soot cleaning cycle on the DPF has been improved to over 6000 h and the operator is fully informed about the status of the DPF via a soot level indicator on the new touchscreen display in the cab.
The new DL420CVT-7 features the same external design common to all models in the DL-7 series, creating a three-dimensional effect with an innovative cover shape and a vibrant, dynamic image for the range. It has already received great acclaim globally, winning Germany's 2020 iF Design Award, one of the world's top three design awards and the 'Best of the Best' category in the Korean PIN UP Design Awards.
---