Edinburgh named second most expensive UK city in which to build as construction braces for further inflation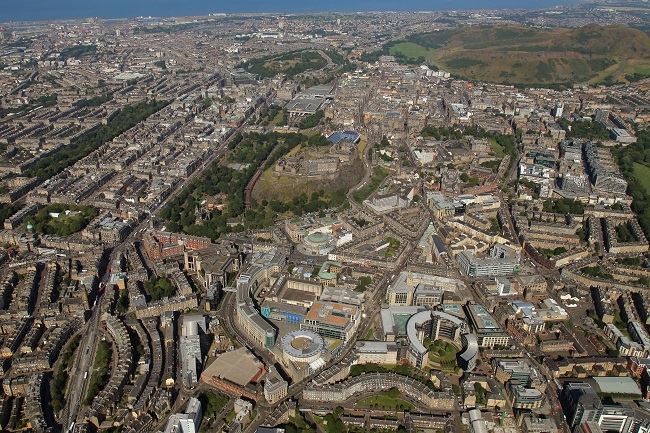 Real estate developers in the UK should brace for further increases in construction costs that will impact the viability of planned projects, as labour shortages, Brexit red tape and war in Ukraine maintain pressure on prices, Turner & Townsend has warned.
The global professional services firm's International Construction Market Survey (ICMS) for 2022, warns that there are few signs of industry inflation abating for the majority of 88 locations surveyed.
London is ranked the most expensive UK city in which to build and tenth globally, down from third in 2019, though costs remain high at $3,910 (£2,973) per sqm.
---
---
Edinburgh (25th at $3,016; £2,293 per sqm), Manchester (28th at $2,956; £2,247) and Birmingham (30th at $2,889; £2,197), with Bristol, Glasgow, Leeds and Newcastle also ranking close behind in the top 40, contribute to the UK's high average cost as a market.
The survey points to growing inflationary pressure in regional cities that could hinder government ambition to level up the country through public and private investment.
Cost escalation in Leeds is forecast to reach double-digit inflation (10%) this year, up from 5% in 2021. Key contributors to this dramatic growth are the significant investment being made in build-to-rent developments and the growth in student accommodation.
Inflation in other major markets slightly trail Leeds, with London expected to reach 9.5%, Manchester 9.0% and Birmingham 9.0% in 2022. Edinburgh and Glasgow are forecast to have the lowest cost escalation of the UK's major cities, however both still face a significant 7.5% rate of inflation this year.
---
---
Labour shortages continue to pose challenges for the UK, with 1.3 million vacancies recorded in March to May 2022 according to the Office for National Statistics (ONS) – an almost 70% increase on the 765,000 recorded a year earlier. Turner & Townsend data shows average labour costs in the UK have reached $44.19 (£33.60) per hour, while in London this average rises considerably to $52.28 (£39.75).
High demand for 'green collar' workers as government and businesses seek to achieve net zero targets is resulting in particularly costly labour for the installation of solar power, heat pumps and insulation schemes. In London, the cost for these workers reaches $68.39 (£52.00) per hour.
The impact of the war in Ukraine and the ongoing complexity in managing cross-border trade with the EU continues to compound supply chain challenges seen in the immediate aftermath of the pandemic. In Manchester, for example, the average cost of brick has increased by 11.3% in the past year to $789 (£600) per 1,000 units, while in Leeds the price of structural steel has soared by 43.3% to $3,946 (£3,000) per tonne.
Martin Sudweeks, UK managing director, cost management at Turner & Townsend, said: "The data still shows London topping the league table of UK cities on construction costs. This reflects the convergence of strong demand for new private and public sector development following the pandemic with ongoing supply chain pressures compounded by Brexit and the impact of the war in Ukraine.
---
---
"However, regional cities also continue to see substantial cost increases. This is most notable in Leeds, as a result of the unlocking of build-to-rent developments and the growth of investment in student accommodation. With inflation expected to increase across all major UK markets this year, businesses will need to focus on careful planning, ensuring contracts are pragmatically developed to take into account potential price rises and, where necessary, to share risk in a balanced way. In-depth analysis of the supply chain and strong relationships with trusted suppliers will be critical to mitigating the impact of inflation."
Turner & Townsend's report highlights similar challenges across global markets, most notably in the United States, which dominates the league table of most expensive places to build. San Francisco has placed at the top of the rankings ($4,729; £3,596 per sqm), followed by Tokyo ($4,665; £3,547), Osaka ($4,559; £3,466) and New York ($4,517; £3,434), with the US contributing nine of the top twenty most expensive markets.
Neil Bullen, global managing director, Real Estate Turner & Townsend, said: "We face headwinds on multiple fronts across the global construction sector and the wider international economy. The continued interconnectivity of markets is clearer now than ever, as we see near universal inflationary trends founded on construction labour shortages, demand exceeding supply, and disruption in supply chains hitting costs and programs.
"Companies need to adopt a wider, global view of their construction supply chains to manage the uncertainty as we brace for further challenging months."
---
---
"Alongside this, clients must manage other key priorities such as the push to net zero as we look ahead to the likely tightening of expectations and requirements for green skills and sustainably sourced materials. Such moves risk exacerbating pressures if not planned for and carefully managed. Success in tackling all these global challenges will come down to enhancing performance – companies finding ways to innovate in the procurement, delivery and management of their projects."
---