Former recruiter builds her dream career at Persimmon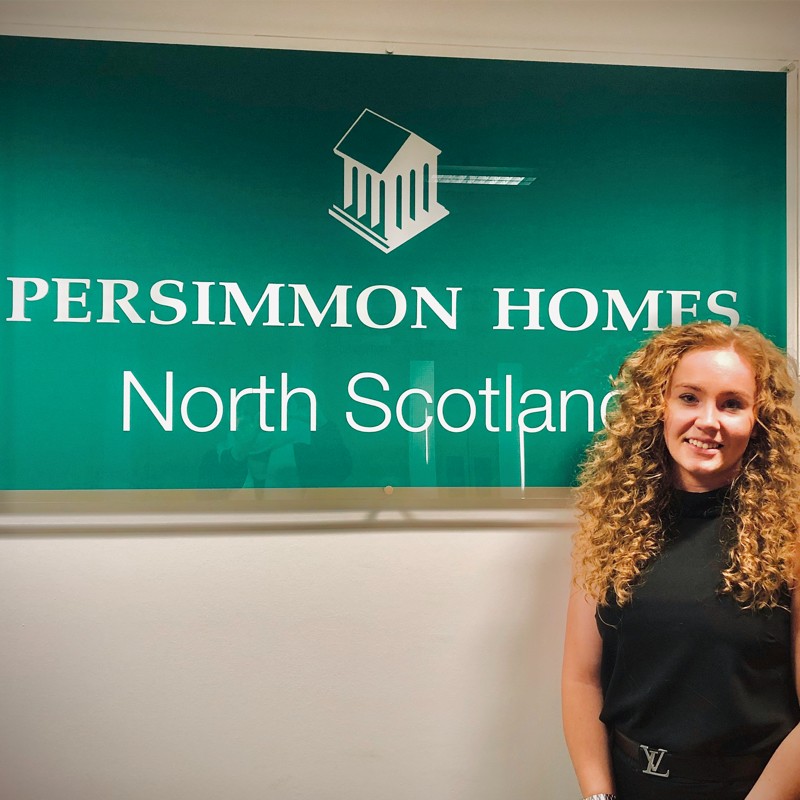 If anyone can spot a really good career opportunity, it's a recruitment consultant – which is why former selection specialist Jaclyn Duff is now making great progress in the ranks of Persimmon Homes.
Just four years ago, Jaclyn worked as a construction industry recruiter, matching workplace talent to new opportunities in the quantity surveying (QS) and buying sectors. Since moving to Persimmon she has gained a wealth of experience and finally been appointed project QS for the company's dynamic North Scotland region.
In an intriguing case of 'head-hunter turned gatekeeper' Jaclyn said: "I originally met now-managing-director James MacKay to discuss recruitment for a trainee quantity surveyor position at Persimmon.
---
---
"Though I was not actively seeking a new job at the time, the conversation was truly inspiring. The company's overall approach and its commitment to developing people led me to putting myself forward. I received a very encouraging response – and the rest is history!"
Having started in June 2018 as a commercial trainee, Jaclyn was promoted to assistant QS in December 2019. A graduate in business studies, she is now also pursuing an honours degree in Quantity Surveying at Glasgow Caledonian University.
"The role of a QS involves overseeing the commercial and contractual management of projects, including costs and valuations," said Jaclyn. "At Persimmon I can also delve deeper and really be a part of key decision-making. I speak daily with directors, I'm involved in key project meetings and I help find better ways of doing things, every day."
Eventually, Jaclyn aspires to joining the company's group commercial management team. For now, she hopes her own career pathway can inspire others. "Don't worry about having it all figured out at sixteen," she said. "I had five very different jobs before I settled on the one I loved. Experience will help you find the right career for you."
---
---
Managing director James MacKay added: "Having first met Jaclyn as a recruiter for our business, I was already impressed with her capabilities and determination. Now I am delighted that she is succeeding in a very different role and proving a great asset both the Persimmon and the wider housebuilding sector.
"Jaclyn's progression within our company is evidence of the opportunities available to build an exciting and worthwhile career here. This appointment is richly deserved and we congratulate her."
---