Forth Road Bridge to close for gantry removal
The Forth Road Bridge will close to traffic next month to allow two under-deck maintenance gantries on the suspended span to be removed and lowered by crane onto a barge below.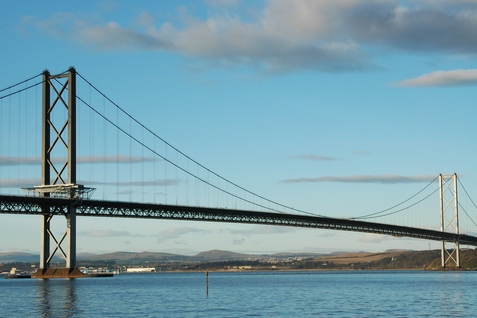 The crossing will close from 00:00 on July 20 until 24:00 on July 24.
These works form part of a project to refurbish and upgrade the under-deck gantries, which provide safe working access for maintenance staff along the length of the Forth Road Bridge's suspended span. The two existing gantries will be refurbished and reinstalled and one new additional gantry is being fabricated.
---
---
The lowering of the gantries needs to be carried out at high tide and is highly weather dependent. Two cranes positioned on the main carriageways of the bridge will lower the gantries onto barges in the Firth of Forth below, from where they will be transported to dock in Burntisland. Some contingency has been built into the programme, however the works may be rescheduled if conditions are not favourable.
Physical distancing protocols will be in place to ensure all on-site personnel remain safe throughout the duration of the project. Thorough risk assessments will be carried out and cleansing stations will be implemented on site.
Transport Scotland and Amey said they fully recognise the importance of a safe and reliable trunk road network, particularly during the COVID-19 outbreak, and it is vital that essential maintenance works are carried out in order to maintain the integrity and safety of these routes. A number of maintenance projects have been identified as essential and will be prioritised over the coming weeks.
This scheme has been planned in consultation with Transport Scotland and Traffic Scotland.
---
---
The east footpath will remain open to cyclists and pedestrians throughout these works. Buses and taxis that would normally use the Forth Road Bridge will be diverted via the Queensferry Crossing.
---