From strength to strength: the busy first year for 360 Bid
It takes guts and confidence to launch a business a few months into a global pandemic, but that's what experienced civil engineer Andrew Loughlin decided to do when he set up 360 Bid.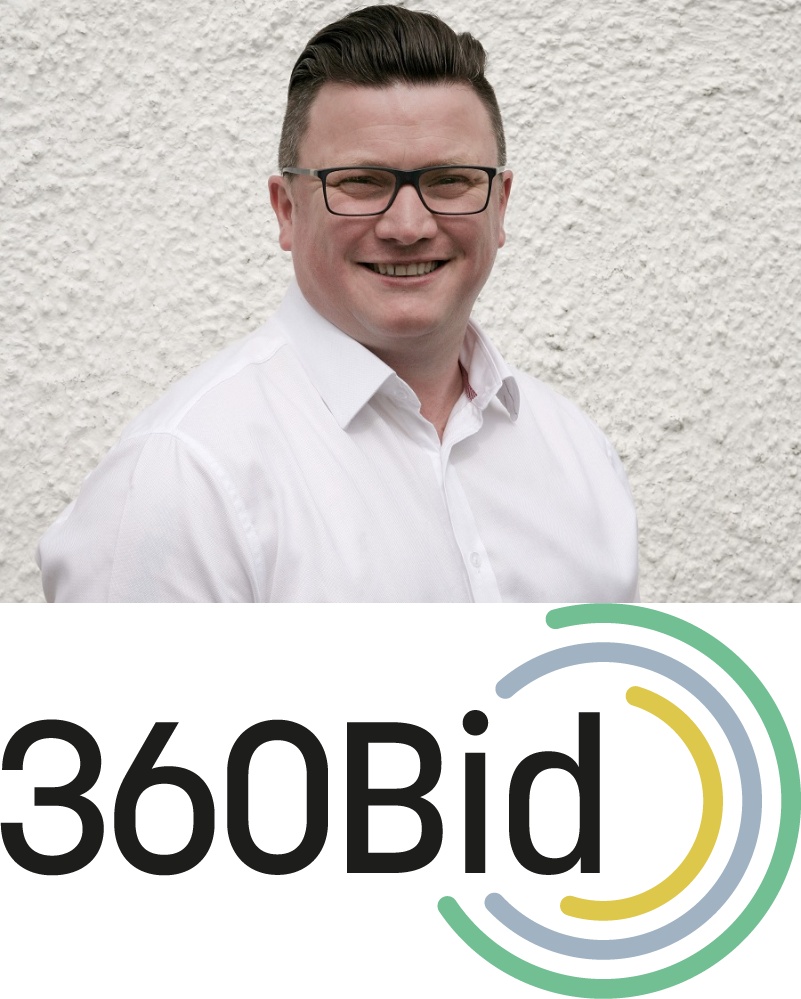 Rather than playing it safe when the economy was going through extremely tough times as a result of Covid-19, Andrew says he saw it as an opportunity to take a risk and live out a dream that he had been considering for about five years.
Glasgow-based 360 Bid, which Andrew founded in August 2020, was set up to help clients win more contracts through competitive tendering and bidding. But he says it goes above and beyond assisting businesses with bids. "We support our clients in the same way that we support our friends - we are invested in their businesses and have their best interests at heart," explains Andrew.
---
---
The firm, of which he is director, offers a range of services to clients, including pipeline development and customer communication strategies; market research and intelligence; governance and bid qualification; business systems and tools; live bidding; advisory services and training. "You name it, we can provide it. We offer the full suite of services across the work winning eco-system, but most importantly abide by the cultural sentiment of being with our clients for the journey, not just the bid. We work with our clients to develop an approach that is sustainable and suits their objectives and ultimately their budget requirements" adds Andrew.
Given his background in civil engineering and construction, it's not surprising that those sectors form 360 Bid's core market, but its reach is much wider. Andrew says: "The best practice principles of winning work aren't sector-specific as such. Our clients are the experts and we help them present the best version of themselves to their clients. The starting point was always going to be winning work for our clients. The firm has been founded on a cultural approach of being solution providers as well as bid experts."
Andrew has packed a lot into his varied career since graduating from the University of Strathclyde in 2004 with a BEng in civil engineering. He joined engineering consultancy Faber Maunsell - now part of AECOM - as a graduate engineer working in transportation and traffic. He then held roles in site engineering and management for large firms across Scotland, including Morrison Construction, and RJ McLeod. "I gained a really broad set of skills from my civil engineering roles. I came to realise that the skills I had developed could be applied in a different setting, and decided to take my first role in bidding at I & H Brown in 2012."
Andrew gained further experience in bids and submissions for companies such as CH2M (now Jacobs), Babcock International Group, AM Bid and Luddon Construction - before deciding the time was right to take the plunge to set up his own business and 360 Bid was born.
---
---
360 Bid has grown to a headcount of four, including Andrew, and his friend and colleague Teresa Stirling who joined with a background in project and bid management in the financial services and utilities sector. There are also two new members of the team joining over December and January 2022. The firm has plans to expand further in 2022 and has recently launched a recruitment drive to bring in another two people over the first few months of 2022. It is also forming positive working relationships with a number of other consultancies across the UK to manage workload fluctuations whilst ensuring the highest quality for its clients.
Despite the obvious challenges of starting to trade during the pandemic, Andrew says the firm exceeded its initial revenue target by 70 per cent in its first year. It's now in the first quarter of year two and work booked to date exceeds the full value of revenue generated in the first 12 months. Andrew says that thanks to the way the firm works with clients it has a pipeline of business taking it through to the middle of next year. He points to an early highlight for the firm as being successfully awarded a 12-month single supplier framework agreement for bid support services with a tier one contractor.
He adds: "Year one was a challenge. We were picking up momentum before Christmas in 2020, but I got Covid in December and then the lockdown early this year led to a hard few months. I sustained the business by working closely with a select number of clients. I was able to build strong relationships over that period, so when lockdown eased we could really kick off as a business."
As well as building his own business, Andrew was committed to giving something back during the pandemic and launched 360 Bid's 'Paying it Forward' initiative in January 2021to initially help people through that lockdown. This ongoing initiative involves providing 2.5 hours of free bid support each week to support smaller businesses. He explains: "I thought about what I could offer and my time was the best thing I provide. We have delivered some fantastic projects through the initiative."
---
---
For Andrew, one of the best aspects of having his own firm is being able to engage with like-minded businesses that understand the value in what the company provides, and he says his potential market is huge. 360 Bid's target market is broad, from businesses turning over a few thousand pounds each year, to those generating billions. To meet such diverse needs, the firm is developing a specific approach to assist SMEs, while building relationships with larger companies to deliver new services and ideas.
In September 2021, 360 Bid was approached about an initiative being implemented by the Economic Development Team of East Renfrewshire Council, led by Michael McKernan, and Business Gateway East Renfrewshire's team, led by Colin McNally. The initiative is encouraging SMEs businesses to get bid ready and actively bid for local contracts. Andrew says: "We were appointed to this fantastic in October 2021. We've already worked with some fantastic businesses and there are more coming through each week."
Looking ahead, the main focus for 360 Bid over the next few months will be to unveil a new commercial offering, as well bringing new services to market with a partner in the area of automation. The aim is to become a one-stop shop for clients by offering a range of services that cover pre- and post-contract requirements.
Andrew concludes: "We are always consistent in our approach, transparent, honest and upfront."
---