From waste to low-carbon heating for Midlothian homes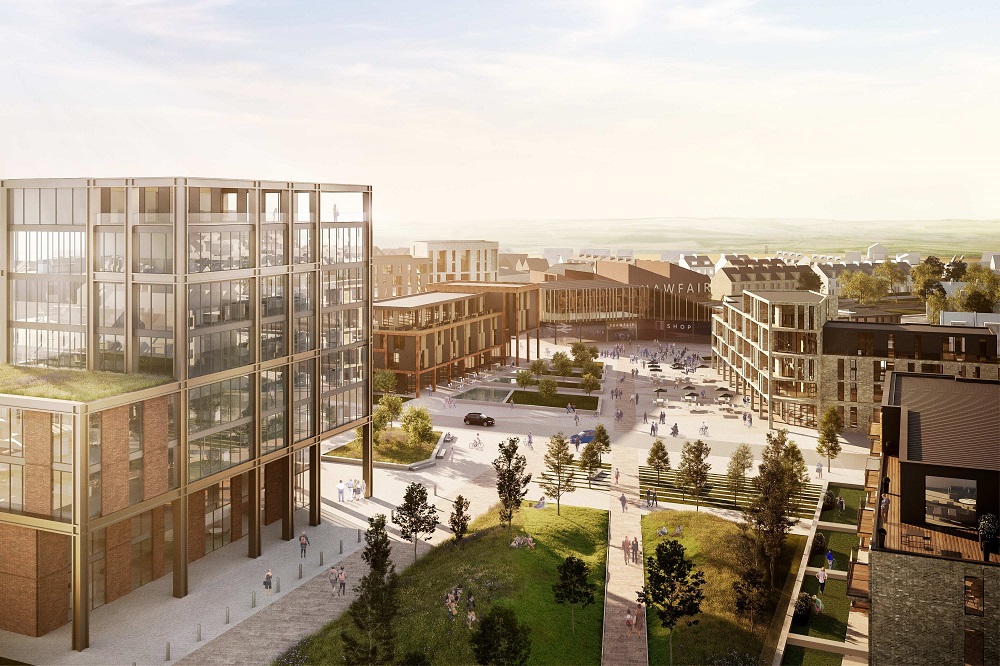 Midlothian Council and Vattenfall Heat UK, part of Swedish state-owned energy company Vattenfall AB, have formed a 50/50 joint venture to deliver low-carbon heat to homes and businesses within the Midlothian area.
Midlothian Energy Limited will explore possibilities to capture waste heat from industrial processes to supply customers via new district heating networks, and have signed a contract with Shawfair LLP to facilitate heat network connections for homes and businesses in the new town at Shawfair.
Construction of the initial district heating network, supplying around 3,000 homes, education and retail properties at Shawfair Town in the north of Midlothian Council area is expected to begin this year and deliver heat to homes by 2024. This initial phase is expected to save over 2,500 tonnes of CO2 per year, the equivalent of taking 1,200 cars off the road. The project will benefit from up to £7.3 million from the Scottish Government's Low Carbon Infrastructure Transformation Project (LCITP).
---
---
Midlothian Energy Limited will capture heat that would otherwise be wasted to provide homes with low-carbon heat from Millerhill recycling and energy recovery centre (RERC), operated by FCC Environment. The facility is fueled by residual waste collected from residents and businesses in the area. This supply of heat will not only guarantee low-carbon heat for the new town of Shawfair, but will be the catalyst for a wider regional network stretching into south Edinburgh and East Lothian. The Shawfair development is a key feature of Midlothian Energy Limited's 5-year business plan to supply low-carbon heat to over 30,000 households.
The waste heat captured and supplied by Midlothian Energy Limited will be cheaper than alternative low-carbon sources and not affected by the current wholesale energy cost inflation, thus protecting customers from market volatility through long-term lower prices for heat supply. Vattenfall's modelling suggests the heat networks in Midlothian could reduce emissions by up to 90% in comparison to individual gas boilers fitted in every home.
At present, 86% of Scottish households rely on fossil fuels to keep warm, highlighting the scale of the challenge for the low-carbon heat transition. Vattenfall have developed a strategy to deliver city-wide district heating that is capable of supplying heat to the equivalent of 170,000 homes in Midlothian, Edinburgh and East Lothian by 2050. These future projects will see district heating networks grow and combine other sources of waste heat creating a network similar in scale to those delivered by Vattenfall in major European cities, such as Amsterdam, which has been realised over the last 25 years.
Eoghan Maguire, head of joint ventures at Vattenfall and director of Midlothian Energy Limited, said: "Meeting Scotland's ambitious target of reaching net zero by 2045 means collaborations like this are crucial. Midlothian Energy will provide a huge step forward on the road to reducing the use of fossil fuels in heating, and we expect up to 900 jobs to be created through the heat networks Vattenfall is proposing in Scotland.
---
---
"Vattenfall delivers heat to 1.9 million customers across Europe and has similar ambitions for the UK. In suitable urban and suburban areas, district heating can be deployed rapidly, at scale and at affordable cost to consumers. The UK simply cannot reach net zero without it."
Midlothian Council's cabinet member for Environment, Councillor Dianne Alexander, said: "Midlothian Council is delighted that this innovative flagship low carbon project is reaching the delivery stage. The Council is looking forward to working with its long-term energy Partner, Vattenfall, through Midlothian Energy Limited, and investing in a business plan that provides a conveyer of new projects to help tackle our ambitious net zero carbon targets.
"A key priority for Midlothian Energy is to contribute towards the challenge of reducing fuel poverty. During this current cost of living crisis, this project will provide a positive contribution to sheltering customers from market volatility and securing lower prices for heat for them."
Ed Monaghan, director, Shawfair LLP said: "Our vision for Shawfair is to create a town with a high-level of self-sufficiency, sustainability and a zero-carbon future at its heart. This joint venture has allowed us to turn this vision into a reality. It puts the development of Shawfair town ahead of the game and an exemplar in achieving low carbon energy for homes, businesses, schools and community buildings. Through this deal we are enabling the entire fabric of the emerging community to benefit from sustainable energy.
---
---
"Building this exciting new district heating network alongside Vattenfall and Midlothian Council provides the infrastructure to support our low carbon ambitions at Shawfair. We support this innovative heating solution with an established integrated public transport network. And we plan to provide facilities to promote healthy living and an appreciation of the countryside to attract residents who care about their environment."
Paul Taylor, group chief executive for FCC Environment, added: "The Millerhill recycling and energy recovery centre (RERC) started the job of converting non-recyclable waste into heat and power back in 2019. The plant was developed by us alongside The City of Edinburgh Council and Midlothian Council to help them divert 155,000 tonnes of waste from landfill each year. The site is a key component in the council's commitment to helping to reach the Scottish Government's Zero Waste target.
"As we seek to move to a lower carbon future economy, utilising the heat from this plant is vital so today's news that low-cost, low-carbon heating will be provided to 170,000 homes in the Midlothian and Edinburgh region by 2050 from low temperature district heat networks is welcome and we are proud to be a part of this major step forward."
---