Full dualling of A96 in doubt following SNP deal with Greens
Plans to fully dual the A96 route between Inverness and Aberdeen will now be subject to a review following the draft cooperation deal between the SNP and Scottish Green Party.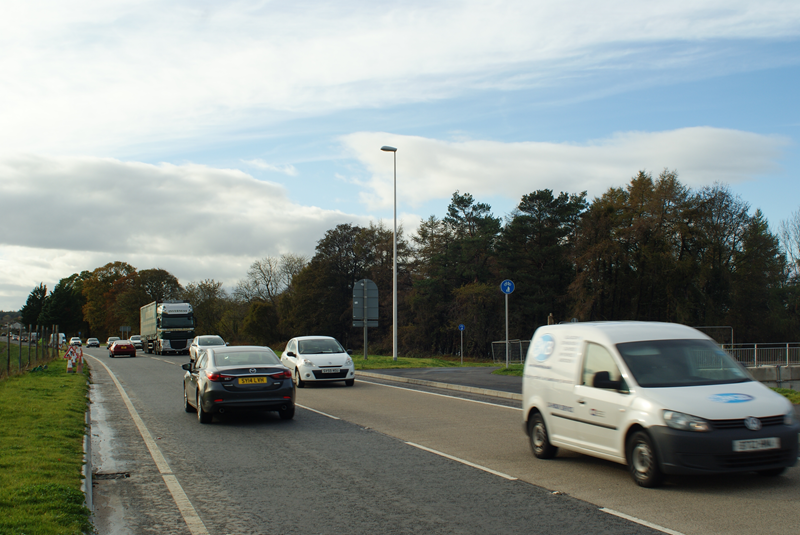 A shared policy programme drafted by the parties outlined the need to "shift away from spending money on new road projects that encourage more people to drive, and instead focus our money and effort on maintaining roads, improving safety and providing a realistic and affordable alternative through investing in public transport and active travel".
Although the current plan is to fully dual the A96 route between Inverness and Aberdeen, the SNP and Scottish Greens said they will "maintain distinct positions" on the project.
---
---
They have agreed to conduct a transparent, evidence-based review to include a climate compatibility assessment to assess direct and indirect impacts on the climate and the environment. This will report by the end of 2022.
A Strategic Transport Projects Review (STPR) published by Transport Scotland back in 2008, set out plans to upgrade the A96 between Inverness and Nairn to dual carriageway, and a bypass at Nairn.
The plan to dual the whole of the A96 between Inverness and Aberdeen was announced in December 2011, although work on the project is yet to begin.
As part of the agreement, the Scottish Government will take forward a transport enhancements programme on the A96 corridor that improves connectivity between surrounding towns, tackles congestion and addresses safety and environmental issues.
---
---
This will include:
dualling from Inverness to Nairn.
bypassing of Nairn, Keith, Elgin and Inverurie accompanied by measures to remove through traffic from the by-passed town centres.
targeted road safety improvements where needed, for example between Fochabers and Huntly and Inverurie to Aberdeen.
the development of an A96 "Electric Highway".
A programme of enhanced public transport improvements in North East Scotland will also be developed, which will include:
work to improve the resilience, reliability and efficiency of the Aberdeen to Inverness rail corridor, alongside our commitment to decarbonise the rail network, to make it more competitive to road and encourage modal shift for both passengers and freight.
working with Nestrans, Aberdeen City and Aberdeenshire Councils on the feasibility of a mass rapid transit system for the region, and also a rail link between Dyce and Ellon and further north to Peterhead and Fraserburgh.
reviewing the A96 corridor with a view to implementing appropriate bus priority measures.
Work on other trunk roads projects and programmes under construction, design, development or procurement will continue and be subject to the normal statutory assessment and business case processes.
---
---
First Minister Nicola Sturgeon said most people in this day and age would expect an environmental assessment to be carried out.
"All of us understand that we have to move more away from reliance on cars," she said.
Scottish Greens co-leader Patrick Harvie said: "Scotland has not met its climate commitments in recent years, and rising emissions from transport have been one of the main causes of this. Getting back on track means taking determined action to deliver a green, fair and affordable transport system for everyone. The draft co-operation agreement presents us with a golden opportunity to begin that process. If approved by our party membership, the Scottish Greens would take the lead on transforming Scotland's transport network by investing in safe walking and cycling infrastructure and addressing affordability on public transport.
"During lockdown the number of people cycling skyrocketed, as roads were far quieter than usual. But, as traffic levels have returned to normal fewer people have felt safe enough to continue cycling regularly. This agreement would put significant investment into safe routes to ensure everyone is able to walk, wheel and cycle safely in cities, towns and villages across Scotland.
---
---
"We also need action to make public transport cheaper, so the deal will mean a review of fares on buses, ferries and trains. We are proud to have led the way on introducing free bus travel for under 22s and we want to build on that to ensure Scotland's public transport network is affordable and accessible to all as we set about building a transport network fit for the 21st century."
Last week, Transport Scotland launched the competition to select the main construction contractor to dual the next phase of the A9 dualling project.
The importance of progressing the plans for dualling of the A9 by 2025 and A96 by 2030 was highlighted last week by Highland Council and its multi-agency partners.
The local authority said the economic recovery, prosperity and green future of the region is heavily dependent on connectivity. The dualling of both roads is also seen as crucial in terms of public safety, with many of the serious road traffic collisions on both roads having been on single carriageway sections which are open to the various road safety issues including risks of dangerous overtaking or confusion.
---
---
Following a subsequent meeting with transport minister Graeme Dey, council leader Margaret Davidson said: "I am pleased to hear that the Scottish Government has committed to progressing their plans for dualling the A9 and the safety issues and concerns regarding the current infrastructure seem to be well understood.
"Local Members and I would also welcome the intention to continue with Inverness to Nairn dualling and bypass plans for western parts of the A96, however, we would wish to highlight the importance of dualling this entire route to enhance connectivity and safety between Highland and North East."
Convener of the council Bill Lobban added: "The Highlands' economic recovery, prosperity and green future is heavily dependent on connectivity. The region has been hit hard by the impact of the COVID-19 pandemic and Brexit and we can't afford any further delays to the dualling of the A9 and A96. The dualling of both these lifeline routes is also crucial in terms of public safety."
Chair of Highland Council's Economy and Infrastructure Committee, Cllr Trish Robertson, said: "The A9 and A96 projects are vital to the Highland economy and both importantly dovetail with Transport Scotland's investment in the Inshes Corridor improvements. As a region we rely on road transport for goods and services, and the movement of very large loads, such as renewable energy plant and timber need safe and appropriate transport routes in and out of the Highlands along these long distances."
---
---
Allan Henderson, chair of Hi-Trans, said: "We must now ensure these roads are delivered here in Highland and we do not need other barriers being placed be in the way. I look forward to discussing this matter at a meeting with Mr Dey in September."
Chair of the Nairn Area Committee, Cllr Tom Heggie, said: "The review of plans to fully dual the A96 must take into account the economic impact on this region of Scotland. The distances, geography and winter conditions are not well understood by anyone who is not familiar with the A96 route. It is essential that safety and the large number of serious collisions on this road as taken into account."
---