Glasgow city centre development plans unveiled ahead of consultation
A ten-year regeneration plan for the centre of Glasgow, which includes taking cars away from the city centre, the redesign of George Square and revamping Hielanman's Umbrella, will soon go out to public consultation.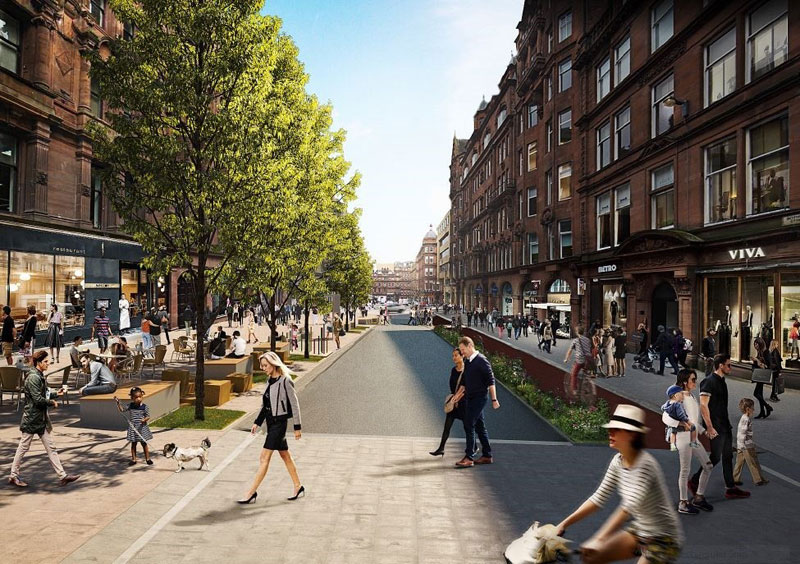 The Central District Regeneration Framework, which will guide the physical, economic and social regeneration and development of the area, could also see more trees, a 'green' pedestrian loop linking George Square and Blythswood Square with the planned riverside park and work to preserve historic buildings.
Drawn up by MVRDV and Austin-Smith:Lord, the proposal also suggests down-grading the M8 as part of a shift away from car traffic, paving the way for transforming more streets.
---
---
The document states: "The M8 can be downgraded to become part of a local city centre ring that accommodates displaced through-traffic from the city centre.
"Glasgow should use these three assets to change its 'modal split' to more sustainable modes of transport. By intelligently moving the car to the periphery of the city centre, and by creating a seamlessly integrated public transport and cycle network, the city will become more attractive, more liveable and it will attract new investments.
"With the proposed reduction of car traffic in the city centre (no more through traffic, less street parking, better public transport) street space becomes abundant.
"The proposal is to dedicate the freed-up space to specific users; creating streets with a particular functional profile, resembling a Tartan pattern: dedicated bus streets, cycle highways, pedestrian boulevards or just green calm neighbourhood streets."
---
---
Other highlights include:
Hielanman's Umbrella, the unattractive area of Argyle Street under Central Station — would be turned into a "light and attractive station lobby".
Central Station: Consideration to be given to complete pedestrianisation of Gordon Street (with taxis/buses providing drop off on Hope Street and Union Street).
Reversing the one-way system around Central Station so Union Street is northbound and Hope Street southbound to allow better interchange between bus and train, avoiding the need to cross over streets.
Bothwell Street is seen as acting as a 'High Street' for the Central Business District so the quality of the streetscape environment requires significant enhancement.
The framework is one of nine being produced for city centre districts. Councillors are expected to back the launch of a 10-week consultation, starting on December 6, at a meeting on Thursday.
---