Government to set out plan to address cladding crisis
Housing and planning minister Kevin Stewart is set to outline measures to address a cladding crisis that affects more than 100 local authority high-rise buildings as well as thousands of privately-owned flats throughout Scotland.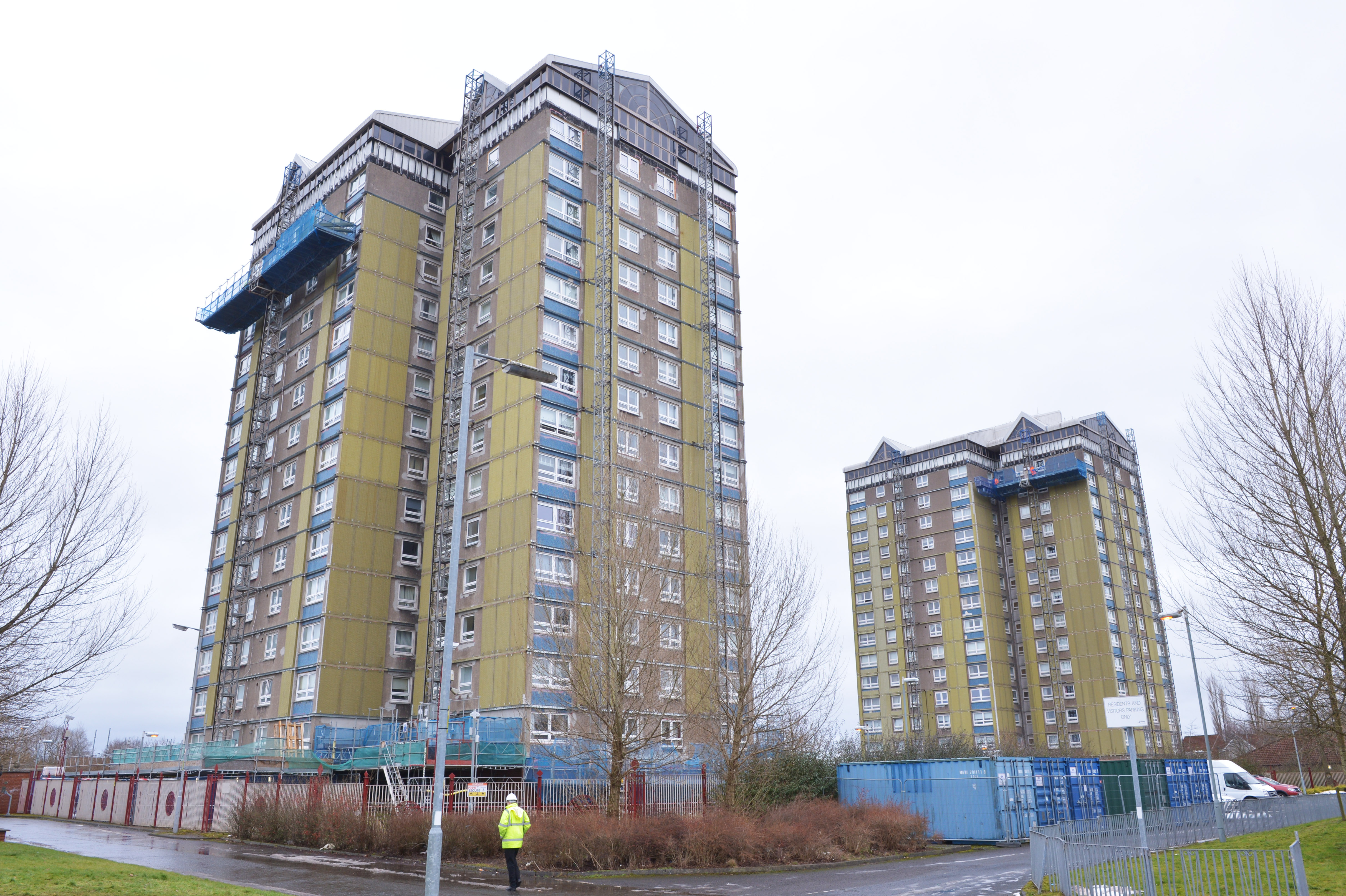 Criticism of the Scottish Government's failure to spend money to tackle the issue has been mounting since a £100 million pot of funding was made available last year, with a further £350m expected from a new UK Government fund.
Mr Stewart said the issues are "complex" and "regrettably… taking longer to resolve" than he had would have liked.
---
---
The problem of cladding arose in the wake of the tragic Grenfell Tower fire which took place in London in June 2017. The tower had been refurbished with a specific type of cladding called Aluminium Composite Panel (ACP). While a faulty fridge from within one of the apartments started the fire, the cladding's air gaps had allowed the flames to quickly spread to the other floors causing the deaths of 72 people.
According to research published by The Herald on Sunday, at least 85 high-rise blocks and over 130 other buildings, mainly schools overseen by Scotland's 32 local authorities, contain high-pressure laminate (HPL) panels which safety experts have raised serious concerns over.
An official analysis of local authority high-rises carried out last year and seen by the newspaper show that a further 23 of Scotland's 774 high-rise buildings reported polyethene-type ACM panels (ACM-PE), another combustible material, similar to that found at Grenfell Tower. A further 15 buildings reported "limited combustibility".
Sprinklers or other forms of automatic fire suppression equipment were reported in only just over one in three (39%) of high-rises. There are a reported 46,530 flats in high-rise buildings overseen by local authorities across Scotland – nearly half were built in the 1960s.
---
---
Thousands more flat owners in Scotland are also estimated to have had their privately-owned homes rendered worthless because they are wrapped in flammable materials.
One study shows that residents of flats with cladding and other unsafe building materials are paying an average of over five times more for building insurance that they were a year ago, adding thousands to annual service charges.
A ministerial working group for mortgage lending and cladding, which was set up last March to address problems homeowners faced in trying to sell flats thought to contain flammable materials, is due to present its findings from evidence gathered over a year at Holyrood today.
Ahead of this, housing minister Kevin Stewart said he is aware of the concern and anxiety this is causing people.
---
---
In a letter to the Scottish Tenants Organisation, seen by Scottish Housing News, Mr Stewart added: "I would like to stress, that the resolution of this situation is not in the gift of any single organisation to fix. The Scottish Government has been working closely with industry bodies, homeowners and others through a number of working groups, to identify the number of buildings affected and identify all of the related issues and how these could be addressed.
"It is my intention to set out to our Parliament later this month our plan to address the issues of cladding in a logical way that that is clear, about the overall need and is targeted accordingly. In identifying the role of the Scottish Government, I need to be sure that we are acting in a way that has no unforeseen consequences such as being a disincentive for others to play their part.
"Regrettably this is taking longer to resolve than I had would have liked for a number of reasons. The issues are complex and we must be clear that we have considered and taken all action that we can before setting out the next steps."
Last month, UK housing secretary Robert Jenrick agreed to pay £3.5 billion to remove cladding from hundreds of thousands of unsafe high-rise flats in England. It came on top of £1.6bn in funding that was announced in March, last year.
A near £100m remedial fund granted to the Scottish Government by the UK Treasury as a result of that has yet to be spent from the first round. And under the Barnett Formula, ministers can expect a further £350m from the new UK Government fund.
The Law Society of Scotland, the professional body for Scottish solicitors, said the funds provided an opportunity for a comprehensive assessment to establish the nature and extent of the problem north of the border.
The Property Managers Association Scotland had earlier called for the Scottish Government to offer financial assistance to the thousands of flat owners caught up in the ongoing issue.
Responding to the criticism at the time, Mr Stewart told Scottish Housing News the Scottish Government will assess overall need before setting out its solution, and won't follow the "first-come, first-served" approach in England.
He said: "We look forward to detail from the UK Government on consequentials for Scotland. Time after time we hear that the commitment from the UK Government, although welcome, will not be sufficient to help those that need it and a piecemeal approach to a solution is not serving anyone well.
"I am very concerned by the difficulties being faced by people living in buildings with external wall cladding, who have concerns about safety, or who are unable to buy, sell or remortgage their homes and I understand the anxiety that this is causing.
"The Scottish Government has been clear that we need to take a different approach to the first-come, first-served approach in England - to assess overall need and ensure that the limited funding we have is used to greatest effect.
"We know that others also have a part to play. It is important that developers take their responsibility for cladding problems seriously, and some developers in Scotland are stepping up to support homeowners. We have a duty to look after public money and to consider the most appropriate support we can offer in Scotland."
According to The Herald on Sunday's report, North Lanarkshire Council is the local authority with the most HPL in its public buildings, with 33 of its 48 tower blocks and 41 school buildings containing the cladding.
The council is currently undertaking extensive renovations works, including new cladding systems, at Blairgrove and Merryston Court and Glen and Millbrae Court in Coatbridge.
Aberdeen City Council is the majority owner of 18 high-rise residential blocks which contain HPL cladding which it said was resistant to the spread of fire and hinders smoke development. The City of Edinburgh Council is responsible for 15 high-rise blocks and 16 schools with HPL. Falkirk has 11, West Dunbartonshire had six, and Dundee and Glasgow said they have one tower block with HPL.
Last month, housebuilder Persimmon made a provision of £75m to address cladding safety issues on 26 buildings in its legacy development portfolio, while Barratt has already incurred an additional £56.3m of costs in relation to legacy properties and Taylor Wimpey has set aside £125m to fund cladding and fire safety retrofits to buildings.
Edinburgh law firm Watermans Legal is setting up a Cladding Crisis in Scotland online advice event tomorrow to support those who have been hit by selling, buying and the mortgaging of properties.
Bringing together leading experts from Watermans Legal, Fire Risk Assessment (Scotland) Ltd, J&E Shepherd Chartered Surveyors and Residential Surveyor and M&W Mortgages, the event will address how cladding issues can affect selling, buying and the mortgaging of properties. The importance of obtaining and instructing an External Wall Fire Risk Review (EWS1 form), which confirms that a building does not pose a fire risk, will also form a key part of the event's agenda.
Shawn Wood, a solicitor at Watermans Legal who will be speaking at the event, said: "The topic of cladding is so closely aligned with England. There's not nearly as much focus on how it affects Scottish residents. We're receiving a growing number of calls from people with concerns about their properties and the incurring costs which is why we felt it was necessary to host this event. It's an opportunity to gather Scotland's cladding experts and share our knowledge with the public."
He added: "Sadly, residents have inherited these problems through no fault of their own. Many people are feeling trapped as their homes are effectively worthless if a Home Report returns 'category threes' for their external main walls. Obtaining an External Wall Fire Risk Review form, which demonstrates to a buyer that there isn't a fire risk, can also be timely and expensive due to a shortage of professionals with the necessary qualifications to carry out these specialist reports.
"If all homeowners were to fix the problem of combustible cladding it could cost tens of thousands of pounds per property which leave many concerned that they will be left to foot the bill if their building is found to have combustible cladding. With the government's plan to support Scotland is still to be announced, we want to offer any advice that we can to help alleviate people's fears."