Graham Mercer: Ambitious commercial projects offset decline in housebuilding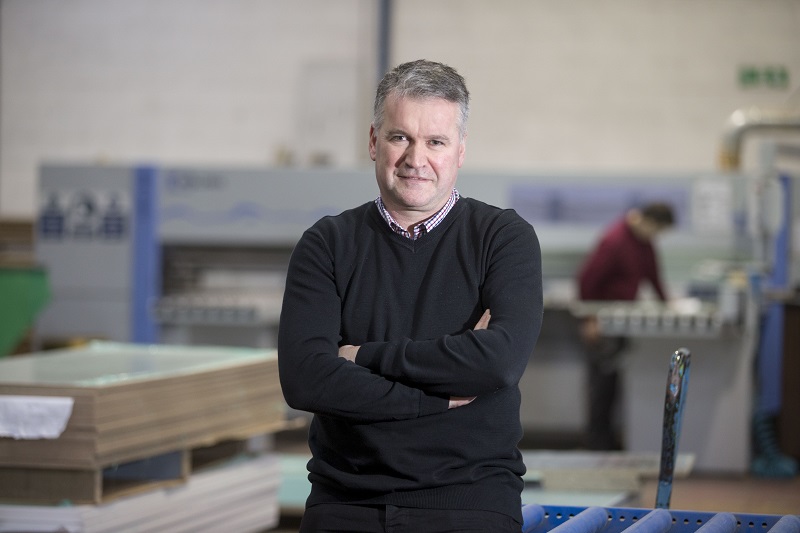 Rearo MD Graham Mercer argues that the commissioning of some landmark commercial projects could provide a lifeline to developers and contractors affected by a recent decline in housebuilding activity.
The construction industry has always been a reliable indicator of the performance of the wider economy and of the economic health of the nation.
The sign of a confident, growing economy is normally evidenced by the number of new houses, offices, factories and roads being built.
---
---
A shrinking or stagnant economy, in contrast, is signalled by the number of half-finished construction projects and soundless, fenced-off building sites.
As a supplier of high-pressure laminate wall panels and worktops for kitchens and bathrooms – and other products that might be termed 'top dressing' – our work is normally done near the end of construction projects.
As such, we have a privileged insight into activities in the industry – when fewer projects are being completed, we are among the first to know.
Circumstances in the construction industry are nowhere near normal, and they haven't been for some time. Just as the effects of Brexit are starting to kick in around 2020, there was the Covid pandemic closely followed by the war in Ukraine.
---
---
These developments have been compounded more recently by continuing uncertainty in the economy and housing market, partly driven by concerns about rising interest rates and the overall economic outlook.
With impeccable timing, in 2021 the Scottish Government unveiled an ambitious long-term housing strategy, 'Housing to 2040', outlining its commitment to deliver 100,000 new, affordable homes by 2032, with at least 70% of these designated for social rent.
This strategy aimed at addressing housing shortages, improve accessibility, and stimulate job growth.
Almost three years later, despite the target looking increasingly precarious, ministers continue to insist that it can be met.
---
---
The Scottish housebuilding market has faced a challenging period, marked by a notable slowdown in activity. According to a recent report by Colliers, the market recorded transactions worth only £250m in the early part of 2023, a significant drop from the five-year quarterly average of £550m. This slowdown aligns with a broader trend of declining yields in the property market.
As a result, potential buyers and investors have become more cautious, leading to a decrease in sales volumes and new orders in the construction sector.
In the 12 months to September 2022, Construction started on 20% fewer homes than pre-pandemic levels, with a drop of 13% compared with the previous year and a 20% fall compared with 2019.
The figures revealed a concerning drop of almost a fifth in the number of affordable new homes being started. In the same period, some 9,449 affordable homes were completed, reflecting only a 2% increase compared to the previous year. In contrast, there were 1,877 fewer affordable homes initiated for construction in the same period, marking a 19% decrease.
---
---
Social housing starts, specifically, were down by 16% in the year ending September 2022, reflecting ongoing concerns about the viability of contracts due to increased costs. These cost escalations, reported at +22% in the Scottish Social Housing Tender Price Index, have likely contributed to the decline in social housing construction.
The data underscores the significant challenges facing the Scottish Government in achieving its housing targets. The 110,000-home goal by 2032 is now in jeopardy due to the interdependencies between social and private housing delivery.
Scottish ministers' bullish insistence that it is business as usual contrasts with a change in tone by UK Housing Secretary Michael Gove who, in July, insisted that the UK Government's target, announced in 2017, of building 300,000 homes per year, had only ever been an 'ambition'.
Insisting the target had never been mandatory, he nevertheless pledged to achieve it by the mid-2020s through various initiatives, such as urban expansion and converting retail premises into flats. His statement about the target's flexibility raised questions about its feasibility.
---
---
However, amid these challenging conditions across the UK, there are encouraging signs of resilience and growth in the commercial construction sector north of the border.
Commercial property development has shown signs of stability, with several significant deals in Edinburgh and notable transactions like the sale of the Overgate Shopping Centre in Dundee. The industrial sector has also experienced a robust quarter, with increased investment and large portfolio sales.
Furthermore, the office sector, despite a slight dip in investment volumes, remains active, with substantial deals like Capreon's acquisition of 133 Fountainbridge in Edinburgh.
The data indicates that there is still confidence and interest in the commercial property market.
The most promising development that offers hope for the Scottish construction industry is the major plan to revamp Glasgow City Centre, known as the Golden Z project. Glasgow City Council, in partnership with Stantec, Threesixty Architecture, and Kevin Murray Associates, is working on this ambitious plan to transform the heart of the city.
The Golden Z project aims to double the area's population through new developments and repurposing existing buildings. It includes initiatives such as converting upper floors into residential and flexible workspaces and repurposing rooftops for bars and restaurants.
This ambitious plan also includes improving active travel routes, creating new urban parks, and shifting the focus from retail to residential, leisure, and culture.
What's particularly noteworthy about this project is its alignment with sustainability goals. Glasgow City Council is committed to a net-zero journey, focusing on creating buildings that are fit for the future, whether through retrofitting existing structures or designing new, sustainable developments.
This commitment not only contributes to environmental goals but also creates opportunities for growth and innovation in the construction sector.
Comparisons with Manchester, which has successfully transformed its city centre, highlight the potential for Glasgow to follow a similar path. While there are lessons to be learned, it's important for Glasgow to maintain a balance between development and affordability, ensuring that its residents can benefit from these improvements.
Additionally, the development of a 'tall buildings' strategy demonstrates the city's commitment to urban density and climate-friendly living. When managed correctly, tall buildings can contribute to sustainable urban development.
The construction industry remains a bellwether sector and we can only hope that these developments reflect a positive change in the economic conditions affecting the economy.
Graham Mercer is the managing director of Rearo, which specialises in the manufacture and supply of bathroom and kitchen surfaces for UK trade and retail markets.