Grant Findlay and Mike O'Donnell return to Sir Robert McAlpine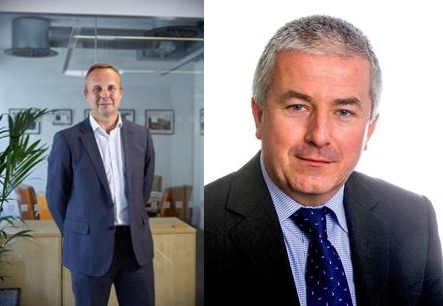 Sir Robert McAlpine has welcomed back two former managers to its buildings senior leadership team.
Grant Findlay joins the company's board as executive managing director, buildings and Mike O'Donnell, has been appointed managing director, commercial sector.
In his role, Grant will oversee the delivery of projects within our target sectors: commercial offices, healthcare, industrial and major and special projects, which have been prioritised as part of the company's recent reorganisation. With extensive experience across the UK, US and Asia, Grant has previously worked on the redevelopment of GCHQ, News International printworks, the East London line extension and the broadcast and media facilities for the London Olympics in 2012.
---
---
First joining Sir Robert McAlpine in 2012, Grant has a decade of history with the company, having formerly run the London business and then, latterly, as director of strategy where he was responsible for innovation and improvement, and leading strategic sector activity. Grant is also a co-founder and director of the Construction Data Trust, a not-for-profit entity using data to accelerate the transformation of the construction industry.
Also re-joining the business, Mike O'Donnell brings a wealth of commercial experience to his new role. During his previous senior roles at Sir Robert McAlpine, Mike was heavily involved in securing and delivering iconic projects, including the Olympic Stadium, the O2 arena and Bloomberg HQ.
Paul Hamer, CEO, said: "I welcome back Grant Findlay and Mike O'Donnell to the team. Their return is testament to our strong new vision and enduring positive workplace culture. As we move to a national sector-focused operating model supported by centres of excellence, their talent will be instrumental to our success."
Grant previously worked for Sir Robert McAlpine between 2012 and 2022, whilst Mike was employed between 2004 and 2019. Both undertook roles on Madison Square Garden Company's Sphere business before returning to Sir Robert McAlpine.
---
---
Grant Findlay said: "It's great to be back at such an exciting time for the business, focusing on growth in our target sectors. I'm looking forward to delivering on our new strategic vision, supported by a talented team of experts, including Mike."
Mike O'Donnell added: "I'm excited to return to the Sir Robert McAlpine family and make the most of our project opportunities. I look forward to reengaging with our clients and supply chain partners."
---