Growth Deal confirmed as Ayrshire celebrates major investment boost
Three Ayrshire councils and the UK and Scottish governments have agreed a major investment package that will "change the face of Ayrshire".
The £251.5 million Ayrshire Growth Deal was signed and sealed, kick-starting a range of projects across the region.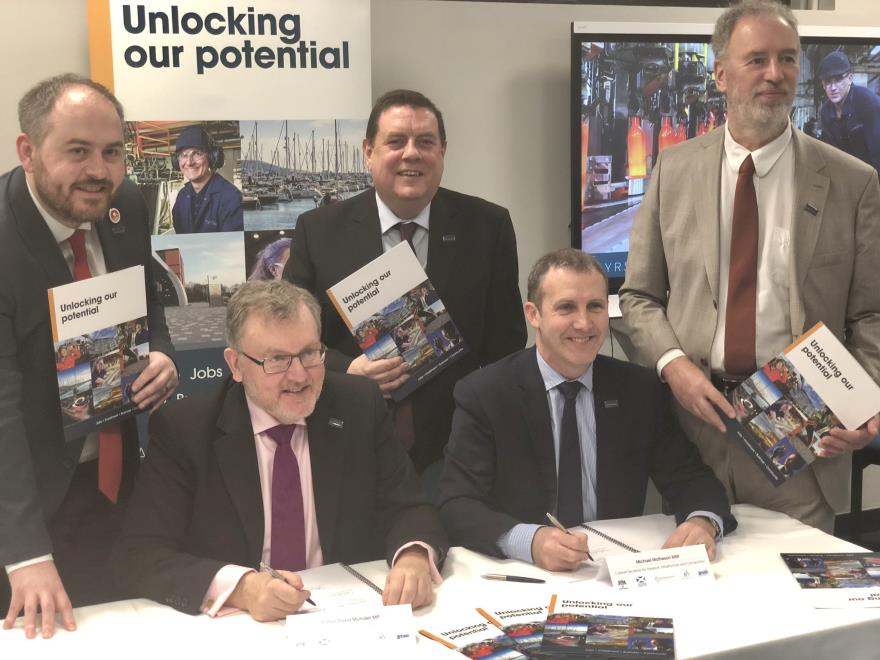 The UK and Scottish governments will each invest £103m. This will be supported by South, East and North Ayrshire councils which will be investing upwards of £45.5m in total.
---
---
It is hoped the deal will create approximately 7000 jobs across a wide range of sectors. The investment will be delivered over a 15-year period.
The deal will position Ayrshire as the UK's leading hub for aerospace and space and sees approximately £80m being invested to support the ambition of establishing a horizontal space launch facility and visitor centre at Prestwick Airport, and a range of high-quality flexible commercial business space around the airport to support the continued growth of the sectors.
The further development of Ayrshire's proud history in manufacturing and engineering will be significantly enhanced with approximately £60m being invested to create a range of high quality business spaces to support our entrepreneurial businesses to start up and grow.
It is also hoped that Ayrshire will be the go-to region for smart manufacturing and along with approximately £12m of investment to support our digital infrastructure and digital automation.
---
---
Ayrshire is well placed to be a leading location to solve many of the current and future energy needs. Over £40m is to be invested to ensure that the area is at the leading edge of energy research to find new technological solutions to energy production, storage and management.
The Ayrshire coast and islands will benefit from approximately £25m investment to support the growth of tourism and targeted investment at key points will see the transformation of some destinations for the benefit of visitors and residents alike.
One of the key features of the deal is to ensure that residents and communities can take advantage of these new opportunities as they come on stream. Over £8m will be invested to improve the skills of Ayrshire residents with extra support for those furthest away from the labour market.
Ayrshire's three council leaders were joined by the secretary of state for Scotland, David Mundell MP, and cabinet secretary for transport, infrastructure and connectivity, Michael Matheson MSP, to sign the Heads of Terms on the deal.
---
---
Infrastructure secretary Michael Matheson said: "Today's Ayrshire Growth Deal demonstrates our commitment to supporting the region and delivering long-term benefits to the local economy.
"The Scottish Government will invest £103m as part of a £251.5m Growth Deal that will drive inclusive growth and benefit people across Ayrshire. Partners estimate this will leverage £300m of additional investment from the private sector and around 7,000 jobs for the region.
"Scottish Government investment includes £18.5m for tourism and regeneration, £14.5m for skills, community wealth building and digital infrastructure and £40m to develop innovative projects around engineering, manufacturing and digital automation – as well as £30m for an Aerospace and Space Programme.
"I am delighted that we have reached today's important milestone in delivering this deal and helping Ayrshire thrive. The successful delivery of the Deal will create new jobs, protect existing ones and extend economic opportunity to communities, families and individuals throughout Ayrshire.
---
---
"The Scottish Government has made a financial commitment of £1.7 billion over the next 10 to 20 years for the regions of Ayrshire, Glasgow, Aberdeen, Inverness, Edinburgh, Stirling and the Tay Cities Region, including Deals and additional investment."
Scottish secretary David Mundell said: "It's fantastic news that the UK Government is to invest more than £100m to grow Ayrshire's economy, create jobs and boost prosperity. This investment will transform the Ayrshire economy over the coming 15 years.
"We are investing in a raft of exciting and ambitious projects right across Ayrshire. Initiatives include an aerospace development at Prestwick, a low carbon energy scheme at Hunterston, a local electricity supply project in Cumnock, a manufacturing corridor in Kilmarnock, and a digital subsea cable to dramatically improve connectivity.
"The Ayrshire Growth Deal brings UK Government investment in Growth Deals in Scotland to £1.3bn, a huge commitment to growing Scotland's economy."
---
---
The Ayrshire Growth Deal team – which comprises the three Ayrshire councils and representatives from the private and public sector – has been working on developing securing this investment since 2015.
Councillor Douglas Campbell, leader of South Ayrshire Council, welcomed the Deal being signed: "Today is the pinnacle of more than three years of incredibly hard work based around partnership, persuasion, perseverance and – most of all – potential, and it really is a proud day for Ayrshire.
"Across Ayrshire, we have always been clear that by working together to deliver investment, jobs and business growth, we can be greater than the sum of our parts and create a legacy for generations to come that will spread far beyond our council boundaries.
"That is exactly what we have before us today – a deal that will turn our ambitions into reality and help make Ayrshire more successful, more productive, globally competitive and the best place to learn, live and work.
"I am especially overjoyed to see such a significant level of investment around Prestwick Airport. Combined with our own capital funding, this will deliver more than £100m to ensure Ayrshire is the go-to place for the aerospace and space industries.
"Today marks a sea change for Ayrshire and the work to deliver jobs, growth and prosperity for our people and places starts now."